11.24.10
home | north bay bohemian index | music & nightlife | band review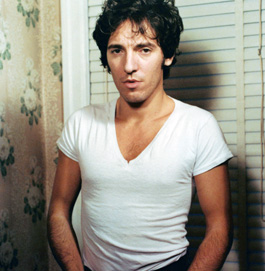 GLORY DAYS:
We'd settle for a box set with 'Racing in the Street' just played over and over and over and over.
Living in a Box
Bruce, Dylan among this year's best box sets
By Gabe Meline
After repeated listens of 'The Promise' ($19), which collects songs that Bruce Springsteen recorded for but left off the final sequence of his 1978 despair classic Darkness on the Edge of Town, one thing is clear: the Boss hired the right songs. No song on The Promise would have fit comfortably on the original, intentionally uncomfortable album, but there's still a wealth of great material here. The long, meandering version of "Racing in the Street" here packs only one-tenth the power of the Darkness track, sure, but it's thrilling to hear original versions of live staples ("Fire"), references to "Thunder Road" ("The Promise") and alternate lyrics to "Factory" ("Come On (Let's Go Tonight)").
These are the castaways, the love songs that Springsteen handed off to Patti Smith instead ("Because the Night"). In the liner notes, Springsteen admits he was influenced by punk singles bought at tiny New York record stores and subsequently picked the "toughest" songs to go on the finished Darkness album. For the Bruce completist, there are similar stories about the record on the fabulous 'Darkness on the Edge of Town Story' ($120), a three-CD and three-DVD set that combines bristling live footage, a documentary and music including the original album and all tracks from The Promise. A fascinating extra is Springsteen's personal notebook from the sessions, reprinted inside.
Bob Dylan continues his Bootleg Series with 'The Witmark Demos: 1962–1964' ($19), which brings even more long-bootlegged material into the world of proper sound quality, extensive liner notes and, last but not least, paid royalties. Early versions of "A Hard Rain's a-Gonna Fall" and "Blowin' in the Wind" are obligatory at best; the real winners here are tracks like "Let Me Die in My Footsteps," a screed on nuclear bomb shelters; "Talkin' John Birch Paranoid Blues," which with a few adjustments could be directed at modern-day Tea Party members; and "All Over You," written by Dylan on a bet from his pal Dave Van Ronk. These songs have been released before, but the alternating urgency and na´vetÚ with which the young singer delivers them is completely compelling to those who've made an education of hanging on his every word.
While super-deluxe box sets reign this year from other rock icons like Jimi Hendrix ('West Coast Seattle Boy'; $70), the Grateful Dead (Dead On Wax; $135) Paul McCartney & Wings ('Band on the Run: Deluxe Set'; $100) and John Lennon (the near-complete 'Signature Box'; $190), many lesser-known artists have worthy sets. The strongest of them comes courtesy of the excellent Numero Group label out of Chicago with Syl Johnson's 'Complete Mythology' ($80). Known in crate-digger circles for his chilling racism dissertation "Is It Because I'm Black," Johnson was the greatest soul singer you've never heard. Culling tracks from 1959 to 1971, the set includes collaborations with Minnie Riperton, Donny Hathaway and a fabulous Memphis band.
'Ponte Duro: The Fania All-Stars Story' collects mostly live recordings of the 1970s Latin-jazz powerhouse in their prime, while 'CTI Records: The Cool Revolution' packages fuzzed-out smooth grooves from every stoner's favorite jazz label into a gatefold LP-style CD set.
Still confused? There's no way to go wrong with the populist choice: '100 Greatest TV Themes' ($43), which covers everything from Hawaii Five-O to The Wire, with pit stops at The Cosby Show and Happy Days along the trip down memory lane. Special advisory tip for those, uh, combative families: nothing unites a family on Christmas Day quite like singing along to The Dukes of Hazzard.
Send a letter to the editor about this story.