11.25.09
home | north bay bohemian index | sonoma, napa, marin county restaurants | review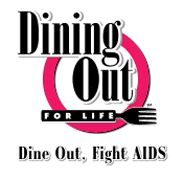 Por Vida
By Gretchen Giles
One of 20 areas in the United States that annually participates, Sonoma County gears up for the eighth Dining Out for Life restaurant bash on Thursday, Dec. 3. The idea, which last year raised $80,000 from Sonoma County restaurants alone, is magnificently simple: Go out to eat at your favorite restaurant. Boompf! You've helped benefit some one suffering from HIV-related illness. Just make sure to do it on Dec. 3 and that the meal, lunch or dinner, is one from which 25 to 50 percent of the tab is slated for donation. (Only a small handful of participating restaurants are including breakfast in their donations, and Graton's house of polenta, Willow Wood Market Cafe, for example, a terrifically popular breakfast spot, isn't among them, restricting its giving to dinner tabs.)
The Jimtown Store, Mirepoix, K&L Bistro and Dawn Ranch Lodge are among those houses tithing a full half of the tab to charity; Sushi Hana and Sushi Tozai are among those donating 25 percent from both food and alcohol sales to the cause. Everyone involved is doing good. It's one of those classic win-win-win situations that helps launch the holidays. Patrons get an excellent meal, restaurateurs get excellent patrons, and Food for Thought, the Sonoma County AIDS Food Bank gets some excellent and much-needed dosh.
To see the full list of participating restaurants and make a reservation, go to www.diningoutforlife.com and pull Sonoma County down on the regions tab.
For those who don't have time to commit to a full-on dinner, the Epicurean Connection hosts a reception that night from 6pm to 8pm. Admission is free, but a lovely canned good donation for Food for Thought is encouraged. Ten percent of all sales that night will be donated to Dining Out for Life. 18812 Sonoma Hwy., Sonoma. 707. 935.7960
Send a letter to the editor about this story.