11.26.08
home | north bay bohemian index | news | north bay | news article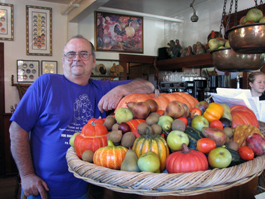 Photograph by Suzanne Daly
BOUNTY:
For over 40 years, Bob Burke has provided 'normal' fun for terribly ill children and a bit of respite for their worried parents.
Healthy Respect
Bob Burke's annual Christmas party raises funds to help kids occasionally forget they've got cancer
By Suzanne Daly
It's not often that diners find Snoopy, Clo the Cow and Saint Nicholas entertaining them as they eat. But at Bob Burke's annual old-fashioned country Christmas dinner, patrons can expect the unexpected. Held at Occidental's Union Hotel on Dec. 3, this annual fundraiser benefits Bob Burke's Kids, a program which provides year-round recreational activities for children with cancer and other life-threatening diseases. In conjunction with the Gonella family of the Union Hotel Restaurant, Burke offers a complimentary pasta dinner, refreshments and entertainment by local schools and special guests—all for free. Yet by the end of the night, the donation jar may hold upward of $50,000.
"You can really feel the love and the spirit of the people here," Burke says enthusiastically. "The atmosphere is awesome and the warmth is overwhelming." The feeling of warmth radiates from Burke himself, as he recalls the history of his kids' group, now in its 41st year. Started in 1967, Burke, then a chaplain at the community hospital, was motivated by a little girl with cancer who lamented the lack of activities for sick kids like herself. "She must have been an angel who inspired me to get my group going. I told her that we held barbecues, and that burning hot dogs was my specialty," Burke laughs. He talked to her parents and told them to pass the word on to other kids with cancer. That inauspicious statement begot the first group for kids with cancer in Sonoma County, five families with sick children getting together for a hot dog roast.
That small group has now grown to 300–400 people who gather weekly during the summer at Burke's Canoes, the family's business on the Russian River in Forestville. The kids play while their parents chat about treatments and progress. Outdoor mass for all denominations is held at 6pm, followed by dinner. "In the early years, it all came out-of-pocket, and I was glad to do it," Burke remembers. "Now, through the generosity of the community, we have more funding and more variety. We hold Tongan luaus and pizza parties, we go bowling, skating and trout fishing—something every month. The community really comes together." The group is open to kids in Marin, Lake, Napa and Sonoma counties.
Burke and his crew of full-time volunteers serve over 300 kids who range in age from one to 20 and who suffer from cancer, AIDS, cerebral palsy and Down syndrome. He estimates that it costs about $85,000 a year to run the group. "Our goal is just to keep the kids' program going," Burke says. "I feel the spirit of the little girl who was my inspiration and the presence of the kids who have passed on. I feel them saying, 'Don't quit. There are other kids who need you.'"
Many of his volunteers are parents who have lost their children. "They are excellent, not only as staff, but as role models for parents who are close to losing their own child," Burke says. "They see that life does go on; it may be difficult, but it can. We lose a few kids along the way, and new kids are always being diagnosed." Leadership groups from Analy, El Molino and Windsor high schools also volunteer, and food is donated by local restaurants.
Over 800 people are expected to attend this year's Christmas party, and student volunteers are gearing up for the crowds. "It's very special," Burke says proudly. "There's no set price. People can come in, rich and poor, and everyone is one. It spreads the holiday spirit to all of us, and the donations go a hundred percent to the kids. You just give what you can." The Union Hotel Restaurant's Gonella family generously donates the full buffet menu, which includes garden salad, raviolis with red sauce, penne Alfredo and penne al pesto, French bread and butter, bread sticks, and Santa cookies for dessert.
Performing are the Occidental Community Church choir and children's choir, Salmon Creek School choir, band and drum corps, the El Molino High School choir and the Guerneville School band. Snoopy, Clo and Chipper, the CHP mascot, will also make guest appearances. "You never know who's going to show up," Burke says with a conspiratorial smile. "It's a lot of work, but I love it, I absolutely love it."
Bob Burke's Christmas party is slated for Wednesday, Dec. 3, at the Union Hotel, 3731 Main St. (Bohemian Highway), Occidental. 5pm-9:30pm. Free; financial donations accepted at the door or send to Bob Burke's Kids-WCCS, PO Box 602, Forestville, CA 95436. For details, call Barbara and Frank Gonella at 707.874.3555.
Send a letter to the editor about this story.