12.01.10
home | north bay bohemian index | columns | wine tasting room of the week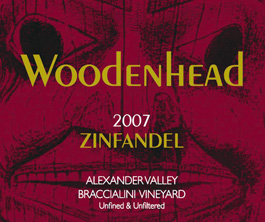 Brambleberry Bests
By James Knight
Selecting from a few personal favorites and a mixed bag of likely candidates, we recently searched for Zinfandels that might pack our winter evenings with flavor. Blind tasted by a hard-to-please crew of eight and scored from 1 to 5.
Woodenhead Vintners 2007 Braccialini Vineyard, Alexander Valley Zinfandel ($34) Further down this list, opinion was more divided, but Woodenhead was the standout favorite. Spicy, toasted nut and fruity potpourri accents to bright raspberry, strawberry jam flavors in this medium-bodied wine. Some tasted rum, but nobody felt the heat on a smooth finish that lingers for a day. Score: 4.5
Woodenhead 2007 Guido Venturi Vineyard, Mendocino County Zinfandel ($34) Most agreed that this deeper-hued Zin gushes with brambleberry, blueberry and cherry fruit, infused with vanilla or hazelnut. This one, however, ties it off with lingonberry tartness. Score: 4.1
Courtney Benham 2008 Dry Creek Valley Zinfandel ($20) Silky, cottony, airy and woody were applied to the round, satisfying mouthfeel; chocolate and raspberry took turns on flavor. With 14 percent Petite Sirah, a smooth and appealing Zin. Score: 4.0
Cline Cellars 2009 California Zinfandel ($12) Mixed aroma impressions from rose to Concord grape, geranium to sweaty saddle. Some popsicle-stick woodiness to the finish, but balanced and jammy overall. Score: 4.0
XYZin Vine Age Series 2007 California Zinfandel ($16) Spicy, with mint or juniper, dried fruit including banana; a dry, briery finish. A versatile table wine. Score: 4.0
Ravenswood Winery Barricia Vineyard, Sonoma Valley Zinfandel ($35) Pine bough, almond, charred wood and chocolate cordial aromas; intense flavors of cherry cola, barbecued blackberries, wrapped up in bristly, dry tannins. Not a wimpy wine. Score: 3.8
Gamba Vineyards 2008 Russian River Valley Zinfandel ($35) Deeply colored, a high-octane Zin with warm aromas of berry pie filling, leather, freesia, brown spice; flavors of blueberry and mincemeat pie. Some found it simpler than all that. Score: 3.6
Kokomo Winery 2008 Mounts Vineyard DCV Zinfandel ($30) Leather, mineral oil and smoke aromas dominated; berry flavors undermined by some heat. Score: 3.6
Kokomo 2008 Timber Crest DCV Zinfandel ($32) Leather, char and cedar aromas; bitter chocolate and blackberry liqueur with an aggressive, astringent finish. Cellar it! Score: 3.6
Kokomo 2008 Sonoma County Zinfandel ($22) Black licorice, cassis and charred wood lead to chili powder heat, brambleberry flavors and a lip-shrinking, puckery finish. Score: 3.5
Harvest Moon Winery 2007 RRV Zinfandel ($30) Floral, berry blossom, saffron, citrus zest, cherry and vanilla aromas; solid cherry flavors that some found agreeable, while others diverged. Score: 3.5
Harvest Moon 2008 RRV Zinfandel ($28) Vibrantly colored, with aroma impressions from berry blossom, sandalwood, cinnamon and chocolate to new wine, with a distinctively deep, sour-cherry flavor; this singularly tart and fresh Zin may share more in common with a style of fruit-forward Russian River Pinot than some of its Dry Creek brethren that it was tasted against. Score: 3.4
Send a letter to the editor about this story.