12.10.08
home | north bay bohemian index | news | north bay | news article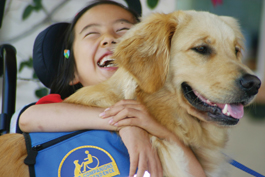 HAPPY DAY:
Canine Companions for Independence helps the differently abled navigate the world and, indeed, find joy with its specially trained dog helpers.
Flourishing on Less
North Bay agencies respond to the economic crisis with collaboration, cost cuts and creativity
By P. Joseph Potocki
Remember easy credit, piggy-bank home equity, bull markets and charitable giving? That's all so '07. Accordingly, it's estimated that 29 percent of Americans will give less this year. These cutbacks provoke nonprofit hiring freezes, reduced or denied grants and trimmed budgets, with harder hits still a'coming. The good news is that foundations, by law, must dispense at least 5 percent of their worth each year, and corporate philanthropy amounts to peanuts when compared to overall gift-giving. The bad news is that foundations are worth less each and every day—and corporate giving really does amount to peanuts.
In fact, while more than $300 billion in charitable contributions were ponied up last year, individual donors composed 88 percent of that total. That's why the anticipated 29 percent drop in personal charitable giving really hurts. Are individual donors in the North Bay feeling the financial squeeze yet? Inquiries of six Sonoma, Marin and Napa county nonprofit agencies, plus a large community foundation and a local association of nonprofit organizations found that, on the whole, charitable monies are still flowing, though demand is up and giving-spigots are slowly closing.
Kay Marquet is president and CEO of Community Foundation Sonoma County (CFSC), which boasts assets of $136 million, held in 400-plus charitable donor funds. Over its quarter-century lifespan, CFSC has provided more than $100 million to organizations in Sonoma County and beyond. While Marquet stresses that "for this coming year our grants budget isn't diminished at all," she adds, "We are looking seriously at what we fund and how we fund."
The Novato Human Needs Center annually provides over 4,000 in-crisis, low-income Novato area residents with a range of personal, family and community-related services to help move them toward self-sufficiency. Director of development Dina Gardner says its Holiday Share program is acutely in need of specific food items, children's toys and adult gifts. "Our requests for help have gone up about 10 percent," she says. "We're having challenges in that regard."
According to Pat Callahan, national director of development and marketing for Santa Rosa–based nonprofit Canine Companions for Independence, "It's an economy where people don't feel flush. But people want to give. The key is to just keep talking to people." Asked how her organization, which trains and provides service dogs to persons with special needs, is doing, Callahan says, "A lot of our money, like with other nonprofits, comes at the end of the year. It's a nervous time. So far we're OK. Next year will be the challenge with foundations."
Tanya Narath, executive director of Sustainable Sonoma County, a nonprofit whose mission is to engage "people in the creation of an ecological, equitable and prosperous society," echoes Callahan's sentiments. Narath says the organization's fundraising is doing "pretty well. We're a bit worried about people cutting back. Donations are slowing down." Narath adds that the Volunteer Center of Sonoma County has helped immeasurably by providing needed volunteers, but that to expand its youth offerings, including a proposed green-building program, it will require additional funding sources.
CyberMill's mission is to give Napa County school kids a 21st-century education on cutting-edge learning technologies so they might fully benefit from these newly emerging tools. About 90 percent of the 125 students CyberMill serves each day do so on scholarship. Meals are provided on-site. But due to financial stressors, executive director Cynthia Dempsey says CyberMill will be "downsizing and looking more at our volunteer program." CyberMill has embraced at least two ancient innovative funding resources available to them: viticulture and enology. The kids actually weed, prune and harvest grapes; then they make and sell wine to counter funding shortfalls.
On the mass communications front there's KRCB television, a PBS affiliate serving the entire North Bay. It's working with Project Open Hand, Food for Thought, the Napa Food Bank and the Marin Community Food Bank on a pledge drive designed to both feed the hungry and keep KRCB on the air. Nancy Dobbs, KRCB president and CEO, admits that the pledge drive is "not a blockbuster," but assures "we're holding on." Dobbs notes that KRCB has seen a sharp cutoff in business sponsorships as well as across-the-board cutbacks in personal charitable giving. She insists that nonprofit collaborations, like the one currently under way, maximizes gifting potential for both donors and participating nonprofits alike.
The Napa Valley Coalition of Nonprofit Agencies is an association of more than 60 Napa County nonprofits. Executive director Bob Orser spoke to yet another challenge local charitable organizations face. "Some of our agencies are funded by the state. They received no money this year." On the flip side, Orser lauds the Napa Valley Vintners Association for their contributions. "They doled out over $5 million to nonprofits this year." But what the wine auction giveth, the wine auction taketh away. Orser claims that too often folks "look at Napa as the land of milk and honey. They think everyone here is rich and everyone makes wine. But there are plenty of people who are poor or even homeless. People don't have food, shelter or clothing. When that happens, nonprofits are called on to fill the gap."
He sighs. "The problem is, with funding cuts coming, that creates the perfect storm."
Send a letter to the editor about this story.