December 14-20, 2005
home | the papers | north bay bohemian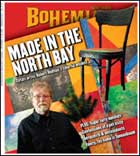 Cover: Made in the North Bay
Gene Hamm Animation | Vitamin Planet/Vinyl Planet | Robert Hudson Exhibition | Gifts for Pampered Pets (and confessions of a pet sissy).

Lock-Up Learning
Higher education at prisons is making a comeback--and a difference.
The Byrne Report
Saving California.
News Briefs
Napa in Pieces.

Car Culture
Gift ideas for the car lover.

Two Rode Together
'Brokeback Mountain': Jake Gyllenhaal and Heath Ledger in a romance that'll frighten a few horses.

MORE MOVIE REVIEWS

MOVIE TIMES

Magic Fingers
Six strings sizzle on jazz guitar box set.
Lessons Heard
What music taught me this year.

MORE NIGHTLIFE

NIGHTLIFE CALENDAR

The Myth of Bread
Brick-oven builder Alan Scott understands the yeasty secrets.
Wine Tasting Room
Cheater's Guide to Zinfandel.
News of the Food
A select guide to North Bay restaurants that stay open for Christmas Eve or Christmas Day.
First Bite
Anatolia in Santa Rosa.

BOOK A RESERVATION

FIND A REVIEW

Pretty Pictures And Big Type
Holiday gift-giving is the excuse you've been looking for to buy those ridiculously glossy art books.