December 21-27, 2005
home | the papers | north bay bohemian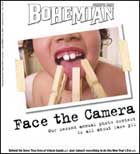 Face the Camera
Our second annual photo contest is all about face.

Nursing Home Blues
Ensign staffers fight for dignity, respect and even a fair wage.
Stay Up All Night
(Almost) everything there is to do this New Year's Eve.
The Byrne Report
A Cheesemas Tale.
News Briefs
Solar Sewage.

Car Culture
Automakers cave in to anti-homosexual pressure.

Payback
Hit men track down the Olympic killers in Steven Spielberg's 'Munich.'

MORE MOVIE REVIEWS

MOVIE TIMES

Girl Power
Box set sets record straight on the fairer sex.
Messiahs or Manipulators
Are Bay Area tribute bands even better than the real thing?

MORE NIGHTLIFE

NIGHTLIFE CALENDAR

Wonton Christmas
Water chestnuts roasting on an open fire: where to eat Chinese on Christmas.
Wine Tasting Room of the Week
P.S. Please Bring a Bottle of Wine.
News of the Food
Making Merry.