12.22.10
home | north bay bohemian index | sonoma, napa, marin county restaurants | preview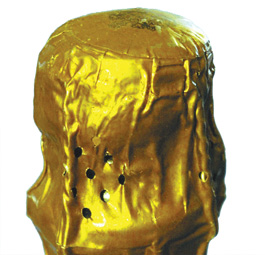 UNWRAP ME:
What the hell, we're splurging on the bubbly this year.
Bubbling Over Budget
Our guide to 2010's best sparkling wine over $25
By James Knight
At the end of 2009—a year whose demise, many of us reported, we couldn't wait to toast—the Bohemian offered readers a guide to getting tight on a tight budget with some of the North Bay's finest sparkling wines costing less than $25. This year, we look back upon a recovering economy in which bankers prospered, and the housing market, um . . . and unemployment, um . . . and don't forget the grape harvest, which saw disaster followed by rain . . . aw, screw it.
We call party-time. It's the holidays, folks. It's New Year's Eve! Let's check the scrimpy, crimpy budgety thing at the door—for now—and put 2010 on ice with the help of some of the finest bubbly from North Bay wineries. This year, we look at middle and top-tier sparklers, some of which have been in bottle since the start of this decade, blissfully sleeping it through. We can always write ourselves a New Year's resolution the next morning: "I will not splurge on delightfully tongue-tingling effervescent spirits to share with some of my best friends and relations . . . until everybody gets a tax cut." Done.
Wines were blind-tasted and scored on a scale of 1 to 5 by Bohemian staff and freelance writers, who, like the squirrelly, creative souls that they are, also liberally added their own inventive comments.
Mumm Napa Brut Reserve ($36) Bright and clean. Aromas of lemon blossom and saltine cracker lead to crisp, Pinot Grigio–like flavors in this roundly-lauded, well-balanced sparkler: "Sea monkey bubbles; Middle Earth in the springtime; full body, fresh construction; hits all pleasure mouth points; perfectly balanced carbonation; elfin sweat; like a delicious piece of wood." Score: 4.4
Mumm Napa 2001 DVX Napa Valley ($60) This late-disgorged, signature sparkling, named for founder Guy Devaux, has a freshness that put it ahead of others. Faint cream and floral, citrus blossom aromas lead to an elegant, airy mousse that fills the mouth with light bubbles: "Lemon cheesecake; tobacco farm, with soft puppetry; comfort; reminds me of the NYE party in which I played soccer with two dogs in the rain." Score: 4
Gloria Ferrer 2002 Royal Cuvée Carneros Brut ($32) Softer and slightly sweeter than the rest of the bruts, this cuvée of mostly Pinot Noir shows hints of chamomile and rosemary with cream, baked biscuit and elderflower, with a less assertive, creamy mousse: "Flowery; refined, well-balanced palate; lush, lingering; elegant, smooth; sweet and light, like KOIT-FM; Disney princess Champagne—tastes pink; very sexy, fill 'er up." Score: 4
Domaine Chandon Étoile Brut ($40) Honey, apple cider character with aromas variously described as Christmas candle or Moroccan market, comes on strong with honeyed, roiling bubbles that cut out fast, leaving a long-lingering, pleasant finish: "Midfizz sweep and soft, lingering ride; honeyish, both sweet and dry; musky campfire; nice fizz, throat-zap, but I can take that." Score: 3.5
Gloria Ferrer 1999 Carneros Cuvée ($50) Nine years aging on the yeast lent this late-disgorged sparkler a complex bouquet likened to aged cheese, espresso crema, a grotto or warm bed sheets. A spirited mousse in this still-lively vintage lead abruptly to a low-key, golden-raisin flavored finish. Opinion split: "Like an unfinished story; aggressive, punchy; smooth, light, lemon honey; assertive, confident, choose your own adventure; smells like Jem and the Holograms, but tastes like the Misfits. Bordering on the Bikini Kill of sparkling wines." Score: 3.3
Domaine Carneros 2006 Carneros Brut ($26) Clean and lean, with a lemony, roiling mousse and austere finish, this brut was thought to be structurally solid, simple, easy to like: "Aroma of flowery twilight, businesslike taste; bubbly tinkerbell, light and fluffy; Laffy Taffy; rustic bubble; something served at a company holiday party." Score: 3.2
Iron Horse Vineyards 2005 Classic Vintage Brut ($34) While a temporary sulfurous edge to the earthy, lagered aroma lingered too long for some, grapefruit-tart flavors and lively, assertive fizz won over the other half: "A Mendocino closetful of clothes; mushroomy, robust and dank, a cave monk's Champagne; Pop Rocks; taste better than aroma, nice acidity." Score: 3
Mumm Napa 2006 Blanc de Blanc ($30) Classic, clean. With just two of us noting a faint bouquet of yeast, this quite bubbly bubbler had an austere, metallic edge to granny smith, golden pear flavors: "citrusy, fizzy then flattens out; dry; concentrates on tip of tongue; zaps sides of tongue; hecka bubbles, doesn't kick into hella." Score: 2.7
Schramsberg 2003 J. Schram ($100) Leading with vanilla, toasted nut and biscuit with a hint of Frangelico, this full-bodied, Chardonnay-based North Coast blend had significantly more weight and a finer mousse than the rest, managing at the same time a perry finish of lager-like austerity—a style that much of the group evidently does not like as much as I do: "Too aged, unfamiliar; lemony, no explosions; meatloaf; old sneakers; believe it was a bad bottle, sneaker all the way through; Sour Patch Kids." Score: 2.3
Iron Horse Vineyards 2005 Green Valley Ultra Brut ($50) Spartan in aroma, with the tartly creamy tang of hollandaise sauce and smartly constructed top-palate action, this was the Lift-Off Lemon of the lineup. It got everybody's attention, but few could get around its persistent, ultra-tart finish: "Grapefruit taste, lingering flavor; sour-tasting; tinny; Metallica, sour grass, ADHD bubbles; asparagus tones with merry-go-round bubbles; cranberryesque, like the fruit and the awful band." Score: 2.1
Send a letter to the editor about this story.