12.23.09
home | north bay bohemian index | the arts | visual arts | review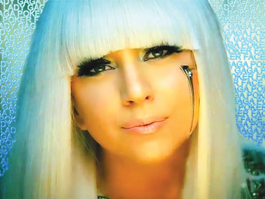 GONE GAGA: We just wanted to see how many photos of women in platinum wigs we could get into this week's issue.
Gimme Twenty Ten
In celebration of all the many ways to slam the door shut on this weird-ass decade
By Gretchen Giles and Gabe Meline
Goodbye MySpace, goodbye Lost, goodbye Texas cowboys and (hopefully) goodbye Uggs. Goodbye, aughts! The decade that Time magazine dubbed "the Decade from Hell" gives us every reason to don the ditzy hat, blow the stupid horn and kiss a bazillion boozy farewells to this oftentimes maddening decade. Can you believe that just 10 years ago our biggest fear was the Y2K scare? A lot has changed, party animals.
Yet some things remain constant, which brings us immediately to Tommy Castro and his fretboard-shreddin', slicked-hair, perpetually grinnin' and gettin'-down-and-bluesin'-it-up style that guarantees a boogie-down set at the Mystic Theatre. With Champagne and balloon drop, Castro's $50 New Year's show is perfect party fodder. Opener Jeffrey Halford and the Healers get things moving, then it's all Tommy all the time with laughin', twistin', shakin' and more dropped g's than a Sarah Palin speech.
For a younger crowd, it's hard to beat DJs Zeph and Azeem at the Hopmonk Tavern, both San Francisco legends who cross styles on the crossfader and who'll be playing with a full live band. Add fellow beat addict Romanowski to the bill, plus the Mystic Beat Lounge taking over the beer garden with more DJs, plus fire dancers, live artists, masseuses, video mashups and more, and it's hard to pass up. Bonus: the first 200 tickets are just $20, going up to $25 and $30.
Meanwhile, just across the alley, the deal of the decade is the one-night return of DJs Jacques & Guacamole spinning dancehall, funk and hip-hop at Jasper O'Farrells for only $5. Seriously! $5!
Lady Gaga might not be appearing locally, but her fanbase should be heavily repped at the Hilton Golden Ballroom in Santa Rosa for Sapphire, "a party for queer girlz and boyz." Elegant, swanky and formal are the dress requests, so dang, that means Gaga's weird gold bondage getups are out. However, it's just $20 and "plentiful seating" is promised! Not that anyone will need it—with double DJs rockin' the double decks, the dance floor should be bumping hard.
Camera possession quadrupled over the last decade, and with it the idea that everyone is a star. "Photographers on hand" is a selling point at the Casbar's GLAM LGBT New Years' bash in Santa Rosa, where a mere $10 gets the bubbly, the balloons, the bad, buttery boys and the besmirchment. See yourself on the internet the next day!
While serious partiers scoff at New Year's Eve as "amateur night," the Society of Professional Singles take love, at least, seriously, hosting their annual North Bay Singles' New Year's Eve Bash at San Rafael's Embassy Suites Hotel. This is a dressy dance party replete with silly hats for only $20. We'll lend you the money if that's what it takes to help you start the New Year with a smile.
For those who like their NYE to be wild, Safari West quite literally offers a chance. The ultimate treat is to stay the night in one of their luxe Out of Africa "tents," which are actually platform tree houses with full accoutrements covered in stout duck canvas, and are utterly magical. Guests awaken to the sounds of exotic wild animals awakening, their roars and squawks and odd cradle-of-civilization sounds utterly satisfying and nearly frightening in the dim morning light.
Those opting to sleep at home are nonetheless well served, as Safari West has a stellar kitchen operation and well-trained staff who host guests in impeccable style near the aviary and giraffes. Tickets for the party include dinner, dancing and toasts for $100, and absolutely will not be sold at the door; advance reservation only. The strange number $499.01 provides two adults not only with the night's revelry but also lodging, a mimosa-soaked breakfast and a tour of the property the next day.
For those uninterested in staying up until midnight, violinist Nigel Armstrong fits the classical bill with pianist Miles Graber in a program of Beethoven, Brahms, Ravel and Schubert, performed in the high-ceilinged confines of the Petaluma Historical Museum and Library. Spend your $12–$20, take in the quietude, and get home to bed. Likewise, over at the Napa Valley Opera House, pianist extraordinaire Marvin Hamlisch bangs out ragtime classics and soundtrack originals for the early-to-bed crowd. Don't want to join the afterparty downstairs for the big countdown? You get a $70 break on tickets! The show: $95. Show and party: $165.
Meanwhile, the iron horse that would like you and Sen. McCain to know that it did not-not-not-not-not-not seek nor spend $54 million in federal stimulus money hosts a flapper-era 1920s-style bash with everything Scott and Zelda might expect except servants and Parisian fountains. Featuring live music by Casino Royale, plenty of good dead grape and dancing until 1am, tickets have gone fast to this upscale event; the $225 per person dinner-plus option is already sold-out. Those wishing a late-night dance on a romantic train can still opt in for just $55 per, beginning an elegant part of the evening at 10pm on the Napa Valley Wine Train.
For those who prefer that their parties not actually move beneath them, Domain Chandon hosts its annual Glitter Ball. Dinner seating is already sold-out, but the Lounge party following restaurant service still beckons, with dancing until 1am and plenty of bubbly for $75.
In Sebastopol, the indefatigable Mr. Music hosts a night at the Sebastopol Community Center with Frobeck, Uncle Wiggly, Teresa Tudury, drum circles, choirs and more for $15–$30. Forget fireworks—Sebastopudlian pagans and goddesses get the juices flowing with a "peaceful gong ceremony" at the stroke of midnight.
Down at the Mill Valley Masonic, it's Curtis Campbell, billed as "the only Navy Seal to come out of Marin," playing for $35–$45. We hear he plays a mean harmonica and sings the blues, too, backed by an "all-star band" of people we've never heard of. But, hey! They've all played with every Marin County SantanaHueyScaggsChamplinMahalRaitt rock icon you can think of except Commander Cody . . . Wait! Reedman Brad Jenkins, who actually played with Commander Cody, honks the Auld Lang Syne with Lansdale Station at 19 Broadway, with the Hold Outs and Diamond Ortiz! Ladies are $10 before 10pm; $20–$25 otherwise. Whew, close one.
Farther—much farther—to the north, the Gualala Arts Center hosts a fairly yowza year-end party, having lured Grammy-winning R&B artist Jackie Payne to their strand by the sea. They call it the Bones Roadhouse in honor of the juke joint that burned down this fall but aims to resurrect in February. The night features a sushi bar, finger foods, cabaret seating, two bars and one heck of a great grownup time. Guest guitarist Pat Wilder joins the band, and locals Mendo Rhythm and Swing start the night off at 7:30pm. The whole deal's just $45 and is a great reason to spend the New Year at the beach.
Mere days before war criminal Condoleezza Rice goes blah-blah-blah at the Marin Center, the venue hosts scathing satirist Lewis Black in its main auditorium and the San Francisco Comedy Competition in the Showcase Theater. The comedy competition is officially over for the year, so four comics who honed their chops on its rather grueling tour stay limber by climbing back before the lights, while Black, who rarely meets anything he doesn't just outright hate, offers a searing firestorm of invective. He starts at 8pm; the S.F. Comedy alumni at 9pm, and quick-witted ticket holders can probably make the best of both shows.
In unrelated news, unless you like to imagine Condoleezza in a bare midriff, the 808 Band rocks the Russian River Brewing Co. in Santa Rosa with live, onstage belly dancing from the ladies of Wild Card Belly Dance. Plus it's absolutely free! Which is roughly $710 billion cheaper than the cost of the war so far in Iraq.
Happy New Year!
Send a letter to the editor about this story.