December 27, 2006-January 2, 2007
home | north bay bohemian index | music & nightlife | essay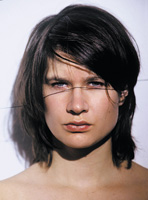 The Thread: Camille's newest album has been compared to Björk's 'Medulla,' but perhaps with more droning.
Three-Ring Year
Remembering 2006, from yodeling coke whores to stolen tombstones
By Gabe Meline
It was a year in which, by some unanswerable lapse of public taste, Justin Timberlake was allowed to make another album, but it was also the year that people finally forgot about Eminem. Bruce Springsteen made sure that people didn't forget Pete Seeger, and Bob Dylan hoped that they'd forget Muddy Waters long enough to accept "Rollin' and Tumblin'" as his own song, a note-for-note recreation credited to B. Dylan. ("Best songwriting of his career," gushed the reviews.) Norah Jones seems to have been forgotten--did she really leave us much to remember her by?
The Academy Awards finally realized that hip-hop exists and immediately picked the dumbest group in the genre to honor. Our own E-40 blew up nationwide, "hyphy" became a household word and an obsessed fan stole Mac Dre's tombstone. Super Hyphy became the hottest ticket in town; dumb was good and retarded was even better; and best of all, grownups were completely confused. ("You mean you jump out of the car--while it's still moving?!")
Two guys from Ohio, both in their 20s, made the year's best blues album in the shadow of the late Junior Kimbrough. A 19-year-old kid from New Mexico made the best Eastern European brass album, not that there was much competition. And a French girl who sings lounge versions of New Order songs made an amazingly listenable experimental a cappella album, a series of themes based around one droning note which became my unlikely top pick of the year.
Tony Bennett turned 80 and celebrated by staying out on the road and performing almost every night, just like he always has. Jay-Z turned 37 and came back from his lamely executed retirement to announce a new season of his clothing line. Fellow wannabe designer Gwen Stefani continued to torment us with her caterwauling obsession of fifth-rate Broadway musicals from the '60s, painfully banking on the hope that dressing like a coke whore and yodeling will somehow, somewhere, become cool.
A former punk rock singer wrote a hilarious, award-winning young adult novel. A fake Hasidic Jew made a fake reggae album that some people paid attention to for a couple seconds. Neil Young tried his stab at the urgency of politics, while the wallets of his largely leftie demographic were opened by the plight of three girls from Texas, helping propel them to the top of the Billboard charts. "I don't even like the music," everyone said, "but I just feel like I have to support them."
Modest Mouse scored big by teaming up with the world's most brilliant rock guitarist. Cee-Lo scored big by teaming up with the producer-of-the-month for what turned out to be a hit of incomprehensible proportions. The city of Oakland tried unsuccessfully to get teenagers to turn in their guns by offering free tickets to see Guns N' Roses, and Oklahoma City honored its hometown heroes on the return from their most bombastic tour yet by renaming an alley after the Flaming Lips.
Computers, of course, played their role. Home recording flourished as thousands of armchair ProTools engineers discovered that technology is no substitute for an experienced ear. An old Velvet Underground record bought at a street sale for 75 cents sold for an astronomical amount on eBay. Every band in the world put a video on YouTube and linked it to their MySpace page. Every band in the known universe had a MySpace page. MySpace was still a dirty word in most circles.
One of America's best bands, Sleater Kinney, broke up. So did Tower Records. So did CBGB, destined for a soulless reopening in Las Vegas. So did the conversations on a million cell phones, only to be resumed later by the inevitable blaring of a cheap ringtone--our new musical tattoo, declared to the world a few seconds at a time.
One of jazz's true originals, Anita O'Day, passed away. On the same day, so did Betty Comden. The man behind the rhyme, J. Dilla, worked on beats from his hospital bed. Dewey Redman and György Ligeti, both unsung visionaries, both performed until the end. So, too, Logan Whitehurst, so full of life and yet so unfairly stolen away by cancer, tirelessly completing what he knew would be his last album, making sure it would be completely clever and heartwarming and life-affirming.
Speaking of life-affirming, how about 74-year-old Ornette Coleman, who released the year's best jazz album, or Kris Kristofferson, who, at 70, wrote a captivating album rife with honesty and conviction? Daniel Johnston and the Minutemen both featured in incredible documentaries befitting their respective gifts. Johnny Cash got the Hollywood treatment, which would have been annoying except that more people than ever fell in love with the music of Johnny Cash.
Of course, some things never change. The Grammy nominations remain a total joke. Willie Nelson and Snoop Dogg both got busted for reefer--again. Former heroes continue to embarrass themselves (Common in a Gap commercial, Green Day onstage with U2) while new surprises, both new and old, continue to inspire (My Morning Jacket, Chivo Borraro, the Highlands, Lucy Ann Polk).
Through it all, we cannot--not one of us--imagine a world without music. Here's to another year of too many records, too many shows and, as always, cramming too much into one column.
Send a letter to the editor about this story.