December 27, 2006-January 2, 2007
home | north bay bohemian index | movies | current reviews | film review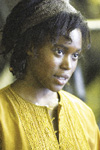 Eve of destruction: Clare-Hope Ashitey plays the world's last mother.
Bless the Child
'Children of Men' provides a grim future with a glimmer of hope
By Jeff Latta
Showcasing his own versatility and range comes naturally to writer and director Alfonso Cuarón. In his 11 years as a mainstream filmmaking success, the Mexico native has helmed one of the most diverse list of films in recent memory: A Little Princess, Great Expectations, Y Tu Mamá También and, most recently, the über-blockbuster Harry Potter and the Prisoner of Azkaban. For his latest engaging and assured tale, Cuarón has made yet another stylistic left turn by adapting The Children of Men, novelist P. D. James' bleak, sci-fi-tinged vision of a future world gone infertile.
The London of 2027 is chock-full of depression, violence, apathy and overarching decay. One thing this place is sorely lacking is babies; unfortunately, the same goes for the rest of the planet. The youngest human on earth, dubbed "Baby Diego," has just died at the age of 18. Disturbing and depressing though the state of affairs may seem, it all has little bearing on activist-turned-bureaucrat Theo Faron (Clive Owen). When his own son died 20 years ago, Theo lost interest in most anything and everything. But when his ex-wife (Julianne Moore)--still an activist after all these years--kidnaps him for the important mission of transporting Kee (Clare-Hope Ashitey), a miraculously pregnant young woman, away from the terror of the urban landscape and into the arms of the mysterious but scientifically inclined "Human Project," Theo finds himself taking more and more of an interest in life, both his own and the continued existence of it on the planet.
For all of the importance attached to the first pregnant woman in 18 years, Children of Men's story is ultimately an intimate one. Following one man's perspective, Cuarón and James eschew trite grandstanding about how and why our world will soon go mad, instead choosing to make it a sad but obvious inevitability. Gradually, our interest in the story leans more toward the heroic awakening of Theo than to the salvation of all human existence. Every character save Owen's really just floats in and out as a supporting player or glorified cameo--even Kee the pregnant girl--and Michael Caine's few scenes as Jasper the heroic hippie stage him as little more than a stoned Gandalf who provides counsel for our hero at crucial points in his journey. And make no mistake, this is ultimately a solidly crafted hero's journey--jaded, apolitical nobody though that hero may be.
The stark look of the film harks back to the steady-paced classics of the 1970s filmmaking heyday. Children of Men is devoid of flashy editing and expensive effects, instead gaining visceral thrills from sheer unaffected experience. Cuarón and cinematographer Emmanuel Lubezki film the movie almost entirely with long, uninterrupted takes that give the film the feeling of an elaborately staged play, with the tension close to unbearable when it needs to be.
But Children of Men is first and foremost a suspenseful and occasionally action-packed thriller (with a few effective plot twists not to be disclosed here), though a measure of near-pretentious sci-fi posturing does manage to make its way in. Like every filmmaker from Back to the Future to Minority Report, Cuarón and his crew cannot help but indulge in somewhat gratuitous glimpses of their innovative inventions of the future. Media and advertising (really, video screens in general) permeate this ultramodern world, perhaps giving a clue as to the distractions necessary to exist in a world without the possibility of a collective future.
Indeed, those residents not engaged in bloody warfare and revolution seem as bored and defeated as the ravaged landscape. But all is not bleak and grim in Cuarón 's vision of the future. As people begin to encounter Kee and her unique situation, their actions and behavior confirm the innate decency of humanity, something many of the supposed "heroes" of the film largely underestimated. And it is upon this relatively uplifting message that Cuarón soars to his grandiose finale, pointedly demonstrating the goodness and hope that lie in us all--even in the face of a world gone to hell.

'Children of Men' enjoys a limited Bay Area engagement.
Send a letter to the editor about this story.