December 27, 2006-January 2, 2007
home | north bay bohemian index | sonoma, napa, marin county restaurants | profile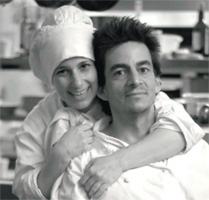 Food is love: Meekk and Rick Vargas of Bistro V.
Born to It
Chef Rick Vargas reflects on the sweet curse of the restaurant life
By Carey Sweet
'This business is insanely hard," chef Rick Vargas says matter-of-factly. "It'll suck you dry if you're not committed."
Ironically, it's a very wet, rainy gray Monday afternoon as Vargas chats, snatching a few moments for an interview in between the lunch and dinner service at his Bistro V restaurant in Sebastopol.
As if on cue, a soggy customer walks in and heads straight to the foyer bar for a steaming hot latte.
"I like rain," Vargas announces, nodding at the downpour splattering the small garden flanking the patio entry. "It's great soup weather. Comfort food. I love picking mushrooms in the rain."
The telephone is ringing--more reservations being made, Vargas says thoughtfully--and that reminds him: he's got to finish putting together the menu for his New Years' Eve celebration. He leans back in his chair, sitting at one of the two-dozen white-clothed tables in his front dining room but clearly antsy to get moving again.
"I've been picking mushrooms since I was a kid. I'm with the Mushroom Society. I pick in the Santa Cruz mountains and all around here. I stay away from the deadly genus," he says with just a hint of a smile. "Customers don't like that."
Then he stands up. He's got to check on the dough that's almost ready to be put in the oven for that night's meal. There are French and walnut breads, both crafted from a sour "mother" (starter) of organic grapes, water and flour. He made the mother when he opened Bistro V almost two years ago, he says, after purchasing the former Chez Payo space that had tantalized West County diners with its lovely country French cuisine for 27 years.
"It's crazy. But what am I going to do?" he asks, as much of himself as anyone as he heads toward his kitchen. "I was born into it--cursed into it, maybe."
And thus begins a conversation with chef Vargas. Or just "Rick," as he prefers. None of that stuffy "yes, chef" pretension, please. Because while he is indeed chef-owner of one of the North Bay's best-hidden-treasure restaurants, he's well aware that the reality of running a successful eatery is more Herculean than Hollywood.
To do it his way as he does at Bistro V, with everything from pasta to pastries and even pancetta homemade, takes endless energy. It takes such ability to multitask that his intensity might be confused with ADD. Besides lunch and dinner six days a week, Vargas and his kitchen host Sunday brunch, winemaker dinners, charity dinners like a recent benefit for AIDS victims in Namibia, nightly tasting feasts plus special-request vegan or vegetarian menus and private parties.
A few moments later, Vargas returns to the table, wiping semolina from his hands.
The insanity is in his blood, he explains. Pointing to a portrait of his father, Miguel, hanging on the wall of the elegant, rustically decorated bistro, Vargas says that at the age of four, he was put to work "standing on a chair, cutting mushrooms" in his parent's San Francisco restaurant, West Portal Joe's. It's difficult to tell if he's kidding when he murmurs that he might have been conceived in the kitchen there.
The love of cooking led him to the Le Pot au Feu culinary school in Paris and five years apprenticing at restaurants across France, including the Michelin three-star Au Crocodile. There he learned the importance of "minutiae," like always hand-chopping vegetables for "textural integrity" (he blanches when asked if he would ever use a Cuisinart to speed along the brunoise garnishing a lamb shank, or even when rough cutting veggies for stock), and laboriously roasting chicken bones for brown jus.
When he returned to San Francisco, it was to work in the top restaurants Masa's and Aqua. Great experiences, but bad situations in the end.
"I'm creative, a lunatic," the spiky-haired, piercing-eyed chef muses. "I'm not a very good employee. But whatever, I don't conform. I'm not easily controlled. I'm very good at what I do, but I hated the business side."
Vargas' next stop was opening Stoa in Palo Alto, an upscale Mediterranean cafe that prompted two dramatic changes in the chef's life. First, the cuisine was strictly vegetarian/vegan, a challenge for someone who delights in the classic French cornerstones of meat, cream and butter. Second, Stoa cemented his permanent partnership with a Stoa chef who is now his wife, Meekk Vargas. In addition to acting as a pastry chef for Bistro V, the diminutive dynamo Meekk gets credit for keeping wild-child Vargas centered on the demands of Bistro V ownership.
"I am the luckiest guy in the world," he says sincerely. "That lovely, sweet person keeps me in line. She makes smart people jump through hoops. I don't know how she does it, but without her, I'd be roasting chestnuts over an open fire--out on the streets."
Meekk's influence and Israeli heritage show on Bistro V's menu, which, though labeled "Wine Country Kitchen," is more an intriguing whirl of classic French, Italian and Californian, with Peruvian and Mediterranean accents. A stuffed kabocha squash and wild mushroom duxelle tamale is vegan Southwestern, while chile-spiked organic chicken skewers come with hummus, tzatziki and caramelized eggplant. Juniper-crusted pork tenderloin glistens with Peruvian aji pan juices, and Vargas relies on his Peruvian-born father's recipe for his classic Spanish flan dessert. A drop-dead gorgeous French onion soup, meanwhile, is pure Gallic glory, savory-rich with intensely beefy broth, caramelized onions and a gooey coverlet of Emmental.
And Meekk, like Vargas, is compelled to focus on the details. She hand-pulls the strudel dough for her signature apple dessert, makes the puff pastry from scratch for an appetizer of crisp pear and Point Reyes bleu tartlettes with port syrup, and even makes her own pot sticker dough.
"It's a phenomenal amount of work," Vargas admits. "We can buy a packet of a hundred [pot sticker] wrappers for 99 cents. We're crazy. But the more machines interfere, the less it's food."
Upon leaving Stoa, Vargas heard the call of Sonoma. The area had been a favorite retreat as a child, a vortex of sorts for creative, earthy people like himself. Every weekend for a year, he and Meekk toured across northern California until they found Bistro V, which lured them with its turn-key, top-notch French chef's kitchen, its herb and vegetable garden in the back and what Vargas says are its "straight-out nice people." Much of the staff remains from Chez Payo, including a line cook of 15 years, Manuel Padilla.
When he's not in his kitchen, Vargas is out patrolling the many organic farms in the area, visiting cheese makers, fishermen, vintners and beekeepers. They make up the backbone of his cuisine, with Laguna Farms produce, Joe Matos St. George cheese, fresh local mussels, Liberty Farms duck and Fulton Valley organic chicken.
He makes a point to avoid the owners at such places, he says with a smile, instead talking to guys in the field, the hands-on experts who can lead him to the perfect butternut squash, in the exact size and ripeness he seeks.
He could easily have set up shop in Napa, he knows, drawing more attention for such innovative recipes as a divine salad of roasted mixed beets, roasted red peppers, melted onions, borscht vinaigrette and sour cream with dill, tarragon and chives. But he found the valley too "frou-frou."
"I don't care about the competition, but I don't care for the attitude."
Bistro V, tucked off Sebastopol's main drag on Gravenstein Highway South between a massive flea market and an adult toy store, has yet to garner critical acclaim, but with virtually every seat filled day and night, Vargas isn't itching for a bigger spotlight.
"Hollywood only finds one out of many thousands," he says of the glamorous kitchens he's left behind for this fledgling, small-town operation. "But that's more ego-driven than from the heart. Our customers are well-traveled. They appreciate nostalgic nuances and respect traditional preparations. They understand real food and passion."
And suddenly, Vargas has had enough of this interview. Politely, but with no mistake that he means it, he's heading back to his kitchen. He's got herbs and vegetables to pluck from his organic garden, garlic to roast and that bread to put in the oven.
Oh, and he's got soup to make. Tonight's special will be a vegetarian quinoa packed with perfect, luscious, fresh-picked wild mushrooms.
Bistro V, 2295 Gravenstein Hwy. South, Sebastopol. Open for lunch and dinner, Wednesday through Monday; brunch, Sunday from 10am to 2pm. 707.823.1262.
Send a letter to the editor about this story.