December 27, 2006-January 2, 2007
home | north bay bohemian index | music & nightlife | profile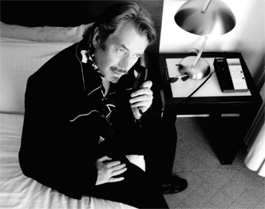 Alive & Lickin': Dan Hicks shares Cher's distaste for the road.
Home Bodies
Veteran North Bay musicians define success differently
By David Sason
No one would ever accuse Mick Overman of being lazy. For nearly 20 years, the Santa Cruz-based musician has built a strong reputation as an Iron Man of the road, playing as many as 379 shows a year. On top of that, he's been a one-man promotion machine, driving the releases of all his albums, which showcase his self-described "bluesy folk and roll with jazz attitude."
But despite his tireless work ethic, Overman's always been a Bay Area sensation, playing regularly at Downtown Joe's in Napa and the Tradewinds in Sonoma County, a place he calls his second home. Overman first played the North Bay a decade ago at the behest of friend and Cotati accordion guru Jim Boggio. The area reminded the SoCal transplant of why he'd originally moved to Santa Cruz back in the '80s. "Six or eight years after moving to Santa Cruz, the music scene wasn't as strong, but it seemed to be thriving in the North Bay," Overman remembers. "There was more of an appreciation for live music, and for original music."
At the turn of the millennium, Overman scaled back after 12 years of grueling, nonstop West Coast touring. "I wanted to focus more on just being a human being and an artist, rather than a money-earning machine," he remembers. This turning point, ironically, was consistent with one of Overman's many astute business theories. "You can oversaturate a market, and no matter how you evolve and improve as an artist, there's a danger of people taking you for granted," he says. "I only play my hometown three or four times a year."
The fiercely independent songwriter shows more of a collaborative spirit on his new album, Good Thing Happen, to be nationally distributed by Burnside Distribution, which should gain Overman an audience faster than his years of touring have. But his idea of success transcends the bottom line. "I'm getting to live as an artist on my own terms, earning a living and getting by year after year, writing, performing and recording music that's important to me," he says. "If this is as good as it ever gets, I'm OK with that."
Conversely, Bart Hopkin of Point Reyes Station has always been satisfied with his limited, regional renown. "I'm not very good about being ambitious about these things," he admits with a laid-back laugh. "I came here because I liked being here, then I took whatever musical opportunities happened to come along." Hopkin's classical guitar solo show can be seen every Saturday at the Station House Cafe in Point Reyes Station, where he plays an eclectic repertoire of originals and standards. "I've been playing there for literally 20 years," he says, "and I think we're at the stage now where it would be too sad for them to ever fire me."
Hopkin seems more driven by his day job as director of Experimental Musical Instruments, an organization devoted to unusual and invented instruments. His interest started, like many, at a very young age. "There are always kids beating pots and pans," he says. "I was one of those, and I never really stopped beating on pots and pans." His curiosity eventually led to an ethnomusicology degree from Harvard and years of studying traditional music in Jamaica. In 1996, he published the highly regarded book Gravikord, Whirlies & Pyrophones: Experimental Musical Instruments, replete with a CD offering readers a solid glimpse of what each instrument sounds like. Hopkin's album After Seven Years navigates through originals and classics as varied as Bach, Woody Guthrie and the Motown classic "Money (That's What I Want)," aided by an invention he simply calls "a funny-looking, 5/6-size electric guitar."
"If you think of a good name," he laughs, "you can tell me."
With an expansive but scattered community, events for experimental instrument enthusiasts, like one in New Zealand that Hopkin will soon attend, are few and far between. "There's certainly not an annual festival," Hopkin says, "but in the Bay Area, the scene is pretty good." Hopkin wants to organize more shows like one he arranged in 2004, but they've proven to be logistically difficult. "For me to do a good show, it really helps if I bring a ton of instruments," he says. "It's great fun, but it's also a drag in a way. Compared to just doing music in a restaurant, it doesn't make much money." Hopkin looks forward to his next showcase, though, which is cryptically scheduled for whenever he "gets the itch."
Similarly nonchalant about his career in general, Hopkin seems content and grounded. "I'm not like a lot of musicians who have stars in their eyes," he says. "My dream is just to try to be a decent person in the end." Though not as innovative as his experimental instrument work, Hopkin feels his more conventional Station House gigs--playing to weekenders and weary hikers--have other rewards. "I still enjoy the hell out of it," he says. "The greatest thing is to play the song that was playing on the radio the first time that guy at that table over there kissed Susie."
Certainly no stranger to the good ol' days of rock is influential Mill Valley resident Dan Hicks, an innovator of the late-'60s Haight-Ashbury psychedelic scene with his band the Charlatans. Hicks gigs regularly at the Sweetwater, a venue that's endured since he moved to the town in the early '70s. In addition to his popular band the Hot Licks, he enjoys his other project, Bayside Jazz, where he brings his unique vocals to jazz standards to a standing monthly afternoon gig. "I kind of do a Mel Tormé thing; it's a labor of love," Hicks says with his Arkansas drawl. "I like it because I don't play guitar. I can just stand there and see what I can do with my voice."
This venture is not surprising for Hicks, whose last album, the countrified jazz and blues hybrid Selected Shorts, featured guests as diverse as Jimmy Buffet, Willie Nelson and the Butthole Surfers' Gibby Haynes, whose own raspy vocal inflections mirror the host's. In 2007, we can expect Hicks' long-awaited Christmas album, a possible KRSH radio show and certainly more concerts, which he still enjoys the most.
"I somehow prefer playing live than being in the studio," he says, relaxed as always. "It's sometimes tedious and a necessary chore." In order to avoid tour burn-out, he now limits his international show schedule. "I go out for maybe two weeks at the most," he says. "It's like Cher said, 'I like everything but the traveling.'"
Although a local icon, Hicks enjoys a mid-level of success. "I would like to have more recognition," he admits, although his views on the subject are as capricious as his musical styles. "But I would hate to get to the point where it did bother me," he says. "Bob Weir goes to Whole Foods late at night so he doesn't get hassled. I wouldn't want to be in that place." He chuckles: "Or maybe I would."
Calistoga resident and jazz pianist Larry Vuckovich has dedicated his career to ensuring local artists get their due appreciation. He fled his native Montenegro, arriving in San Francisco during the jazz-rich 1950s. "The scene was unbelievable; you had bebop, big band, Dixieland, boogie-woogie piano players," he remembers of the North Beach area. "Charlie Parker would jam there, guys from Duke's big band would come, Ella would come."
A widely respected artist in his own right, Vuckovich pioneered the use of Balkan musical elements in American jazz with songs like "Blue Bohemia Suite" from his film noir-inspired Street Scene album. "Coming from the Balkans and hearing the gypsy music, those guys don't jive and bullshit," he says. "The great jazz musicians all had that, but that's diminishing."
Vuckovich holds high esteem for lesser-known masters, like trumpeter Allen Smith, who's recorded with Benny Goodman, Duke Ellington and Gerard Wilson. "When he plays the horn, he sings," he says, vibrantly exhibiting his encyclopedic knowledge of the genre. "The great singers always admired the great horn players, because they would exchange ideas."
As a Napa Valley Jazz Festival curator, Vuckovich spotlights many of his unsung heroes each December, but the opportunity was hard-won, having been turned down by more prominent festivals in San Francisco and Monterey. "They had these guys isolated one by one for years, but that's not enough, man; you got to have 10, 15 guys," he insists. "You put them all on one stage and show people the history of the city, plus you get to see how these older guys play with such great energy." Vuckovich's honoring of others has brought him more recognition for himself. San Francisco mayor Gavin Newsom recently proclaimed his 70th birthday, Dec. 8, Larry Vuckovich Day.
"Little by little, it's happening," Vuckovich says of the North Bay jazz scene, undoubtedly catalyzed by his regular gigs at COPIA, the Calistoga Jazz Festival and soon the Larkspur Cafe Theatre. And for a man who's just entered his seventh decade, age seems nothing but a number. "As long as I feel good, I have no intention of slowing down," Vuckovich says. "In some ways my energy is even better, because you learn to channel it, not to waste it."
Send a letter to the editor about this story.