December 27, 2006-January 2, 2007
home | north bay bohemian index | sonoma, napa, marin county restaurants | recipe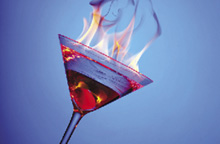 Firewater: Cold-weather cocktails warm and enliven. In fact, they're darn near medicinal.
Hot Toddy
When the weather outside is frightful, chill out with warm cocktails
By Sara Bir
The appeal of cocktails is inextricably linked with ice: ice shaken and strained out of the drink; ice blended into the drink; ice cubes clinking in the shapely clear glass. What could be cooler than a swanky drink sipped under stylishly low lighting?
But when ice comes in the form of frost on the windshield, the tropical minty breeze of a mojito is less inviting. Gurgling warm-weather cocktails in the dead of winter makes about as much sense as eating a corn and tomato salad composed of December produce. In other words, it's unfashionable and unseasonable. Take a break from fighting ice with ice, and come in from the cold to warm cocktails.
Sure, a glass of red wine or a creamy pint of stout can nurture a bar-goer craving comfort, but warm cocktails, so cozy in nature, are best enjoyed at home. Almost always on the sweet side, they make fine nightcaps and are a delightful change of pace for casual entertaining.
Generally, warm cocktails can be divided into three categories: wine-based (mulled wine), dairy-based (Tom and Jerry) and tea- and coffee-based (hot toddy). One of the oldest and most popular warm cocktail is mulled wine, which possibly originated as a way to make spoiled wine drinkable by sweetening it and adding spices. Most any culture that drinks wine has a mulled version of it: French vin chaud, Italian vin brule, Germangluhwein, and Scandinavian glögg. Hearty glögg can be fortified with vodka or schnapps, as well as raisins and almonds. Gluhwein, often sold on the street at open-air Christmas markets, translates to "glow-wine"; after a few mugs of the stuff, you'll be glowing yourself.
Mulled wine is great party fare, easy to make in bulk, and it requires minimal attention. Don't put in too much sugar, or you'll wind up with a big pot of purple glop that tastes like hot cough syrup. Instead, taste the wine as it mulls and add the sugar bit by bit. And while it's important the wine you use be good enough to drink at room temperature without gagging, don't go cracking open anything that costs more than $10. Two Buck Chuck is perfectly suited to the task. As an alcohol-free alternative, mulled juices (blackcurrant, grape, cranberry, apple or the seasonal pomegranate) do nicely.
The old-world charm of spicy wine concoctions notwithstanding, the Tom and Jerry--a concoction of stiffly beaten eggs, hot milk, rum, brandy and spices--was once the reigning king of warm cocktails. It was so ubiquitous in winter entertaining that bowls and mugs, often decorated with gold edging and emblazoned with the words "Tom and Jerry," were made specifically for serving the drink. J.H. McKie, an L.A.-based company that manufactured coffee machines, even sold a Tom and Jerry urn so bartenders could serve many orders of the labor-intensive cocktail throughout the evening with relative ease. In his short story Dancing Dan's Christmas, Damon Runyon wrote, "Many people think Christmas is invented only to furnish an excuse for hot Tom and Jerry, although of course this is by no means true."
Eccentric bartender Jerry Thomas (author of the first known bartending guide) is often credited with creating the drink, though some cocktail historians dispute this fact, pointing out that Thomas would have been in his early teens in 1847, the year he claimed to have invented his namesake.
Whatever the case, the Tom and Jerry sadly does not appeal much to our modern tastes. I served the drink at a party last winter, and my guests were less than enamored; the drink bears quite a strong resemblance to hot, watery eggnog. However, the drink has quite a following among traditionalists in the more landlocked states of our great nation, where winter weather means business and ready-made Tom and Jerry batter can be found in grocery and liquor stores.
Tom and Jerrys are not particularly simple to whip up. One must first separately beat the egg whites and egg yolks, then fold them together with sugar and nutmeg to create the "batter." A few tablespoons of batter are next placed in a warmed mug with liquor (rum and brandy, most often) and topped off with hot water or milk.
Besides the Tom and Jerry, rum plays a starring role in hot buttered rum, another drink for which a jarred mix is available. Once again, hot buttered rum falls into the love-it-or-hate-it category; some find a greasy film floating on top of their warm Bacardi just a bit too much to handle. Some modernized recipes for hot buttered rum batter call for the addition of ice cream, which perhaps deviates from the classic version but makes a sweeter, creamier drink with a wider appeal.
Tea- and coffee-based warm cocktails offer the added bonus of caffeine, so if your system can handle a battle of liquid-borne depressants and stimulants, Irish coffee may appeal to you. Jack Koeppler is credited with introducing the drink to America in 1952 at his San Francisco bar, the Buena Vista, which continues to be a destination for the concoction of black coffee, sugar and whiskey topped with softly whipped cream.
For something with less kick, add a little rum or whiskey to high-quality hot chocolate for a lower-fat, higher-flavor alternative to eggnog. This preparation would generically fall under the umbrella of a hot toddy--generically any warm mixed drink, usually made with whiskey, rum or brandy in hot tea, water or coffee. The classic hot toddy includes lemon and honey and is oftentimes not consumed for pleasure but as a home remedy for a cold or flu.
Speaking of sickness, in my experience, overindulgence in warm cocktails invariably leads to hangovers much more ferocious than those resulting from chilled drinks. Either drink moderately or be prepared to pay the painful price. Winter is a cruel season, and the fortitude gained by imbibing one warm cocktail should not be squandered by imbibing a fourth warm cocktail.
So sip merrily away, whether it's at the bar or in front of the fireplace, and dream of the trendy cocktails to come once spring rolls around.
Mulled Wine
Easy to make in a large batch, mulled wine is perfect for stress-free entertaining (it cooks largely unattended). Make sure to mull for at least one hour, during which time the flavor goes from harsh to mellow.
1 750 ml. bottle fruity red wine
1 3-inch piece orange rind
juice of 1 orange, strained
4 whole cloves
2 3-inch cinnamon sticks
4 cardamom pods, split in half
at least 1/4 cup honey
at least 1/4 cup sugar
Combine all ingredients in a large, nonreactive saucepan (or better yet, a crock pot) and set over lowest heat, making sure wine does not boil. Mull for at least one hour to allow the flavors to fully meld. Taste prior to serving and adjust sweetness with more sugar or honey, if desired. If serving in glasses, place a spoon in the glass prior to adding hot liquid to prevent the glass from cracking. Serves 6.
21st-Century Tom and Jerry
Premade Tom and Jerry batter can be pretty scary stuff. However, three of the main ingredients of Tom and Jerry batter--eggs, sugar and dairy--are present in premium ice cream, which is much more versatile in the first place.
3 tbsp. premium vanilla ice cream (preferably French vanilla)
1 ounce rum
1 tbsp. brandy
about 6 ounces milk or water
freshly grated nutmeg for garnish
Fill a medium mug with water and microwave for 1 to 2 minutes. Empty the mug and place ice cream in the bottom. Microwave for 30 seconds to 1 minute, until ice cream is melted, warm and frothy. Fill the mug with water and/or milk, and microwave 1 more minute. Add rum and brandy and stir. Garnish with nutmeg and serve. Serves 1.
Send a letter to the editor about this story.