December 28, 2005-January 3, 2006
home | the papers | north bay bohemian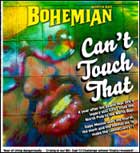 Can't Touch That
A year after his death, Mac Dre's legacy still kicks from the North Pole to the North Bay. Gabe Meline uses the mural, the mom and the memories to make the connection.

Half Empty
A small but vocal minority of users are raising a stink about how eBay treats their beloved Half.com.
News Briefs
Happy DUI?
Open Mic
My Last Year.

Car Culture
Bedtime Story.

Sad Songs Say So Much
In which we proudly announce the winner of the Sad 13 Challenge.
Blue New Year
Tommy Castro is home for the holiday.
Southern Nights
Don't forget the Crescent City.

MORE NIGHTLIFE

NIGHTLIFE CALENDAR

Eating Her Words
One writer takes New Year's resolutions to . . . stomach?
Wine Tasting Room of the Week
Like Drinking Stars.