12.30.09
home | north bay bohemian index | the arts | stage | review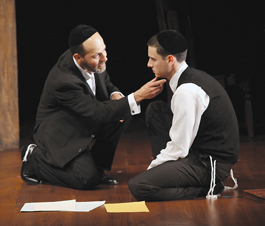 Photograph by Ed Smith
Top 10 Torn Tix
The North Bay stage's best of 2009
By David Templeton
Since January of 2009, the question "How many shows do you see a year?" has been put to me almost as many times as I've seen shows. I have seen exactly 66 plays, musicals, operas or staged readings in 2009. That's a heapin' helpin' of theater. As part of my regular theater-going ritual, I collect all of my ticket stubs throughout the year, saving them up for mid-December, when I carefully dump them from the old cigar box in which they are kept, and begin the arduous (but enlightening) task of choosing my top 10 favorite shows of the previous 12 months. If the New Year is anywhere close to 2009 in overall quality and creativity, then 2010 will be well worth looking forward to.
Here are this reviewer's personal favorite shows—my Top 10 Torn Tickets of 2009.
1. 'My Name Is Asher Lev' Chaim Potok's celebrated novel came to life with stunning elegance and beauty in the Marin Theatre Company's breathtaking play. With a brilliant script by Aaron Posner and sensitive direction by Hal Brooks, the story of a young Jewish artist's development, for good and bad, avoided clichés at the same time it examined stereotypical views of the inner worlds of Hassidic Jews, grieving parents and rebellious artists. The acting—by the terrific trio of Danielle Levin, Patrick McNulty and, as Asher, Peter Stadlen—was outstanding, propelling the show on the raw force of their emotions, as the story moved from its ingeniously succinct opening to its stunner of a conclusion—lyrical, truthful and devastating.
2. 'The Scene' Therese Rebeck's scathing comedy-drama about passive-aggressive New Yorkers on the fringes of the entertainment business opened the year at the Sixth Street Playhouse, and nothing presented there all year matched the show's outrageously nasty brilliance. With a fearless cast—Keith Baker, Dodds Delzell, Rose Roberts and Michelle Maxon—a rotating carousel set and spot-on direction by Elizabeth Craven, The Scene was exhilaratingly clever and, with its unexpected "Tortoise and the Hare" climax, completely and utterly satisfying.
3. 'La Bohème' Cinnabar Theater's spare, English-language production of Puccini's enduring operatic masterpiece nailed the comic-to-tragic trajectory of the story, giving us a cast of great actors who were also excellent singers. The ending, with a band of starving artists mourning the excruciating death of the lovely Mimi (Leslie Sandefur), was so beautifully executed by director Elly Lichenstein and so well supported by musical director Nina Shuman that it still lingers in the mind. Like all good operas, and the occasional rock song, this La Bohème hurt so good.
4. 'Almost, Maine' John Cariani's boldly uncynical comedy, presented in February at the Sonoma County Repertory Theater, was like a magical realism version of Love, American Style. In a tiny Northern town where metaphors about love come to literal life and people carry pieces of their broken hearts around in bags, four actors played several love-struck characters, literally falling in and out of love. Smartly directed by Sheri Lee Miller, this could have been cloying and queasy but was somehow the exact opposite—engaging, charming and delightfully life-affirming.
5. 'The Book of Matthew' One of the delights of the 2009 season was the world premiere of Gene Abravaya's first play, The Book of Matthew. Presented by the since-dissolved Pacific Alliance Stage Company and directed by Hector Correa, the lovely and affecting semi-autobiographical comedy marked Abravaya's first play to be given a full staging, and signaled the emergence of a confident new playwriting voice. The production benefited from winning performances by the entire cast, from a sensitively outraged Tim Kniffin in the title role to a charming and deep-reaching Correa in a juicy supporting part. The play, which has since been staged by other companies as well, was reminiscent of the mid-career Neil Simon, and the fact that Abravaya is a well-known local actor and director makes this pleasant discovery all the sweeter.
6. 'Lydia' Octavio Solis' mesmerizing soap opera about a brain-damaged girl observing the strengths and weaknesses of her Mexican-American family featured some of the strongest and boldest writing of the year, supported by a cast required to go to some very dark places. The ending, which still haunts me, pushed tamer definitions of love and family bonds into shocking and jaw-droppingly beautiful new territory.
7. 'On an Average Day' and 'Riff Raff' Narrow Way Stage Company's bleak but captivating stagings of John Kolvenbach's On an Average Day and Laurence Fishburne's Riff Raff were not seen by very many people, which is a shame. Both urban grunge plays directed by Adam Palafox featured tight pacing and super-intense performances. In the case of Day, Chris Ginesi and Nick Christianson gave their best performances ever as two dysfunctional brothers unraveling a family mystery amid literal and metaphorical garbage. Riff Raff featured six actors rotating through three roles. With Dan Saski a standout as a retired criminal thrown back together with a former friend, the play was uneven but absolutely unforgettable.
8. 'Collected Stories' Watching Cinnabar Theatre's lovely and poetic staging of Donald Margulies' 1996 drama was like watching a particularly beautiful piece of origami art slowly unfold to reveal the plain square of paper that was always there. With two strong performances by Carol Mayo Jenkins as a legendary teacher and writer of short fiction, and Anna Bullard as her too-eager, would-be-novelist student, the play, directed with a light, graceful hand by Elizabeth Craven, was as sly, funny and wise as it is was heartbreaking and real.
9. 'Man of La Mancha' I am not a fan of Lew Wasserman's celebrated musical, but the Mountain Play's staging of the story of Don Quixote, directed by the great James Dunn (who's always good with unstageable plays), managed to not only avoid all of the usual missteps, it ended up being deeply affecting and irresistibly tear-jerking. While a few other song-and-dance shows this year made similarly strong impressions, Man of La Mancha stands as my favorite musical of the year.
10. 'The Three Musketeers' It was goofy, reductive and at times resembled a Mel Brooks spoof, but the Sonoma County Repertory Theatre's take-no-prisoners staging of the Dumas classic, presented as part of the Sebastopol Shakespeare Festival, was like an old-fashioned Saturday matinee on steroids. From the witty wordplay and rousing fight choreography to an unexpectedly moving death scene, a pair of hiss-worthy villains (thank you Bronwen Shears and Eric Burke), this confident, energetic, adventure featured a strong all-star cast doing exceptional larger-than-life work, and strong, tongue-in-cheek direction by Ken Sonkin. The Three Musketeers might not have been one of the most important plays of the year, but it was definitely one of the most entertaining.
Send a letter to the editor about this story.