12.31.08
home | north bay bohemian index | news | north bay | news article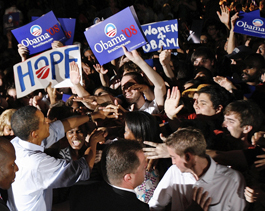 Courtesy my.barackobama.com
CAN'T GET ENOUGH:
While we hang in lame duck limbo, citizens remain rabid to news of and a chance to help president-elect Obama.
Are We Change Yet?
Well after his election, Obama's house party machinery stays nimble and adamantly nonpartisan
By P. Joseph Potocki
Caroline Andrews wants to see real change once Barack Obama becomes president. "I'm a progressive," Andrews says. "I don't like how the Patriot Act or Homeland Security has been used against citizens who happen to believe differently than the Bush administration. That's a major issue with me. OK—that, and the economy. We have to help people so that they don't fall down so low that they can't get up."
Andrews offered her insights as folks filtered out from a conversation-filled back room in downtown Santa Rosa's Democratic Party headquarters, one of thousands of such "house meetings" held across the country over the weekend of Dec.13–14. The Santa Rosa gathering drew almost three dozen citizens, mostly middle-aged white people. Attendees had spent the previous hour airing social concerns and vowing continued dialogue while committing to as-yet unimagined projects and service events to take place at unspecified later dates.
The president-elect himself asked that these house meetings be held anywhere a volunteer host stepped forward to organize one. The meetings are part of Barack Obama's ongoing effort to solidify, expand and push forward his unprecedented grassroots network that fostered, largely funded and ultimately won him last November's election.
A cynic might quip that these December meetings were designed merely to reassure Obama supporters that their soon-to-be chief executive has an ear attuned to their concerns, or that these gatherings are simply an effective means by which to identify, secure and garner enhanced groundswell support for Obama's ambitious forthcoming legislative agenda. Doubtless, a large, enthusiastic and well-ordered network of communicative citizens constitutes metaphoric rocket fuel, potentially thrusting the new president's agenda toward the law-enactment heavens. But something more, unstated and yet unforeseen, may be brewing up here, too.
That something, or rather those somethings—subtle, innovative and unexpected—could rise from these gatherings like wild strains of hungry yeast, an expanding mass of ideas, energy and actions potentially turning Obama's disciplined networking process upon its head. Being the former community organizer he is, Barack Obama is well-acquainted with what people power can unleash, so we may conclude that populist dynamism is what he's after. But, really, is that so?
If it is so, Obama's intention may be to bolster his left flank, allowing him to edge in that direction. Appointments of mostly centrist to right-leaning cabinet members cover his right flank for the time being. Could, then, these informal citizen-run house meetings be Obama's way of getting his more left-leaning base to provide cover for intended New Deal–style change? If so—and that's one enormous if—his strategy is not without risk of unintended consequence. By soliciting and encouraging independent thought and action from a truly engaged citizenry, surprising political turns could be taken. Consider renowned activist Mother Jones' 1903 proclamation: "I'm for agitation. It's the greater factor for progress." Could Mother Jones' radical notion of progress be precisely Barack Obama's own mantra for "change"?
Conventional wisdom says no. Christopher Hayes, writing for The Nation, begins a recent piece with, "In case you haven't heard, Barack Obama is a pragmatist." Hayes explores the near-constant drumbeat, heard from the mainstream media and from the mouths of thinner skulled righties, placing pragmatism, specifically pragmatism attributable to Barack Obama, at the pinnacle of what's politically vogue—namely, that which, having swept away the horrendous debacle of neoconservatism, now declares that ideologies are nothing more than a feckless gaggle of butt-ugly one-nighters we got drunk with and somehow found snoring on the pillow beside us.
Sky Nelson organized and moderated the Santa Rosa gathering, dubbed "We Are Change—But What Does It Look Like?" Nelson, a musician and former high school physics teacher, actively worked Obama's corner from early in his campaign. Nelson self-identifies with progressive issues, though when asked about how Obama's successful run for the presidency will affect his own leftist wish-list, he parries with, "I guess I hope there's nothing left of the left or the right. This group that met today solidly identified themselves as a citizen network, rather than a political group."
Persons of a conservative bent may find Nelson's comments curious, indeed. A meeting hosted in a Democratic Party headquarters at the behest of a Democratic president-elect—not political? To be fair, Obama himself repeatedly emphasizes his deliberate embrace of persons of all political stripes in hopes that stated change be accomplished. Nelson wholeheartedly concurs. "I felt like this was not a political event. These are people who want to be involved in the community and recognize the call to action. And they're not fighting for a particular political cause; they're fighting for our communities."
Dig deeper beneath a surface of these citizen-organized meetings, their self-generated ideas, combined actions and obscured political identifications, however, and there you will find an ever-evolving technological underpinning, growing and tying together Obama's program for change. Obama has more deftly tapped into Internet resources than any politician before him. For example, My.BarackObama.com boasts an online community of more that 1 million organizers and activists.
The site claims that's "because it's all about you," and that joiners "get access to the tools you need to effectively organize for Barack Obama and build this movement for change," while emphasizing that its online tools make local organizing easy. Then there's his donation site, BarackObama.com, and his official transition team site, Change.gov. Additionally, thousands of empathetic blogs, political sites and MySpace and Facebook pages actively pitch in their support of the soon-to-be president's call for change.
Precisely what constitutes that change, however, and just who most benefits from it is open to discussion, and will doubtless continue to be hotly debated.
That machinery of citizen house meetings manufactures both consent and action. As meeting facilitator Nelson puts it, "We need to create a garden bed so that people communicate with each other and not get stuck in arguments about their opinions, but develop relationships built to get through those arguments to get into action."
Send a letter to the editor about this story.