Features & Columns
Special 25th Anniversary Issue:
25 who changed Silicon Valley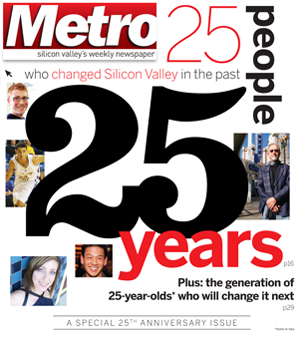 Metro has watched Silicon Valley change dramatically since we began publishing a quarter-century ago, before mobile phones, email, social networks, music downloads, thumb drives or even fauxhawks. Going from a place that no one cared about to the center of the digital universe required a carefully executed conspiracy, and through careful investigative reporting, timed coincidentally to our 25th anniversary, we've peeled the lid off a cabal of 25 people who made it happen. Or maybe not. At minimum, we've photo-documented and commented on a couple dozen people who've done some interesting things, from transforming health care and transportation systems to building local culture, which ultimately is the differentiator that defines a community. And, as a bonus, we've thrown in some 25-year-olds (give or take a few years, because we had to cheat) who will either play a role in shaping the future, or fail miserably and go down in flames.
View All | Steve Caballero | David Kinch | Laurie Smith | Tom McEnery | Héctor García-Molina | David Packard Jr. | Kathy Kolder | John Sobrato | Bob Sillen, Rod Diridon Sr. | Fil Maresca | Tony Fadell | Scott Knies | Wiggsy Siversten | Bill Johnson, Barry Swenson | Amy Dean | Ken Yeager | Ron Gonzales | Bill Graham | Harry Who, Julius Papp, Rick Preston | Kathleen Powell, Halfdan Hussey | Jack Nyblom, Jim Zuur | JoeGuerra | Dennis Nahat
Some people to watch in Silicon Valley's next generation
View All | Mark Zuckerberg | Sam Altman | Aaron Levie | Michelle Wie | Bill Anderegg | Arjun Mehta | Tawnya Kuzia | Andrae G. Macapinlac | Evan Low | Mark Anthony Medeiros & Amie Frisch | Eric Belladonna | Eric "Venom" Ventimiglia | Adrian Oliver | Richard Aberman & Bill Clerico