Features & Columns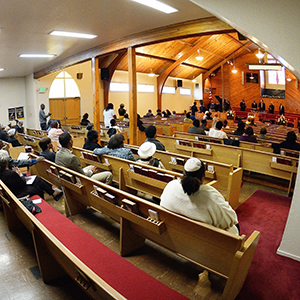 Pick a Side
About 80 people showed up to service on a damp mid-March Sunday morning. But when Rev. Lawson stepped up to the pulpit, eight or so people stood up and streamed out of the sanctuary in protest. 'Thank you, father God, for this fresh rain,' Lawson prays, unfazed by the exodus.
Near the wood-paneled stage, where light streams through a blue-and-purple stained glass window, the pastor's blue-clad bodyguard stands. Lawson preaches the gospel of John, zeroing in on a passage about the woman from Bethany who washes Christ's feet with her hair and costly oil. The sermon riffs on Willow Smith's Top 40 single, 'Whip My Hair.'
Mentioned only in passing is Judas, everyone's least favorite disciple. Christ's future betrayer groused about the woman using designer oil to 'whip her hair' in divine adoration when money for the spikenard could have fed the poor. But Judas couldn't care less about the needy, Lawson says, because he was a thief who controlled the group's money bag. The message—set to a triumphant organ and piano accompaniment—rouses the congregation in song and ends in prayer.
Lawson, the seventh of eight children born to a Baptist preacher, followed his father into the ministry. He remembers delivering his first sermon at the age of 5, from the wooden porch of his family home in Bastrop, Louisiana. That's the hometown of eight-time Mr. Olympia bodybuilder Ronnie Coleman, who counts Lawson among his childhood friends; they once held a 'Mind, Body and Soul' conference together.
'Some cities was known for making cars, others for manufacturing other things,' says Lawson, a 40-something with an athletic build and a measured voice. 'Bastrop, Louisiana, was known for making good people. My dad was my hero. I began emulating him early on.'
As an adult, Lawson's love of theology was matched by his fascination with numbers. In addition to a master's in divinity, he earned an accounting degree from California State University, East Bay. He worked as a corporate auditor for AT&T before becoming a controller for the city of Oakland, a chief financial officer for the city of Richmond and treasurer for Alameda County, where he still works.
The Antioch Baptist deacons who hired him as interim pastor chose him largely because of his accounting expertise. 'We need both a spiritual leader and a financial leader,' Cannon says. 'We found someone with both. He's young, but he has what we were looking for.'
When he came to the church in 2014, Lawson began hosting mid-week Bible studies and ramping up outreach to lure back younger members to the mostly elderly congregation. Though people would attend the Sunday services regardless of the conflict over church governance, people began to view the Wednesday night prayer group as a meeting for one faction of the church.
'Maybe they started to see it as something for 'that group,'' says Lawson, who's dressed down in athletic pants, sneakers and a leather jacket after a recent midweek prayer service. 'I don't know. I tried to convey to them that I'm not on this side or that side—I'm on the Lord's side.'
About a month earlier, Lawson recalls driving up to the church to find one of its members removing his name from the signboard. He sat in his car, unsure of whether to say something or deal with it later. His name is also conspicuously absent from the church's website. For the past couple of weeks, a guest preacher has delivered the sermon while Lawson reflects on how to move forward after the business meeting that ended with police presence. Antioch Baptist has gone without a permanent senior pastor since Dr. J. Alfred Smith Jr. ended a six-year tenure to succeed his father at the historic Allen Temple Baptist Church in Oakland.
Since then, it's been a revolving door of guest preachers and pastors-in-the-interim, like Lawson. The church constitution sets a high threshold for installing a permanent pastor: 70 percent approval from sworn members. 'Now how're we going to do that?' Cannon says. 'We can barely sit in the same room together, except to worship.'
Rev Run
As with any religious organization—most of them tax-exempt, governed by laissez faire corporate codes and internal bylaws—the Antioch Baptist plaintiffs will have to cast their battle as secular. Otherwise, a judge could dismiss the case on a core constitutional tenet: the separation of church and state.
Toward the end of the 19th century, courts deferred to clerics or the congregational majority to settle disagreements over church property. In 1979, the U.S. Supreme Court determined that legal principles applied in secular property disputes could extend to religious institutions. The rules get a bit murkier when it comes to personnel and membership. Civil rights laws generally prevent employers from hiring based on race and gender, but exempt religious entities. This 'ministerial exception' means the government cannot force the Catholic Church, for example, to open its priesthood to gay or female clergy.
When it comes to internal disputes, the courts can review whether a congregation followed its own rules, as long as the judge sidesteps matters of religious doctrine. If a person affiliated with a religious group commits an offense, the courts generally apply the same standards of civil and criminal law that they would to a secular organization.
Still, even deeply ideological battles have a way of morphing into civil and criminal matters. When the Episcopal Church USA ordained a gay bishop in 2003, some congregations tried to secede, leading to legal wrangling over property. An exact count is hard to come by, but in the cottage industry of religious reconciliation, experts cite a statistic that brings the annual number of church conflicts in the U.S. to 19,000. A fraction of those go to court, but even that's hard to tally because the cases come in the guise of property or personnel issues.
Dianne Mason, an attorney who founded OneAccord Reconciliation Services to coach congregations through their differences, says church litigation is on the rise. 'Historically, lawsuits against churches have been viewed by Christians as tantamount to challenging God—dangerous, shameful and not an option,' she wrote in a newsletter to clients. 'But times have changed. In today's litigious society, many churches are not only being sued, but they are being sued by their own employees.'
Last year, the Fremont-based Islamic Society of the East Bay turned to a court-appointed arbitrator to wrest control from its president. The ouster capped off two years of turmoil, accusations of corruption and physical confrontations. Hundreds of civil lawsuits filed in Santa Clara County Superior Court by religious groups this past decade touch on similar issues—property, personnel and broken contracts.
In the event that ecclesiastical disputes rise to the level of a criminal case, they tend to involve allegations of theft or abuse. Church on a Hill, San Jose's second-oldest Baptist church, was found financially liable for hiring a child molester, Keith Woodhouse, who was convicted in 2014 of abusing nine girls. Earlier this year, a federal grand jury accused couple Jonathan and Grace Chang of swindling $7.4 million from a fellow member of Saratoga's Home of Christ Church. In 2015, the District Attorney's Office charged three people in an embezzlement scheme involving San Jose's Tofatolu Congregational Church.
Members of Antioch Baptist Church have tried to summon law enforcement, but, according to police records, lacked evidence to merit an investigation. In January 2014, a trustee called San Jose police to report grand theft, naming seven fellow trustees as suspects. In October, a church member reported a burglary, saying that someone pried open the door to an upstairs archive room and stole several files and Bibles. A month later, police took another report of embezzlement of at least $30,000 by six suspects.
That last call came from Rev. Lawson, who also alerted Steve Bills, head of the church's parent denomination, the Oregon-based American Baptist Church of the West. In a conversation with Metro, Bills said he doesn't believe there's any fraud, just concerns with transparency and who has the authority to appoint interim ministers in a church that has languished for years without a permanent pastor.
The letter he addressed to the church in January, however, he took a more urgent tone. Antioch Baptist, he wrote, must conduct a forensic audit to shed light on 'apparent financial discrepancies.' Bills advised church officials responsible for the money to step away until the insurance company completes an investigation. The church, it continues, should hire independent financial managers and cooperate with auditors and the police.
'Anyone hindering this will be dealt with severely,' the letter cautioned. In light of Lawson's financial qualification, Bills concluded in a scriptural kicker, 'Who knows whether you have come to Antioch for such a time as this.'
Around the same time, Lawson got a notice under the official church letterhead: 'I'm writing to inform you that Gregory O. Lawson's contract as senior pastor in the interim has been terminated effective immediately.' A second note arrived from the deacons on the same stationary stating that, for the record, Rev. Lawson 'has not been terminated.' But three more followed insisting that the members have spoken, and Lawson is out.
Carry On?
Last week, Cannon says, the church changed the locks to the pastor's study. It's still unclear whether Lawson plans to come back. The deacons have hired an attorney to sue the church to get access to the bank accounts. 'It's come to this,' Cannon says.
Deaconess Boone says she hopes a lawsuit will serve as a wake-up call. 'Remember, this is about stolen money,' she says. 'I want people to be aware of what is happening here and concerned enough to change it.'
Dill, who says he's not trying to play the devil's advocate, called any suggestion that embezzlement occurred an alarmist take, as insurance auditors already resolved the matter of the missing cash. 'There isn't any,' he says. 'They checked. Everything's fine. You can't make a wild, general accusation without something to substantiate it.'
Alexander says the church will carry on, as it has in the face of every other challenge. Consider, he says, that the members have spoken, the pastor's been fired and the claims of wrongdoing settled and cleared. 'If they want to litigate, that's up to them,' he says. 'But whatever the result, some people will like it and some people won't.'