Features & Columns
Alviso Clings to Roots,
Fights for Future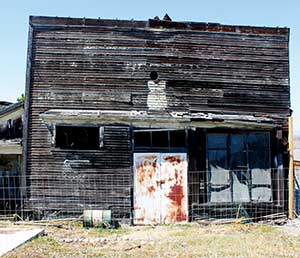 I meet Dick Santos at Lunch with Tony, his nephew's restaurant near the end of North First Street in San Jose's Alviso neighborhood. A mural is being painted on the outside of the restaurant. When finished, it will join the neighborhood's many other murals—silent reminders of Alviso's history, a history few remember.
Alviso's problem isn't its proud past, but its persistently mired present and uncertain future. Riding around Alviso in Santos' silver pickup truck, the retired firefighter describes a neighborhood split into two opposing factions: On one side, there are the things that should be here, but aren't; on the other, there are the things that shouldn't be here, but are.
Paved roads, sidewalks, streetlights, storm drains, parks and rec programs, better police and fire protection—these were the promises made to residents of the city of Alviso in 1968, when they voted 189-180 to become part of San Jose. The election's validity—still debated by neighborhood elders—was upheld by the state's Supreme Court, but the annexation remains a point of contention for residents, some of whom claim the city of San Jose willfully ignores its obligations to Alviso.
"We paid more taxes and received fewer benefits," says Santos, a retired fire captain and current District 3 board trustee for the Santa Clara Valley Water District. "I was there, a young guy, 23 years old, just got home from the service. 'We'll have softball fields. We'll have better things for our children. Let's sign the contract, let's do it. We'll have a better life.'
"They turned and did nothing to speak of. They turned their backs on us."
Santos, whose family's roots in Alviso date back nearly a century, shows me San Jose's northernmost neighborhood, which was described just last week in a national media report as Silicon Valley's last "Ghost Town." Alviso stretches from Highway 237 in the south to its wetlands and the South San Francisco Bay in the north. Its key landmarks are a defunct cannery, the view from the end of a bike path and the Water Pollution Control Plant (WPCP), which cleans about 100 million gallons of contaminated water each day before dumping it into the bay.
The plant, along with the nearby landfills, has dramatically altered Alviso's fragile wetlands, driving away the saltwater that once supported a thriving port, one that welcomed merchants and midshipmen along with the standard haunts—saloons, brothels, gambling dens—that one expects from a harbor.
This held until the 1980s, when high-tech industry looked north and swallowed up swaths of land for commercial space. Alviso lost some of its shanty soul when tech titans like IBM, Polycom, Flextronics and TiVO came to town, but not as much as one might expect.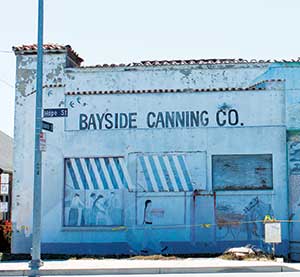 As he drives around the 2,000-person borough, Santos weaves historical anecdotes with rapid-fire rhetorical questions and calls for full-time policing, more sidewalks and a comprehensive drainage system. But instead of sidewalks and storm drains, Alviso's streets are lined with deep roadside ditches and a few abandoned cars.
"Willow Glen gets what they've gotta get; Berryessa gets what they've gotta get; Alviso and the East Side come in last, and we come in real last," Santos says. "We're a minority community, so that's how we're treated."
There are exceptions, of course. High-tech office parks sit just north of highway 237, and there's a cluster of pristine, cookie cutter homes on North First Street. But the office parks don't provide jobs for the low-income neighborhood, and the densely packed three-story homes, which Santos says, are incongruous with Alviso's preferred small town feel.
Perhaps the biggest potential boon for the neighborhood will come with the expansion and improvement of Alviso's once vibrant marina. The water district's Alviso Slough Restoration Project, which Santos calls "an uphill battle," has a strong ally in county Supervisor Dave Cortese, who many expect to run for mayor of San Jose in 2014.
The project began in 2004 with hopes of revitalizing the historic neighborhood. Planning the project has already cost $2.9 million, and design and construction—expected to take place in the summer of 2015 at the earliest—will cost nearly $17 million.
"The opportunity is here, I just hope it can be done properly," Santos says. "I just hope they don't overrun us and destroy our community. San Jose needs to do the right thing."
Councilmember Kansen Chu represents San Jose's District 4—Alviso, North San Jose and Berryessa—and he's quick to state his commitment to Alviso. During his six years as a councilmember, Chu says, his office has helped to get solar panels installed on the Alviso library's roof, organized neighborhood watch programs, and improved streets, sidewalks and sewers using federal grant money. "Over the years we have built a strong relationship with the residents there," Chu says.
And yet, Santos and other Alviso residents interviewed by Metro see neighborhood enhancements and the elected officials like a glass half-full, and there has been an extended drought on optimism.
"Kansen Chu is a very nice man. We do the Santa program together and things like that," Santos says. "But has he got us the police services and the streets that we need? No." He adds that recent street and drainage improvements were the results of federal grants and stimulus funding, not city efforts.
According to Mike O'Connell, deputy director of the Public Works department, developers typically fund most "surface improvements," like sidewalks, curbs and streetlights. "There hasn't been a lot of developer activity in Alviso on a large scale," O'Connell says. "So the surface improvements are probably the [neighborhood's] most notable missing piece."
O'Connell does note progress in the neighborhood's sanitary sewage and storm drainage systems. Public Works has secured an influx of funding for those systems, which have dedicated funding from property taxes. O'Connell says that, in the past, "We've tried to squeeze the maximum benefit out of those programs," using them to fund some curbs, gutters and sidewalks. "But because we're using storm capital money, we can't use that money to fund streetlights and street trees."
Santos has worked extensively with O'Connell and Public Works staff, but he attributes much of the neighborhood's drainage and sewage improvements to the importance of Alviso's sewage treatment plants, not its residents. "So now we're important—but it's not the people here," Santos says. "They don't care about us one way or the other, they just care about that treatment plant. If we had charged them for every turd that came in, we'd have been rich."
We drive by the old Alviso town hall, now home to a police substation. The sign reads "SAN JOSE POLICE" and a cop car sits parked outside. The substation is closed, as it is most of the week. Santos tells me the officer has walked over to Tony's to order takeout.
"He just came in, he got lunch," he says. "Soon he's gonna leave."