Features & Columns
A Fighting Chance
Mixed martial artists from around the globe flock to San Jose's American Kickboxing Academy for a shot at glory in the Octagon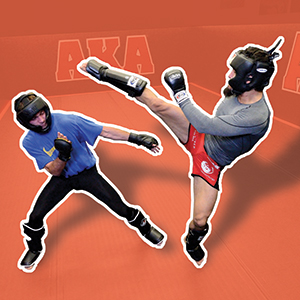 At 11:30am on a Monday, the American Kickboxing Academy is quiet, cool and hidden from the world. Recessed within a suburban block somewhere between strip mall and business park, the 27,000-square-foot gym is almost peaceful, a relief from the unrelenting heat of California's still-cranking Indian summer.
Inside, the lights are still off. Gloves and pads lie unused on the edge of a black boxing ring, heavy bags hanging in silence. At the front desk is Joanna Takacs, who, between greeting guests, is preparing the gym's tax filing.
It's easy to think that here, in this building between the DMV and the McDonald's, nothing interesting ever happens.
But shortly before noon, things begin to change. The lights come on, and the fighters arrive: welterweight contender Ron Keslar. Undefeated welterweight "Crazy" Bob Cook. Current Ultimate Fighting Championship (UFC) heavyweight champion (and No. 1-rated mixed martial arts fighter in the world) Daniel Cormier. Shortly after they enter, the man behind it all walks in—Takacs' husband, Javier "Thunder" Mendez.
What began 33 years ago in a humble glass shop on Pearl Avenue has now become one of the most powerful gyms in the UFC. As of Oct. 6, when Khabib "The Eagle" Nurmagomedov defeated Irish superstar Conor McGregor at UFC 229, the two top-rated fighters in the sport currently train right here, at the AKA gym in San Jose.
SEEING RED
From above, the Red Room looks like something out of a '90s martial arts movie. Just a few minutes past noon, about 50 men and women have piled into the huge training area to warm up for today's workout. Hanging on the walls above them is a rouges gallery of warriors—roughly 40 five-foot portraits of the gym's greatest fighters, including Mendez, Cormier, two-time Heavyweight Champion Cain Velasquez and Nurmagomedov. The effect is half Soviet congress, half Valhalla.
Once a racquetball court, the Red Room is now AKA's main training area, the largest of the gym's 13 spaces. Its entire floor is covered in a pliant red matting, the kind that gives just a little as you step on it. In the middle of the room Mendez stands chatting with one of his fighters, who is hopping from one foot to the other, swinging his arms as he loosens up.
Out in the lobby, Daniel "DC" Cormier is seated at a table with three other fighters, wrapping his hands. The heavyweight champion grew up in Louisiana but has been living in the South Bay since 2009. He's come up from his home in Gilroy to train for his Nov. 3 fight against Derrick Lewis.
"We took this fight on late, late notice," Cormier says, watching as the bandages cocoon his fists.
Around him, other fighters gather expectantly, as though his skill on the mat were transmissible through contact. There's an excitement in the air, and I soon find out why.
"Today," Cormier says, "We're sparring."
Sparring sessions at AKA have decreased markedly since 2017, when the head of UFC called out the gym for its high rate of fighter injuries. Now, sparring matches are limited to twice a week.
Jay Z's "Hard Knock Life (Ghetto Anthem)" plays on the speakers as Cormier enters the Red Room, rolling a luggage bag of equipment behind him. The back of his shirt says "Coach Cormier." In addition to fighting, DC is a wrestling coach for AKA, and has been since joining in 2009.
After warmups, Cormier moves to Training Room 1, where sparring takes place. Inside is a full replica of the UFC's regulation octagon. Inexplicably, the music that plays as Cormier steps inside the cage is a dance remix of "Wonderwall." The song is soon obscured by the slap of gloves against mask as the sparring begins.
Cormier goes four rounds, repeatedly dropping his opponent to the mat and maneuvering him into various pins with the skills he's developed over the years. His opponent, quickly looking the worse for wear, swaps out after the second round. Through the match, Javier Mendez sits on an exercise ball, leaning in, keeping a close eye on the action.
In his recent title defense against Derrick Lewis, Cormier got his taller, heavier and younger opponent on the mat repeatedly using moves honed at AKA. The fight ended in the second round, when Cormier got onto Lewis's back, wrapped his legs around the massive fighter, and whipped him into a move called a rear naked choke ("naked" because it doesn't involve holding an opponent's uniform, called a gi, or lapels).
On display at the Louvre, a Grecian urn dating back to the year 500 BC depicts Hercules subduing the Nemean Lion with this same move, the first of his 12 heroic labors.
KICK IT
After the sparring session, Mendez is seated against the wall of the Red Room.
"This is my branding," he says, lifting his sleeve. On his left bicep is a pale vaccination scar. "Every immigrant, when they come through, they get one of these. Their branding."
The man known as "Thunder" came to the Bay Area when he was 5 years old, riding more than 2,000 miles in his family's truck from a small town in Michoacan, Mexico. Once settled in San Jose, his parents enrolled him in school near the Seven Trees neighborhood: Hellyer Elementary, Sylvandale and then Andrew Hill.
Sports were a big part of Mendez's youth, though fighting didn't enter his mind until he was 13. At that time, Enter the Dragon had its theatrical run, and the world came to know the aqueous philosophy of Bruce Lee. Mendez describes this time of his life as one of "imitation," copying poses and moves he saw in Lee's movies. It wasn't until an incident at the old Studio 47 bar downtown that he considered taking up martial arts in earnest.
"It was over my girlfriend," he says of the fight that would have been his first.
Mendez was 18, and had gotten into the bar with a fake ID. The other guy was older, bigger. The brawl ended before it began, and Mendez walked away with a realization.
"I thought, man, I better learn self-defense."
He began looking for someone to train him, though it wasn't an easy process. At gym after gym, the young Mexican-American found himself in a purely observational role. The trainers wouldn't bother to strike up a conversation with the new kid in the corner, and he'd leave without ever talking to anyone. When someone finally engaged him, they became Mendez's first coach.
Mendez began his fight knowledge with Tang Soo Do. Soon after, he transitioned to kickboxing, training out of a small gym on Winfield near Oakridge Mall. After he had been kickboxing for a few years, he met a man who would change his life: a South Korean immigrant named Scott Coker.
If you've ever wondered how mixed martial arts, known as MMA, became so huge in San Jose, Scott Coker is the answer. An eighth degree black belt who studied Tae Kwon Do under Ernie Reyes (star of Teenage Mutant Ninja Turtles 2: The Secret of the Ooze), Coker founded the influential MMA team Strikeforce out of San Jose in 1985. Before it included big names like Ronda Rousey, Frank Shamrock or Luke Rockhold, Strikeforce was a kickboxing team.
Mendez became a production assistant for Coker's kickboxing events, getting his first view into the world of professional fighting. He was 25 at the time, and drove a delivery truck for Budweiser. That same year he began what would eventually become AKA as an after hours gig, teaching mechanics how to fight inside the Capital Glass Shop.
Eight years after he learned to fight for self-defense, Mendez fought, and won, his first pro match.
"I was knocking everybody out earlier on," he remembers, "but I had no confidence in my ability. Everybody else thought I was gonna be a champion, but I didn't believe it."
His first loss came when he was close to 30. Mendez attributes it to a lack of proper training on his part. It was an eye-opening experience, one that would shape his training philosophy at AKA.
"That loss came as a result of me only boxing," Mendez says. "I didn't throw one kick. Zero kicks. Cause in my early fights, I was beating 'em up with boxing. Didn't realize kicking was that important until I got my butt kicked by a kickboxer. A real kickboxer. That's why I preach, 'If you're gonna fight MMA, practice MMA.' Because I made that mistake. I only practiced boxing, and I paid the price."
By 1987, one year after his first professional match, the roots of AKA had taken hold. Mendez moved out of the glass shop to a Tae Kwon Do gym on Union Avenue, where he would teach for the next 10 years.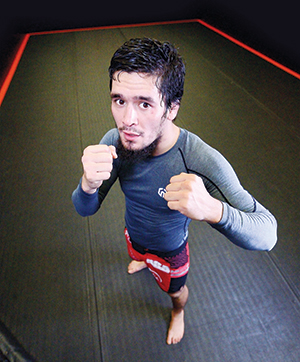 PUNCHING UP
Joanna Takacs grew up in New York.
"Upstate," she says. "Nothing to do with New York City. Completely different. Farm. Corn. Very agricultural."
In Rochester, where she went to school, Takacs never felt like she fit in. So after college she came to California, taking a programming job with Xerox. It was at a self-defense course that she met Mendez.
"A friend of mine was a bodyguard, and he used to tell me I was like a potential victim," she says. "I never paid any attention to my surroundings. I was a statistic waiting to happen. So my girlfriend and I went to this gym in San Jose to sign up for a course. Mendez was teaching one piece of it, which was how to defend yourself against a boxer."
At the time, Mendez was training for his final professional fight. The two hit it off and began dating. In 1995, she began to help with AKA. The next year, the gym had its first pro fighter compete in the UFC.
"I would say, 'You're not realizing your potential,'" Takacs says, remembering the early days of the brand. "I would think bigger. This could go bigger, bigger, bigger, bigger."
And that's exactly what they did. After outgrowing their Union Avenue location, AKA moved to a facility on Foxworthy Avenue about three times the size. There, they stayed until the lease ran out in 2011, when they moved to the current location, almost 10 times the size of their previous one.
"I was laying the floor and painting walls," Takacs remembers. "This is my decoration, my painting, my artwork. I did probably 90 percent of the physical construction in here."
"95 percent!" Mendez interjects.
Takacs shakes her head.
"No, I had some help. I'm taking 90 percent."
Regardless, roughly the same amount of the work at AKA is still done by Takacs. On the day I visited the gym, she answered phones, greeted customers, did the company's taxes, sorted mail, painted, and even hand-pressed the T-shirts for sale in AKA's store using a professional steam press she had set up behind the counter. The AKA logo itself was one of her creations, as was the gym's design.
"As things started being on TV, back in the day at the other location, my whole idea was, 'Now that we have a logo, I need to have at least three to four logos in every camera shot,'" she says. They would film other gyms and it was blank walls, it would just look like a dingy old gym. But ours—the branding started. I started that. And now I look at all these other gyms, and it's like, 'Wow, theirs looks like ours.'"
In addition to keeping everything at their South San Jose location running, Takacs is currently helping to prepare for the opening of AKA's Tracy location. It will be the third gym in AKA's growing empire; the second opened three years ago in Phuket, Thailand.
But despite its international acclaim and growing influence, AKA is still just doing its best to stay alive in the staggeringly expensive South Bay.
"The misconception is, all these great fighters are coming through here, you guys are rolling in the dough," says Takacs. "But he doesn't get their purse. He gets a very, very small percentage, and there's a lot of overhead. I mean this place, it's now close to $60,000 a month to to keep everything going.
"I kind of compare us to a garage band that went big," she muses, "but we're still in the garage."
INFIGHTING
In it's time as a gym, AKA has not shied away from controversy. Recently, a rumble broke out at UFC 229 when Khabib Nurmagomedov jumped into the crowd in Las Vegas after defeating Conor McGregor. The brawl spread from the crowd to the ring, drawing in both fighters, their teams and even some bystanders. Both men are currently under suspension, and the Nevada State Athletic Commission is deciding what further actions to pursue.
There was also the incident with UFC President Dana White.
"He called us 'the Caveman Gym,' because we had so many injuries," Mendez says. "And it was true! We did have a lot of injuries."
In 2008, AKA also had a brief spat with the UFC over the use of fighters' likenesses in video games (a very San Jose problem, if there ever was one), and at least two people have left the gym on acrimonious terms. First was Frank Shamrock, one of the sport's earliest big names, who in 1997 become UFC's first Middleweight champion. Shamrock was a big part of AKA's transition into MMA and, along with Mendez and Coker, was largely responsible for San Jose becoming associated with the sport.
"If you read the name, it's 'American Kickboxing Academy.' It was a bunch of kickboxers until I showed up," Shamrock says over the phone. "And then I brought my Shamrock martial arts program, and my MMA program to them, and I created this other world."
Mendez attributes the split between AKA and Shamrock to "a falling out." Shamrock, for his part, felt that after he moved to L.A., he was pushed out of the business he helped create.
"When I left to try and reach the next level of success, they tried to write me out and diminish me," he says. "That didn't sit well with me."
In 2012, Welterweight contender Josh Koscheck also announced a split from the gym. In an interview with MMA Weekly, Koscheck asserted that Mendez "threw us under the bus," claiming that when fighters lost, Mendez would blame them rather than share the weight of the loss as a team. Koscheck would eventually go on to say he hoped AKA burned to the ground.
In interviews, Mendez can be seen laughing about this extreme statement.
"He really hates me!" he says in one, smiling and laughing.
MMA is still very young. Baseball is about 170 years old, basketball 130. MMA has been a sanctioned sport for 25. In that time it has changed considerably, including in ways we now take for granted (at UFC 1, there were no weight classes, and no judges). Just as its fighters are training every day, and the sport itself is evolving, AKA is also growing.
Throughout the day, the sentence I hear most often is: "Everybody here is like family." It's something that both Mendez and Takacs repeat often, and numerous times during my visit I see fighters take up mops, brooms, and dustpans, and without prompting, work to keep the gym clean. There is a sense that AKA's fighters care for this place, both because of what it means to them now, in the present tense, and because they know anyone could be the next Cormier, or the next Nurmagomedov.
As training winds down for the day, Mendez turns off the music and calls the Red Room to attention, beginning the ceremony that ends each session. Fighters gather close to the team of coaches and trainers, sitting down on the mat.
"You guys are here to fight one sport. What is it?" Mendez asks.
The assembly responds:
"MMA."
"That's right," Mendez says. "You better have your wrestling down. You better have your boxing down, your Thai boxing. This is MMA. Learn everything. Because if you've got an area of weakness, that's the avenue to defeat."
It's a lesson that has stuck with him almost 30 years, the one he learned from his first defeat on the mat. When he's done, they go around the room, giving trainers, and then fighters, the opportunity to speak about the day's work. When talks are over, fighters rise, lining up to shake their trainers' hands.
There is a solemnity to it all, the slowness, voices hushed in a room so recently full of action, violence. It's hard not to feel that this rite also came from a lesson Mendez learned the hard way.
PRESSING ON
Out in the lobby, the machinic thump of the heat press echoes behind the counter. Takacs is printing T-shirts.
Once again, the Red Room is dark.
With Daniel Cormier's Heavyweight title successfully defended, his next fight is likely to be against WWE star Brock Lesnar, one of the biggest names in UFC history. And while Nurmagomedov might spend the rest of the year on suspension, the hype surrounding a rematch with McGregor is already massive. If a rematch happens, it will likely have the highest sales figure of any fight in history.
"For me fighting is a way of life," Mendez says as the day comes to a close. "It's the way we cope with life. You want to be a great fighter, you gotta work every day. You gotta do all the necessary steps to get the best out of anything in life, and that means working."
The heat press thumps. Mendez continues.
"I do what I do for love, but I do say this: I want to remain in the top 10 for the rest of my coaching career. I don't want to retire. There's no retiring from what you love, you just do it until you can't do it anymore."
Out front, a gray van parks along the curb. A woman steps out of the passenger seat and opens the sliding door, helping a small boy in a gi out of the van. The fighters are gone, but at AKA the day is still just beginning. At 4pm, the 6-and-up group starts.
"Hi Mikey," Takacs says, as the family walks in. "How was your weekend?"