Features & Columns
Ultimate Play
A small group of ultimate enthusiasts in Silicon Valley are putting plenty
of sweat and hard-earned capital behind the alternative sport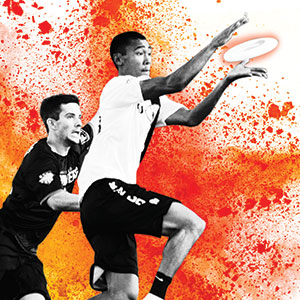 On a bright and sunny afternoon in mid-May, several thousand teal-clad sports fans swarmed the SAP Center in downtown San Jose for a rambunctious outdoor rally before Game 7 of the second round of the Stanley Cup playoffs between the Sharks and the Colorado Avalanche. As game time approached, thousands more descended on the "Shark Tank," and millions more around the Bay Area and across North America watched the game from home.
Three days later, at Foothill College in Los Altos, the San Jose Spiders hosted the Seattle Cascades in a regular-season game of the American Ultimate Disc League (AUDL). It was an exciting back-and-forth match-up eventually won by the hometown Spiders 24-19. And it attracted a crowd of no more than 300 spectators, and that's counting the brass band brought in to perform at halftime. There were probably more people in the beer line at the Sharks game.
On its face, it makes no sense that a Canadian game designed for frozen lakes would become an abiding passion in a place like San Jose, while a sport that exudes as much California spirit as fish tacos and surfboards would struggle to find a local audience. But the AUDL and the true believers who love the game informally known as ultimate Frisbee are intent on changing all that.
In August, the league is bringing its championship game to Foothill College, giving Bay Area audiences a chance to see ultimate at its finest. It's the latest step in a long effort to establish the game as a legitimate competitor for the attention of American sports fans. The Big Four—football, baseball, basketball, hockey—have maintained an iron grip on fans' attention for generations. But that may be changing. Due mostly to the physical toll it's taking on its players, football is trapped in a downward public-relations spiral that it may not be able to escape. Baseball is watching its game get slower and its audience grow older.
If there's a seismic shift away from the empire sports, ultimate wants to be positioned to be America's next great game. But first it has to get on the radar.
"To most regular Joes, you say 'ultimate' and they'll look at you cross-eyed," says Jim Lemons, a longtime ultimate player who works as a referee in the AUDL. "They'll say, 'Isn't that that disc golf thing?' It's been very cult-ish. Unless you went to a college that had a program, most likely you've never seen it."
Sometimes called "frisbee football" in its early days, the game has evolved into a fast-moving seven-on-seven field sport built on the often majestic flight of the gyroscopic plastic disc we all know as the frisbee. (The term "Frisbee" is, in fact, a registered trademark of the Wham-O toy company, which presents a nomenclature problem for ultimate organizations like the AUDL).
Though ultimate is not itself widely familiar, the trappings of the game are. Like soccer, it involves constant motion. Like basketball, quick passing to teammates is a strategic fundamental. And like football, the point of the game is to move downfield toward a goal line. Some plays resemble Steph Curry and Klay Thompson passing the rock. Others recall Joe Montana and Jerry Rice.
Ultimate's evangelists
Rob Lloyd worked for more than 20 years at Cisco Systems, eventually rising to be the company's president. He also served as CEO at the transportation start-up Virgin Hyperloop. These days, however, Lloyd is all about ultimate.
"I live in Los Gatos," he says, "and I walk along the Los Gatos Creek Trail and sometimes I watch kids playing Little League baseball. And I got to tell you, they're bored!"
Lloyd is the father of one of the AUDL's star players, Mark Lloyd of the Toronto Rush. He is also now the league's largest investor as well as its chairman. "I feel like this has been our best year," he says. "It's been by far the biggest breakthrough year in terms of sponsors and partners engaging with AUDL."
The league, not yet a decade old, now has new sponsorships in place, a new streaming service and a new media deal with the sports network Stadium to broadcast the AUDL Game of the Week (which features San Jose on July 6). The league staged an All-Star Game this year for the first time.
Ultimate was first developed on college campuses in the 1970s as a kind of alternative game outside the system of college sports. It evolved into a thriving "club" sport, a designation in the gray space between amateur and professional, and experienced a heyday as a participant sport across the country. But despite a brief flirtation with the mainstream sports media in the 1980s, ultimate never developed a following as a spectator sport.
In 2012, the AUDL was formed (followed in short order by a rival league Major League Ultimate, which is now defunct). It was in the league's first year that Rob Lloyd attended an owners meeting and began to develop a vision for the sport's future. So, he became an investor and an evangelist. "Every time I take 10 friends to an ultimate game—as I did with the Spiders' home opener—everyone who has never seen this game ends up loving it."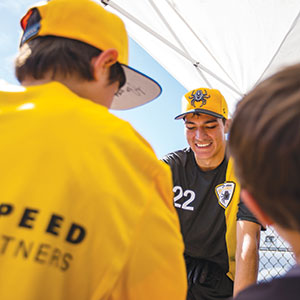 It's been a zig-zag path to stability for the AUDL since then, as the number of franchises and games played has expanded and contracted. The league now features 21 teams across the U.S. and Canada, each of whom play 12 games a year. A vivid illustration of the league's volatility is the San Francisco FlameThrowers, who were league champions in 2017 but folded after the 2018 season.
The San Jose Spiders came into the league in 2014 and, built around superstar player Beau Kittredge, promptly won the league's championship during its first two seasons. The second of those championships was won before a cheering crowd at San Jose's Avaya Stadium, home to Major League Soccer's San Jose Earthquakes.
It was a good year, according to Spider's owner and general manager Andrew Zill. "We got 2,000 people out there, but still, [at Avaya] that felt pretty small."
The championship this year will be played at the much more cozy football stadium at Foothill College, though the Spiders will not be participants—the team's 2019 record is 3-6.
"That's the story of sports leagues," says Zill, "success is half survival, half growth. The teams that figure out how to market themselves grow and succeed. And the teams that can't, they kind of fall away."
Zill, 40, is a chemist by trade. "I don't have any special credentials for this job. I'm not from a sports background." Being the owner and general manager of a professional sports franchise probably ranks near the top of fantasy jobs, at least for millions of American men. But the job is not so glamorous up close, said Zill.
"Partly because we're in start-up mode, I'm pretty much doing everything, whether it's the web site, social media, travel arrangements, dealing with coaches, signing players, advertising, tables at events, everything."
The pick-up scene
Zill's strategy for success has to do in large part with taking advantage of the Bay Area's thriving ultimate subculture, of which he himself is a product. There are several regular pick-up ultimate games going on every week across the South Bay, two of which rank as among the longstanding pick-up games in the country.
Zill, who first started playing ultimate in college, has been a participant in these pick-up games, including the twice-weekly games that take place in Cupertino and Palo Alto, both of which date back more than 30 years.
Jim Lemons has been managing the Palo Alto game since 1996. "When I first started with it," he says, "we were two days a week. But around 2000, when the (internet) bubble burst, we had to go to three games a week and then we needed two fields. That's how big it was."
The game is now back down to twice a week, on Wednesdays and Fridays. Many of the participants have been regulars for years and are still playing in their 50s and 60s. "It's really the love of Frisbee," said Lemons. "I mean, that disc flies like no other thing. A football drops out of the sky like a rock. A soccer ball moves a little bit, but most of us can't get it to bend like that. But anybody can bend this beautiful gyroscopic wing."
Like club ultimate, pick-up ultimate is a phenomenon with roots across the country. Bill Strauss, now in his late 50s, recently traveled to Austin for business. "I found a pick-up game online right near where I was staying," he said, "and I just started playing with those guys."
Strauss is a Spiders season ticket holder, and a true believer in the potential of ultimate to catch on as a spectator sport. "The athleticism is what makes it so exciting," he says. "It's great to watch. But with the Spiders, I think they're having a hard time growing the fan base. It's pretty consistent and they're doing everything they can, but I don't think it's growing that much. I think the problem is that people just don't know the sport."
The Spiders' web
Bill Strauss attends Spiders games accompanying his 89-year-old mother. "We found something we like to do in common," he said. He was one of a few hundred on hand for the Spiders' home game against Seattle May 11 at Foothill. The inexpensive tickets, the easy parking, the casual seating were all in stark contrast to the loud, expensive, hyper-marketing gauntlet that seeing the Sharks or the 49ers has become.
A single food truck was parked beyond the near end zone, alongside a zone for kids to try their hand at various Frisbee tricks and a table to score Spiders hats and T-shirts. The public address system played Ludacris during timeouts, and in an uncomfortable reflection of the political chaos that has engulfed the NFL in recent years, several players on the Seattle squad (which included at least one female player) took a knee during the National Anthem.
In the second half, the game turned on a magnificent play, a one-handed diving catch for the disc by a Spiders player that brought a roar of approval from the crowd.
That player was 19-year-old Keenan Laurence, one of the Spiders' rising stars. "It was one of the best plays I ever made," he said later. Laurence came to play with the Spiders in an informal manner that is unthinkable in big-time sports. Last year, he played in a pick-up alongside Zill, the club's owner and GM. He was invited to a tryout in early 2019, and made the club as the youngest player on the roster.
Laurence grew up in Palo Alto, and his story reflects the opportunities and challenges facing ultimate as it grows. As a natural athlete, he grew up playing baseball, football, lacrosse, soccer—"every sport you can think of, except Frisbee." A concussion his freshman year led him to drop contact sports altogether. "I moved on to other things like running and track and field, but I found I really missed that team aspect of sports."
During his junior year in high school, he discovered ultimate. Problem was, his school, Palo Alto High, didn't have a team. So he joined and eventually became captain of the ultimate team at Gunn High School, Paly's archrival. Since then, he's become a convert, at the expense of all those other sports.
Football is still a kind of civic religion in the US, but its continued dominance is threatened by a widespread turning away from the game at the lowest levels. Ultimate's partisans are hoping that their game can emerge as an alternative just as parents are looking for something safer for their kids.
The Spiders' Zill believes that the key to the game's future is getting the sport into schools. "It's a slow but steady slog," he says. "It's more about the youth movement now. The Little League, for instance, has been huge for baseball. I suspect a huge number of fans played Little League."
Ultimate is still largely an outsider sport, but even that's changing. In 2017, Vermont became the first state to recognize ultimate as a legitimate varsity sport.
In his efforts at outreach, Zill is particularly focused on one specific and narrow demographic: "The only thing stopping schools from adopting [ultimate] is school administrators who don't know what it is. That would be a major milestone. What's really going to determine our success is whether or not kids start playing it in schools and whether or not schools will embrace it. Instead of having a football team, which costs thousands of dollars in equipment and kids getting concussions and not performing well in school, why not have a frisbee team, which costs almost nothing with no head-trauma issues involved at all?"
The AUDL's Rob Lloyd is bullish on his game's future because of what he sees as a changing tide with kids and sports.
"There's a lot of young parents," he says, "who want their girls and boys to play a game that teaches more than just the physical, that teaches values and constraint and integrity. And that's why we're pretty excited about what's down the road for ultimate."
'Spirit of the Game'
Lloyd is referring to an aspect of ultimate that, in the context of today's high-profile sports world, is not merely different but revolutionary. It's known in the game's vernacular as "spirit of the game," which refers to players serving as their own referees. It began as a necessary part of a pick-up sport that couldn't afford to staff every game with a team of officials. But it's grown into an ethic, the game's secret sauce.
"I found that the overall community of frisbee is second to none when it comes to a sport that encourages sportsmanship and community and honoring your opponents," said player Laurence.
Sportsmanship and honoring your opponents are nice ideas, but meaningless in a world where baseball pitchers throw missiles at every hitter who flips his bat and NBA players jawbone refs on every call.
The AUDL has referees, but it abides by the spirit of the game with something it calls the "Integrity Rule." That rule allows a player or coach to overrule an official's call on the field in the name of honor and sportsmanship. For example, if an official calls pass interference, the player who benefits from the call can assert that the ruling was an error and that he was not interfered with.
AUDL referee Jim Lemons said he has been "integritied." "We encourage that," he said. "I have only one angle. Maybe there was something I couldn't see from that angle."
Club ultimate, Lemons says, takes self-officiating to its logical end result with long adjudications on the field that cause delays in play. Because club ultimate is more of a participant sport and not as concerned with the fan support, such delays are tolerated.
"I think AUDL has it right," says Lemons. "They have us out there to make decisions right or wrong. A [fouled] player is allowed to ask and we'll look at the other player. All he's allowed to say is 'Integrity,' and we overturn the call and move on. There's no debate like in club where you have 14 players and four observers, so you have 18 refs on the field for every play. That makes it really hard to watch."
But Spirit of the Game and the Integrity Rule are hard to square with a big-time winner-take-all sports culture where "working the refs" is part of the game. What happens when a star player decides to fudge on the Integrity Rule? Will ultimate come to a point where it has to choose between larger mainstream acceptance and its ethic of sportsmanship that might cost a team wins?
"If you're talking about the NFL, there's a lot of money being put down on betting," said Lemons. "That's the point when you know a sport is going to take off, when people care enough to put money down. If we get there, I don't know maybe [the Integrity Rule] will go away at that point."
Spiders owner Zill says the Integrity Rule—which he says is called an average of once a game—is the league's way of honoring the way ultimate has traditionally been played. "What I think will eventually happen is that it's going to be this kind of legacy rule, where it's invoked one time a season or something. But for people who never got into sports because it seemed too much a macho thing or too many people at each other's throats, this is a fun alternative that has appeal across different genders and demographics."