Features & Columns
Climatologist Azadeh Tabazadeh Pens Memoir of Iran Escape
Azadeh Tabazadeh escaped Iran to become one of the most successful
scientists in her field.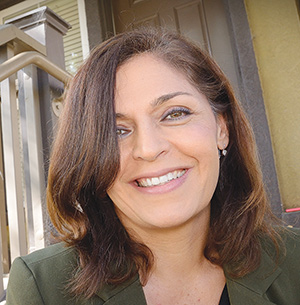 The doorbell seemed to buzz louder than usual, signaling the start of a long escape. Azadeh Tabazadeh paused for one last look at her room. To one side, the desk where she conducted her first chemistry experiment with a kit her uncle had given her as a gift nearly a decade before. Beside it, the bed where she nearly took her own life knowing she could never become the "Iranian Madame Curie."
In 1979, Ayatollah Khomeini returned to Iran from exile, overthrew the Shah and ushered in sharia law. Women could no longer become judges or pursue studies in science and engineering. They had to wear veils or risk being whipped in public. "We were born in a place where women just don't get what they want from life," Tabazadeh would later write.
With nothing but two suitcases, 17-year-old Tabazadeh and her brother left their parents and younger sister behind. In 1982, at the start of the Iran-Iraq War, wealthy families like her own sent their sons away to avoid the draft and their daughters to escape sexist repression under Ayatollah Khomeini's reign. For $44,000, Tabazadeh's parents hired traffickers to smuggle the two young siblings through the deserts and mountains of Pakistan, away from the violence and into the unknown.
Ultimately, by way of London and Madrid, they landed in California, where Tabazadeh went on to become a renowned climate scientist. The Mountain View resident and former NASA researcher chronicles her harrowing escape as well as daily life in Tehran leading up to the Islamic revolution in a new memoir, The Sky Detective (iUniverse 2015).
The book offers an eyewitness account of the Islamic revolution as told by her younger self, a girl preternaturally aware of gender and class inequities that nearly stifled her ambitions and set her and her childhood friend, a servant girl named Najmieh, forever on separate paths.
"I wrote this, in some sense, for the people I left behind," says Tabazadeh, now 49 and a mother of three, leafing through the hardback volume in her Mountain View home. "I never got any closure."
Safe in the United States, however, she put those unresolved feelings aside to realize her scientific aspirations. Armed with a bachelor's, master's and doctorate in chemistry from UCLA, she chose to focus her research on atmospheric science.
"This is something that affects all of us," she says, "and a subject that had fascinated me since I was a child who wondered why the sky looks blue."
While still in graduate school, Tabazadeh became one of the first scientists to make a connection between ozone depletion and climate change. The discovery shattered claims that humans had only a negligible impact on global warming.
While critics pointed to natural events, such as volcanic eruptions, as the cause, Tabazadeh proved that volcanic chlorine dissolves in rainfall without reaching the stratospheric ozone. She demonstrated that chlorofluorocarbons, coolants from air conditioners and refrigerators, float up and weaken the ozone layer's ability to filter the sun's ultraviolet rays.
Those findings brought her national acclaim and led to a landmark federal ban on chlorofluorocarbon manufacturing in 1996. The White House, the American Geophysical Union and the American Meteorological Society granted her prestigious awards. NASA paid the bulk of her doctoral tuition, hired her and gave her a medal. Popular Science named her one of a "brilliant 10" scientists shaking up their fields in 2002. In 2005, Time magazine dubbed her a "sky detective" for her groundbreaking insights into the destruction of the ozone.
"For years, all I thought about was my research," Tabazadeh says. "But when I started to get all this media attention, when the Time article was published, people expressed interest in this other part of my story, in my journey here from Iran."
In 2011, Tabazadeh left her teaching job at Stanford University to write her book. She began mining her memory, interviewing her parents and friends to reconstruct the events leading up to her escape.
"I rediscovered not only my own history, but the history of Iran," she says. "Almost all of the stories that are written about Iran are told by journalists, or focused on politics. I wanted to tell this from a personal standpoint, from someone who lived through this tumultuous time."
Before the revolution, the Tabazadeh family lived in affluence, afforded by the father's work as an engineer. They vacationed in a villa on the Caspian Sea, took trips to England and hired the servant girl, Najmieh, to keep house.
"We became very close," says Tabazadeh, who was 8 when she met Najmieh, whose father had sent her from her home in a north Iranian village to earn money for the family. "She was very curious, intelligent for her age."
The bond between the two girls grew as Tabazadeh taught Najmieh, unschooled and illiterate, to read and write in Farsi. Having another person to teach fueled her interest in academics, which she recognized as a privilege. In Iran, then and now, many families send their underage children to earn money as domestic servants instead of going to school.
"Even as a little girl, I knew that wasn't right," says Tabazadeh, who dedicated the book to Najmieh. "I wanted to share what I had with her."
She credits her uncle Mahmood, an atheist and geologist who settled in Germany, with first igniting her passion for science. It was that same year, when she was 8, that he gave her a child's chemistry set that included a white lab coat, goggles and copper sulfate to make crystals.
"That really gave me the idea that science was exciting," she says, "that this is something I could do forever."
But after the Khomeini's edict mandating sharia law, she would no longer be able to pursue a science career in her own country. To this day, the Iranian government prohibits women from taking science and engineering university classes. Some 36 Iranian universities have banned women from 77 fields of study, including physics and computer science, according to the Committee of Concerned Scientists.
"It's such a different world," says Linda Joy Myers, president of the National Association of Memoir Writers, who coached Tabazadeh as she wrote The Sky Detective. "She lived through history. You learn so much about it through this very personal story. What I always say about memoir is that it takes us into the truth and the family home. It's not just about the events and facts, but what happened in people's hearts and minds during that time."