Features & Columns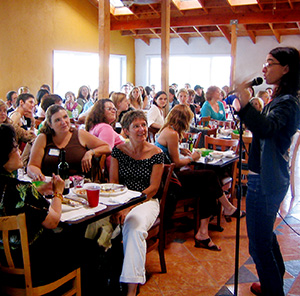 BlogHer established
professional standards to give credibility to the emerging industry. Bloggers have to disclose sponsorships and stick to the network's guidelines. A pair of journalists once wrote about traveling the country and camping out in Walmart parking lots. (The superstore has a policy of allowing campers to stay overnight.) When it came to light that Walmart financed the adventure, community criticism ensued, but not because it was a sponsored blog.
"It was the fact that they didn't divulge [the sponsorship] that pissed people off," she says. "We're not an anti-commercial culture."
If anything, Camahort encourages women to turn their blogs into residual income. Between 2009 and this year, BlogHer paid out $36 million to more than 6,000 members. It's not unheard of for bloggers to earn $10,000 or more a year from sponsorships, native ads and other promotions. Meanwhile, the company has taken in $20 million in four rounds of venture investments—notable given that only 10 percent of venture-funded companies are female-owned.
Before BlogHer became a business, however, it was a community. The conference came from a personal need to reach out to others like her, before Facebook made "friends" of everyone.
"There was a hunger to connect among members of this nascent media," Camahort says.
Over coffee, Stone, Camahort and Des Jardin dreamed up a vision for the first-ever BlogHer conference. About 300 people showed—mostly women and some men curious about the incipient new media. The trio used their personal credit cards to pay for the event, which took place four months after the initial concept.
Beth Kanter was one of those who traveled from Boston to attend the first conference, which she says was calling her like Devils Tower in the movie Close Encounters of the Third Kind. "I felt compelled to go," she says. "I had to be a part of this."
She wound up staying an extra day just to blog about the experience, which she says "gave me the confidence to do it" as well as friendships that have continued to this day. Now living in the Palo Alto area, Kanter is a sought-after speaker on the conference circuit and considered one of the foremost experts on the use of social media by nonprofits.
"After the conference, we sat down together at Lisa's kitchen table and realized that there was a community and a real passion and energy that we thought we could work with," Camahort says. "That's when we decided to form a company and launch a website and, ultimately, our network. We tapped into the community first."
By 2005, the momentum had carried the idea into a startup and the conference quickly became a perennial favorite in Silicon Valley, drawing the likes of The Huffington Post's Arianna Huffington and ex-Vanity Fair editor Tina Brown.
"The response showed us we were on to something," Camahort says.
  Apple evangelist Guy Kawasaki once asked to speak on a panel, but Camahort demurred, insisting that women continue to lead the workshops and headline the panels. "What a difference a decade makes: Kawasaki has since keynoted, and men are regular speakers at the BlogHer Food conference (where guys are the underdogs)
"We talked about all the same topics [as other tech conferences], we just happened to present all women experts," explains Camahort, who likes to tell women to create the supply and the demand in terms of diversity. "When you're offered a speaking roster that looks completely homogenous, tell them you're not interested in such a limited representation. Demand those changes, and at the same time, make yourself available to speak, to be a representative."
Huffington, the online media queen whose raison d'tre has been to remind the ever-connected masses to unplug, will deliver BlogHer's keynote address in San Jose next month. She founded HuffPo around the same time BlogHer united female scribes and she spoke at one of those early conferences. Her own project catapulted from neophyte news site to Pulitzer Prize-winning ascendancy over the course of just seven years. Huffington's address, taking place on day two of the conference, will look at the future of our lives online and, in keeping with the theme of her just-released book Thrive, how to stay happy even as we grow increasingly hyper-connected.
"That's something we can all relate to, especially in our business," Camahort says.
Scandal star Kerry Washington will also join the lineup. As star of the most tweeted and socially driven television show, "she's an activist in her own right," Camahort says.
"She's really using social [media] to do everything from promoting her show to establish her place as a style icon and share her experience as a new mom. She's a good example of how women can leverage their online presence to build up their profile and communicate their message."
BlogHer '14.
July 24-26. San Jose Convention Center, 150 W. San Carlos St., San Jose.
Register online at blogher.com