Features & Columns
Better Eating Through Chemistry
The entrepreneurial cuisine of Bruno Chemel is brash, playful and scientific
CHEF Bruno Chemel presides over a modest kitchen at Baumé that, at first glance, looks like a standard, fine dining operation. There's a rack holding gleaming copper pots, an ode to Chemel's classical French training. A battery of five cooks in starched kitchen whites work intently at their respective stations. Chemel speaks softly in heavily accented French, but everyone seems to hear him, responding with a crisp "Yes, chef" or "Oui, chef."
There's also the constant flow of servers coming in to place orders and ferrying out meticulously constructed plates of food. But after a few minutes behind the scenes at the new Palo Alto restaurant, I realize that this is no ordinary kitchen and Chemel is no ordinary chef.
In front of one cook, clouds of vapor pour out of fragile-looking Styrofoam boxes that hold liquid nitrogen, a clear fluid that's about 200 degrees and freezes virtually anything on contact. In this case, it's curry that resembles yellow gravel when it emerges from the deep freeze.
Nearby, chef de cuisine/pastry chef Ryan Shelton squirts a clear goo of kaffir lime–flavored sodium alginate into a bath of calcium chloride. Shelton deftly manipulates the bubbling substance to create translucent, edible spheres that go into the restaurant's aptly named "salad exotique." Meanwhile, Chemel, 41, assembles one of the young restaurant's signature dishes with an egg that has been cooked at precisely 62 degrees for nearly an hour. The slow-cooked egg sits atop sautéed maitake and morel mushrooms surrounded by a ring of puréed English peas and a tangy, rich vermouth "espuma" or foam.
Other dishes play with diners' senses by combining temperatures and flavors, improbably imperson-ating items they're not, or liberally distributing flavorized "pearls" on plates.
Chemel is arguably Silicon Valley's only dedicated practitioner of molecular gastronomy, the application of scientific techniques and tools to cooking. In the late 1990s and early 2000s, the term started to be used to describe a new style of cuisine in which some chefs began to embrace science, research, technological advances in equipment and various natural gums and hydrocolloids used by the commercial food-processing industry. The best-known proponent is Spain's Ferràn Adria, who recently left his famed El Bulli restaurant.
The use of flavored foams and sous vide cooking (slow cooking in vacuum-sealed bags) has become standard at top-tier local restaurants like the Plumed Horse, Le Papillon and Manresa, but Chemel goes deepest. For him, his immersion in this futuristic school of cooking is part of an ongoing personal journey of culinary discovery and creative restlessness that makes him one of Silicon Valley's most exciting chefs.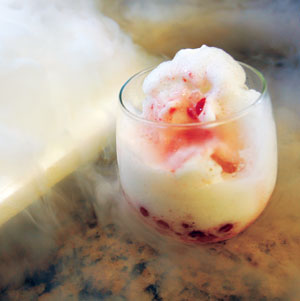 Fun With Chocolate
Chemel began his career in his native France working at Michelin two- and three-star restaurants cooking simple but refined classic French cuisine. His schooling in the classics still forms the foundation of much of what he cooks, but when he moved to the United States his technique began to evolve away from the straight-ahead French style toward smaller, more intricately crafted plates of food.
Working in New York, Chemel received three stars from The New York Times while he was the executive chef at Le Chantilly. Delving deeper into his culinary odyssey, he spent four years in Japan studying macrobiotic cooking with Japanese master chefs and became executive chef at Tokyo's Ambrosia.
Then he set off on his own to open Cliquo in Honolulu in 1995, a hypermodern restaurant that may have been too far ahead of its time. The critics loved it, but the public did not. It didn't last long.
"I was young and stupid," Chemel says. "I was trying to do those things no one wanted to eat." 
Burned out from fine dining, he moved to San Francisco in 1999 to open a wholesale chocolate shop. The slow, contemplative pace of chocolate making seemed to be just the thing for the restive young chef and resparked his creativity. The technically exacting yet wide-open canvas that chocolate afforded him seems to have foreshadowed his foray into molecular gastronomy years later.
"I realized I could have fun with chocolate," Chemel says. "I realized I could do some crazy flavors. It reset myself to a new way of cooking."
Star Power
In 2002, Chemel rejoined the mainstream and became executive chef of Aqua at the St. Regis Monarch Beach Dana Point. He then returned to San Francisco in 2004 to open La Suite and earned three stars from the San Francisco Chronicle. 
Having fun and being creative were becoming increasingly important to Chemel. In 2008, George Aviet, owner of Mountain View's Chez TJ, asked Chemel to become chef. The restaurant had just lost Christopher Kostow, a talented young chef who earned the restaurant two Michelin stars, and Aviet was keen to hold onto that distinction.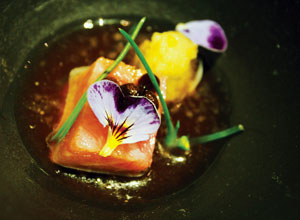 At Chez TJ, Chemel continued to explore with rarefied, intricately composed dishes that borrowed from both French and Japanese aesthetics. His food was delicious, if sometimes a little too clinical and spare. When the Michelin inspectors came around they took away one of the restaurant's stars.
Eighteen months into his nearly two years at Chez TJ, Chemel began to dream about opening another restaurant of his own, one in which he would be able to create his own vision from top to bottom. For six months, he worked on his plan until he gave his three-week notice. The day he left Chez TJ, he signed the lease on his new restaurant in Palo Alto.
As far as he knew he was leaving Chez TJ on good terms, but he was surprised to read comments from Aviet that Chemel had failed the restaurant by not holding on to both Michelin stars. In an interview with the San Jose Mercury News, Aviet went so far as to say Chemel was incapable of earning two Michelin stars.
"I was kind of shocked when I saw that," Chemel says. "I have nothing against [Aviet]. I worked for him, and I did my best."
Though he enjoyed the creative freedom at Chez TJ, he believed ownership needed to invest more to keep quality high. Now that he's running his own show, garnering those coveted Michelin stars will all be on him. He says he's not motivated by critical recognition, but one can't help but believe he subscribes to the notion that success in the best revenge.
Chemel envisions Baumé as a working laboratory for his culinary vision. His greatest motivator—and enemy—is boredom. He says he couldn't imagine cooking the same old classical French food. While he has a reverence for French technique and dishes, he takes pleasure in deconstructing the classics and reimagining them in a new way.
"I like to explore new technologies and new ways of thinking," he says. "I just try to explore myself through my food but in a different way."
While some critics dismiss molecular gastronomy as passé and an exercise in flash over flavor, Chemel's approach might be called molecular gastronomy–lite. He doesn't go overboard with the sleight of hand. Many of his dishes are reinterpretations of familiar dishes, so even though the form may look otherworldly there is still be a flicker of recognition. The quality of the ingredients he uses, whether manipulated or not, shines through. Chemel doesn't appear so much to be chasing trends but rather his muse.
"I'm having fun doing what I'm doing now," he says.
For diners, the result is an ever-changing, playful and frequently exciting experience that can't be found anywhere else in Silicon Valley. Diners choose from 5-, 10- or 15-course menus priced at $78, $118 and $168, respectively. Customers choose their menu from a list of ingredients not knowing how they will be prepared. The kitchen knows the menu, but the customers do not. The restaurant is sold out most nights, and Chemel says he's doing twice the business he expected to be doing. Those are pretty good numbers for the lingering days of recession.
Chemel has signed a 15-year lease at Baumé, so in spite of the restlessness that has characterized his career, he plans for Baumé to become a fixture in Silicon Valley. But he is thinking of opening a chocolate shop and other restaurants down the road once he establishes his reputation at Baumé.
"I cannot stay in one place. I need to move."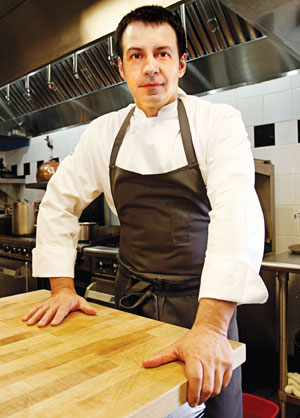 Soul of a New Cuisine
Chef Bruno Chemel sets the bar high with molecular gastronomy at Baumé
OPENING a restaurant is always risky, even more so in these economically tumultuous days. Riskier still is opening a restaurant in culinarily conservative Silicon Valley that serves avant-garde cuisine and a menu that doesn't even list the dishes that customers will eat. But for diners at Palo Alto's new Baumé, chef Bruno Chemel's risks have paid off with a rarefied, thoroughly modern brand of cooking that is exciting, surprising and frequently delicious.
French-born Chemel is a practitioner of what has been dubbed molecular gastronomy, the use of foams, dehydration, liquid-filled spheres, rapid freezing and other laboratory tricks to render food into radical new forms and textures. (Baumé takes its name from Antoine Baumé, an 18th-century French chemist.)
As he moves about in his tidy kitchen with a 160-liter water-heater-size tank of liquid nitrogen at his disposal, Chemel seems to be having more fun now, and that spirit translates to some exciting, outstanding food unlike anything else in Silicon Valley.
During Chemel's short stint at Chez TJ, the food he cooked was modern and technically exacting. He left the restaurant last year. Owner George Aviet later publicly expressed his displeasure that Chemel had not earned two Michelin stars. Soon thereafter, Chemel opened Baumé in January. Now that he's running his own show, his cooking has become even more technical and inventive, but with a healthy dose of playfulness that wasn't evident at Chez TJ.
Baumé occupies a quiet corner on California Avenue. The restaurant is divided into two dining rooms with saffron-and-cocoa-colored walls, thick orange drapes hanging from the ceiling and simple but stylish light fixtures and modern artwork. It's a comfortable, intimate space that feels both sophisticated and relaxing.
The clientele arrives attired in everything from sports coats to fashionable jeans, reflecting Baumé's unpretentious Silicon Valley elegance.
There are three choices for dinner: five courses ($78), 10 courses ($118) and 15 courses ($168). That may sound restrictive, but given the changing list of ingredients Chemel works with, the variations are endless. The menu lists groupings of familiar and eclectic ingredients (griotte cherries, chocolate, geoduck clams, miso, lichee) from which Chemel creates each menu. You don't know what to expect, an approach that imparts an improvisational feel to the meal.
When I came for dinner, my dining partner didn't eat meat or shellfish, while I eat both. The kitchen adapted the menu with ease, serving us separate dishes in some cases or in others substituting vegetarian analogs such as young coconut instead of shrimp. Even before the first courses arrived, the edible fun began. Fresh-baked bread was served with an earthy-colored emulsion of olive oil and balsamic vinegar that had been coaxed into the texture of chilled butter. I'd try to explain how it's done, but I never took chemistry.
Next to it was an equally delicious dip made of tofu and parsley. Then came a pair of "chocolives," puréed Kalamata olives that look exactly like satiny chocolate drops right down to the high-gloss shine. Eating them caused a moment of cognitive dissonance. The eyes say it's chocolate, and the mouth says olives.
It's those kinds of gustatory high jinks that make eating at Baumé so much fun and so good. There's style and the substance to back it up.
One of my favorite dishes was the 62-degree egg. A single egg is slow cooked for almost an hour at 62 degrees and then allowed to set for another four hours. Chemel says 63 degrees is too hot and 61 degrees too cool. The silky egg is served with puréed peas and a vermouth-scented cream foam that mimics the egg white, along with a dusting of wild mushrooms. It's sublime.
Seafood dishes are particularly well done here. The Loch Duart salmon matched with a silken carrot purée and tangy troisgros sauce had me spooning up every last drop. Sliced, smoked octopus paired with seared cubes of foie gras and verjus gel was one of the best things I've eaten all year. And I loved the delicate live-scallop sashimi paired with delicate lilikoi pearls (lilikoi is similar to passion fruit) that burst in the mouth upon contact.
While it's not particularly flavorful, the liquid-nitrogen-frozen licorice foam was fun to taste. After being told not once but twice to chew quickly lest the ultracold cloud burn my tongue, I dutifully nibbled on the ephemeral puff and exhaled a visible stream of vapor from my nose.
Not all the dishes are high-wire acts. The yellow wax bean salad with shallot vinaigrette and curry-flavored "dust" sprinkled on top was simple and delicious.
Chemel brought pastry chef Ryan Shelton with him from Chez TJ. He is one of most inventive pastry chefs working in Silicon Valley. The chocolate desserts are particularly delicious, but I also loved his "peach composition," a deconstructed version of peach melba complete with a foamy glass of vanilla cream loaded little fruit-flavored popping pearls.
Baumé also serves lunch, rather unusual for restaurants of this caliber. It's a cheaper way to enjoy the restaurant ($48 for three courses) but every bit as elegant and refined.
The service stands out as much as the food. Manager Nick Vrignaud, formerly floor manager at Sent Sovi in Saratoga, is a consummate professional, and he sets the tone for the rest of the staff. All the servers are knowledgeable about the complex menu and seem to glide about the dining room with a fluid efficiency. Service at this level is a rarity in Silicon Valley. The wine list is a pleasure, too, as almost all of the bottles are available by the glass and invite exploration.
From the service to the otherworldly food, there's nothing quite like Baumé in Silicon Valley. That's not saying too much, given the region's conservative approach to upscale dining, but that just makes Baumé stand out all the more.