Features & Columns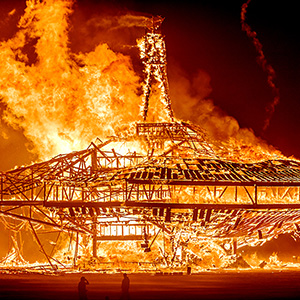 An influx of affluent visitors
in recent years to Burning Man has meant more posh accommodations, which might seem to fly in the face of the festival's DIY, maker ethos. After all, numbering among the festival's 10 principles—or defining statements—are "Decommodification" "Communal Effort" and "Radical Self-Reliance." And there has been backlash against the more moneyed campers who are just passing through. However, to uphold another of the 10 principles, "Radical Inclusion," Burning Man continues to welcome guests with tiny backpacking tents and margarita-machine-stocked deluxe campsites alike.
"Plug and Play" camps comprised of air-conditioned RVs spare those who can afford it from having to set up camp or brave the heat—or even cook, as some such camps serve catered meals.
The entire Burning Man celebration lasts a week, with the "burn" of the event's iconic man on Saturday night. But toward the end of the week, clean faces will start popping up in the dusty crowd: flown or helicoptered in for the big event.
The Wall Street Journal reported in 2011 that Musk's attendance that year, where he stayed at a Plug and Play camp of RVs, had cost him between $40,000 and $80,000.
Mark Zuckerberg helicoptered in to spend a day serving grilled cheese sandwiches at Burning Man, which he attended with Facebook co-founder Dustin Moskovitz.
The availability of more comfortable and secure places to stay attracts other celebrities, as well—Diddy was among the luminaries at last year's event. But particularly given Burning Man's growing propensity for drawing the famous and powerful of tech, Bisson likens it to the North Bay's exclusive, albeit men-only, Bohemian Grove, which has included former U.S. presidents in its membership. (Indeed Vanity Fair proclaimed it was "the end of Burning Man" when conservative Grover Norquist tweeted that he plans to attend this year's festivities.)
Anything commercial—that includes overt schmoozing—is verboten at Burning Man. However, the last day of the event often finds campers going around that rule, networking and making pitches.
"I know people at Google and Lab 126 that I might not have known had it not been for Burning Man," Ballistic says.
Bisson tells of an experience a few years ago when a neighboring camper shared his plans to infiltrate the First Camp (that of Burning Man founder Larry Harvey) and attempt to approach Brin and Page about his product.
He apparently made an impression. When he returned, he told of successfully pitching to the Google leaders, who were wearing body paint and nothing else.
Art installations at the festival can end up bringing their creators other commissions—or simply find them a wider audience. Zappos.com CEO Tony Hsieh snapped up arist Kirk Jellum's large-scale praying mantis sculpture with a flame-spouting antenna. Hsieh gave the piece a permanent home at a development he built in downtown Las Vegas.
The festival's ability to accommodate such fire-breathing works of art is one of its hallmarks, and something that initially drew Ballistic.
"I wanted to do really big pyro for an audience," he says. BLEVE, a series of pieces that he worked on with Nate Smith at Burning Man, filled the bill as "really big pyro"—thousand-foot-diameter fireballs that simultaneously blind, wow and slightly singe the audience.
Ballistic hasn't attended Burning Man since 2011 and currently doesn't have plans to return. Even so, Burning Man has left its mark in his everyday dealings.
"The way I know someone from Burning Man is different from the way I know someone from work," he says. "Colleagues—I treat them a little different because I know they're Burners. You perform under a different kind of pressure and Burning Man has hard deadlines."