Features & Columns
The Shape of Film To Come
The newly rebranded Cinequest Film & Creativity Festival
looks to the future and honors the past
The Shape of Film To Come | The Public | Steamboat Bill, Jr. | Highlights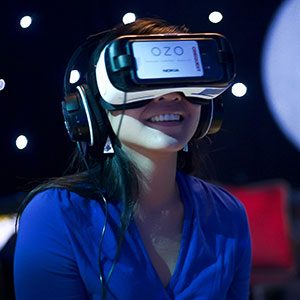 Art has always been about looking forward. Even when artistic movements cast their gaze back—as the Pre-Raphaelite Brotherhood did in the mid-19th century—innovation is inevitable. New techniques, new philosophies and new ways of interpreting the world are born when artists push themselves to break with the mold. Often, the greatest works of art not only hit upon something new, but something entirely unexpected.
This year's Cinequest embraces art's capacity to surprise, shock and challenge. Rebranded as the Cinequest Film & Creativity Festival, the theme for 2019 is "The Unexpected."
Along with movies, the festival will feature more live dance, poetry and on-stage performance than ever before. And, as it has for the past several years, Cinequest will continue to showcase the latest in virtual reality and augmented reality, with demonstrations, workshops and talks focused on the state of the art.
The idea is to give fans and film professionals a glimpse of what the future of virtual reality storytelling might look like.
Terminator Salvation: Fight for the Future is just one example of how virtual reality is already finding its way into movie theaters. Recently opened at Century 20 Oakridge, the interactive narrative drops participants directly into the action.
Wearing sensors on their shoes, chest and special gloves, viewers—or perhaps players—are transformed into a cybernetic skeleton with a custom photo avatar. Whisked through a portal to the post-apocalyptic ruins of downtown Los Angeles, players are tasked with powering up a downed communications station before being blasted to pieces.
The things that work—namely the sensory exhilaration—dwarf the stuff that doesn't.
May Yam, who manages the Film and VR Department for Cinequest, says the experience was a mixed bag. "It met my expectations, and in some places it fell short," Yam says, who previously worked with Atari and has plenty of experience with first-person shooters. "One thing I really enjoyed about the experience is when you look over to see a fellow player, even if they look like a robot, they move and acted like the player. The avatar's height is your height—the personality is shining through the costume."
At Cinequest, Yam has curated a number of varied virtual reality experiences with the aim of demonstrating how the technology is changing cinema.
The Virtual Reality Experience Lounge is offering 14 different programs, including the reservation-only Eclipse, a hyperreality experience that lasts an hour, with a 25-minute briefing and a 35-minute runtime.
"It looks like you're an astronaut, running around on your ship, interacting with teammates," Yam explains of Eclipse.
In Moss, viewers will pilot a cartoon mouse through a labyrinth of dangers. Yam was very affected by it: "I said to my husband, 'I'm never going to kill another mouse again.'"
Just as plaintive is Re-Animated, a VR attempt to bring back the realm of the o-o bird of Kaua'i. The species was driven to extinction in the 1970s; and Crow: The Legend VR by animators from Dreamworks.
There are five Virtual Reality Workshops for those interested in learning about the history of VR technology and the ways its being used today. There are also seven 20-minute virtual reality programs attendees can drop into anytime, 11am to 7pm, from Mar. 7-10.
Yam and her husband Greg Annable are the Y and A of YA Studios. They work on pieces for the public good, in connection with Rotary International. They're emphasizing subjects such as homelessness and the eradication of polio.
"We also want to come up with a system where we take these 360-degree goggles to hospitals to calm people who are going through chemo or recovery from surgery"—children could even be distracted from kicking up an objection to shots.
Yam says that the future of VR is as vast. Decreasing prices, increased accessibility and the increasing capacity of these devices will help determine what becomes of this new media.
Of course, she notes, there are many who have their doubts.
"Some people are scared of VR, or are too lazy to put on a headset," she says. But the ball has already been set in motion.
In fact, the surest evidence of the inevitability of virtual reality lies in the skepticism that surrounds the technology, according to Matthew Wilson Smith, professor in the departments of German Studies and Theater & Performance Studies at Stanford.
Smith says there would be no grim dystopian visions about VR or complaints that the technology isn't living up to its full potential if it weren't for the fact that humans have been dreaming about virtual reality for millennia.
"One could speculate and imagine that the origins of virtual reality lie deep in the paintings of ancient caves," Smith says, pivoting to Plato's famous Allegory of the Cave—a story familiar to anyone who has taken an introductory philosophy course. "It's no accident that when Plato goes for his foundational myth of human consciousness, he goes to the symbol of the cave."
Caves, where early humans gathered to tell stories and scrawl on the rock walls, served as a kind of alternate reality—a safe space where the imagination could wander, free from real-world dangers. Looking back across Western mythologies, Smith says that caves are a constant.
"It's seen as either a nightmare or delusion or something utopian and paradysical," he says.
Springing forward to the works of Richard Wagner, Smith picks up the thread again, noting that Wagner was one of the first opera producers who insisted that the theater turn off the lights while his works were performed. Before Wagner's time, the opera was a place to see and be seen; he rebelled against this idea. Insisting that his productions should be given full, unbroken attention, he sought to transport his audiences to faraway and magical realms.
He worked with theaters to develop technologies that could simulate flying horses and underwater scenes. "For him this was a quasi-religious experience as well," Smith says. "This was not mere entertainment."
Of course, entertainment is often much more than a diverting pursuit. Just as Yam hopes to use virtual reality technology to ease the suffering of cancer patients, many directors and filmmakers have used their art to change the way people see the world.
This year Cinequest will honor the work of the visionary silent film star Buster Keaton, who pioneered the art of acting for a camera as opposed to a theater audience. Keaton developed a new performative language based on more subtle facial expressions and quick cuts. His 1928 film, Steamboat Bill, Jr., will be screened on Mar. 15 at the California Theatre (see page 18 for more).
There will also be plenty of socially conscious films at Cinequest. One of this year's Maverick Spirit Award winners is Nandita Das, an Indian actor and director with a new film about Saadat Hasan Manto. The Indian-born Manto wrote novels, essays, short stories and plays—mostly in Urdu—and gained a reputation for his social criticism and unflinching portrayal of Indian life. Manto was screened on opening night.
Additionally, veteran actor and director Emilio Estevez will attend this year's Cinequest to engage in a conversation about his new film, The Public, which tells the story of a Cincinnati librarian helping provide shelter to the homeless during a severe cold snap (see page 16 for more).
Cinequest Film & Creativity Festival
Thru Mar 17
San Jose & Redwood City
cinequest.org