Features & Columns
Fourth Festivals
Competitive Eating | Fourth Festivals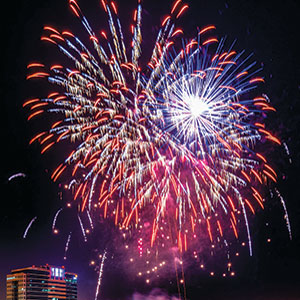 Our nation's annual freedom fest is all about family, friends and fireworks. And food. Community pool parties, patriotic parades and even a good, old fashioned tug 'o war. It's all here in our annual guide to the 4th of July.
Music and Freedom Fests
Wed, 6pm | Morgan Hill Amphitheatre
Thu, 4pm | Morgan Hill Outdoor Sports Center
Morgan Hill has celebrated Fourth of July events since 1876. Wednesday's Music Fest kicks off at 6pm with the 31st annual "Patriotic Sing" before a classic rock and Motown hoedown. On Thursday, the patriotic party continues with the Freedom Fest, featuring live music, family-friendly activities and, of course, fireworks. See morganhillfreedomfest.com for more.
Picnic & Fireworks
Thu, noon-10pm, Free Central Park, Santa Clara An all-day celebration stocked with carnival games, face painting, bouncy houses and swimming—plus a variety of live musical performances, including big band, drum corps and pop tunes. The Cheeseballs top it all off with their soulful and vivacious dance tunes. For more, visit santaclaraca.gov.
Parade & Concert
Thu, July 4, 7:30am to noon, Free Memorial Park, Cupertino Between their summer concert series and Shakespeare in the Park, Cupertino is busy—but never too busy to celebrate the Fourth. This event feeds the body and the patriotic spirit with a pancake breakfast, carnival, flag raising, parade and concert. Visit cupertino.org for more info.
Swimming Day
Thu July 4, All Day, Free Blackberry Farm, Cupertino Blackberry Farm offers up their pool, plus food trucks before the party moves across town for fireworks. Remember to wait 30 minutes before swimming. Info at cupertino.org.
Fireworks Show
Thu, July 4, 9:30pm to 10pm, Free Creekside Park, Cupertino The fireworks can be seen from Creekside Park, Creekside Community Church, Sedgwick Elementary and Miller Avenue. To help add some green to this red, white and blue party, a free bike valet at Creekside Park will guard the bicycles of emissions-conscious riders. See cupertino.org for info.
Parade, Festival & Fireworks
Thu, July 4, All Day, Free Downtown Redwood City This one is truly an all-day affair. A pancake breakfast prepares runners for a 5K run along the parade route, followed by the official parade, carnival and car show. Chalk artists will beautify the sidewalks of Courthouse Square and Blue: Coastside Cool will take the stage at 7pm to ease everyone into the 9:30pm fireworks show. Visit redwoodcity.org.
Costumed 4th & Popsicles
Thu, July 4, 9:30 am to 11am, Free Kevin Moran Park, Saratoga Mingle with actors dressed in historical garb, eat free popsicles, sing along to patriotic songs and enjoy the Color Guard presentation. Drawings and letters will be sent to troops overseas. For more info, go to sf.funcheap.com.
Parade
Thu, July 4, 9:30am, Free Los Altos Hills Town Hall This Fremont Road parade ends at Gardner Bullis School, where neighbors can sip summer refreshments and munch on watermelon. Visit losaltoshills.ca.gov for more information.
Glorious 4th
Thu, July 4 10:30am, Free
Shoup Park, Los Altos
Live music, courtesy of The Unicorns dance band and old-fashioned wind band Ye Old Towne Band. Enjoy this day's freedom with games for the whole family—even glitter tattoos. There will be grub for sale, and plenty of frolicking to commemorate the day. For directions or more info, visit losaltosca.gov.
Parade
Thu, July 4, 10am, Free
Downtown Fremont
Irvington High School graduate and Indianapolis Colts player Robert Turbin serves as the parade's grand marshal. Judges will evaluate the presentation and performance of parade participants. See more at fremont4th.org.
Tug O' War
Thu, July 4, 10am-4pm, $5+
Ardenwood Historic Farm, Fremont
In addition to a good, old-fashioned tug o' war, competitors will drive nails, toss eggs and spit watermelon seeds on the beautiful grounds of Ardenwood Historic Farm. Check sf.funcheap.com for more.
Rose, White & Blue Parade
Thu, July 4, 10am-3pm, Free
W. San Carlos St & Shasta Ave, San Jose
The 12th annual Rose White and Blue Parade will wind its way through the Rose Garden neighborhood. Bagpipes, dancers, antique auto clubs, fire trucks and even animal friends join in the procession. All this, plus food, music and artisan booths. Check out rwbsj.org for more.
Giants Baseball & Fireworks
Thu, July 4, 6:45pm, $10+
Excite Ballpark, San Jose
The San Jose Giants host baseball, barbecue and bursting pyrotechnics—at their Independence Day game against the Visalia Rawhide. Fireworks follow the game, which anyone can catch outside the stadium. For more see milb.com/san-jose.
Great America Fireworks & Free Military Admission
Thu and Fri, July 4 and 5, All Day, $24+
Great America, Santa Clara
Thrill rides, arcade games and funnel cones abound, as Great America lights up the sky with its annual Fourth of July party. Enlisted military and veterans get in for free July 4-7, and may bring up to six discounted guests. Tickets and info at cagreatamerica.com.
Pool Party, Concert & Fireworks
Thu, July 4, 1pm to 9:30pm, Free
Milpitas Sports Center
A trifecta of water, tunes and rockets that go boom. A day of DJs, swimming, games and food court eats leads to an evening led by No Water After Midnight—known for reinterpreting contemporary pop hits through a jazzy, funky, hip-hop lens. The fireworks kick off at 9:15pm. Visit ci.milpitas.ca.gov for info.
Fireworks & San Francisco Symphony
Thu, July 4, 8pm, $19+
Shoreline Amphitheatre, Mountain View
The San Francisco Symphony has a dazzling pops program. Broadway star Capathia Jenkins (Newsies) and American Idol singer Constantine Mouralis will lend their vocals to tracks from Sinatra to Star Wars to Elton John's "Rocket Man" and Adele's "Skyfall" before beloved freedom rockets are sent into the sky. See sfsymphony.org.
Revolutionaries & Rebels
Sat, July 6, 10am, $15
San Jose
Study up—it could become a new Fourth of July tradition. This Saturday's SJ Walks & Talks dedicates an hour and a half to the city's historical revolutionaries in the spirit of the Fourth. Learn something new about the Donner Party, the first female DJ and how a Civil War veteran branded a brandy. Book your walk at eventbrite.com.