Features & Columns
No Turning Back from On-Demand Food Delivery Revolution
We're living in a restaurant delivery revolution,
and there is no unringing the dinner bell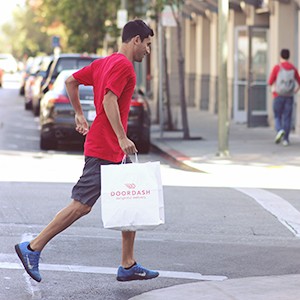 FALL DINING GUIDE:
8 Date Night Crawls within Walking Distance
Manresa Bread: Comparing David Kinch's Bakery Bazaars
Farm to Robot: Zume Pizza Changes the Game
Five Points: San Jose's Sterling New Craft Cocktail Lounge
Chef David Kinch has spearheaded one of the most successful restaurants in the world in his 3 Michelin Star restaurant Manresa in Los Gatos, so the idea of customers walking up to a hostess stand, perusing the menu and ordering takeout would seem more than a bit presumptuous. Once-in-a-lifetime fine dining experiences don't exactly do to-go. But Kinch has an impressive array of less expensive restaurants that cater to a more economically eclectic crowd. His fame—and undeniably inventive, delicious cuisine—has been enough to keep the 60 or so seats of his latest venture, The Bywater, filled during dinner service seven days a week.
Despite the apparent rush of customers to the New Orleans-inspired eatery, also located in Los Gatos, The Bywater decided this year to partner with Doordash, the on-demand delivery app that now shuttles food from restaurants to virtually any doorstep. In downtown San Jose alone, one can pick from nearly 700 different restaurants as lavish as Maggiano's Little Italy, gyro platters from The Halal Guys, or a glazed donut from Krispy Kreme—a far cry from the few options of pizza and Chinese from just a few years ago.
For now, The Bywater offers just one item: delectable fried chicken. Andrew Burnham, managing partner of the restaurant, says the restaurant's limited seating capacity from 1pm to 7pm each day has inhibited his ability to scale service during peak hours, so adding delivery was important to remain competitive in the industry—even for a David Kinch restaurant.
"When people dine at The Bywater, they are coming for the experience of New Orleans," Burnham says. "For mid-market restaurants, customers want experienced-based dining. Delivery may be more important for restaurants with sustenance-based dining models."
Saying that, Burnham is open to trying additional delivery services.
Jeremy Morgan, CEO of Tava Kitchen, which focuses on Indian and South Asian inspired food in a create-your-own menu, uses online delivery as an advertising vehicle to reach new customers. Morgan's restaurant has three Bay Area locations—Alameda, San Francisco and Palo Alto—that operate on a create-your-own-menu concept. It can be tough to get people through the door of a new spot, so Tava Kitchen has tried to get people interested by browsing through the app.
But even within the Bay Area, Morgan says, the different regions prefer different apps. "In the East Bay, Caviar drives the most delivery sales; in San Francisco it's UberEats and Eat24; and in the South Bay it's DoorDash," Morgan says, adding that this could be "because each service has an established market where it was founded."
Unlike The Bywater, which has listed just one entrée on one app, Tava Kitchen is listed on six different delivery services. But geography isn't the only reason why Morgan has Tava's menu on six different platforms and dedicates a specific tablet to manage orders from each of the platforms.
"There is going to be a winner and I'm not smart enough to know who it's going to be," Morgan says. "Amazon has started online delivery and I'm not going to bet against Jeff Bezos when it comes to same-day delivery. Travis [Kalanick, CEO of Uber] also makes smart moves. I don't know who the winner will be and I don't want to miss out on a chance to partner."
The possibility of industry consolidation is not lost on Ryan Broderick, head of merchant operations for DoorDash. He remains optimistic that DoorDash will prevail, however, by focusing on the number of quality offerings.
"If we don't have the right merchants, no one would order," Broderick says. "It's our competitive advantage. We have a large selection of merchants."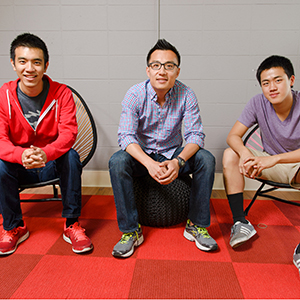 A clamor to differentiate is reverberating through the industry, leaving consumers to reap the benefits. Different restaurants appear on each app. Deals and promotions, different delivery zones and delivery fees depend on the service.
Konjoe Burger in downtown San Jose uses Caviar, UberEats, DoorDash and Square, but kitchen manager Jagar Norman prefers UberEats for its ease of use.
"When I first signed up they gave me bags, and they have an easy merchant interface that allows me to change menu items and track the order as it's being delivered," Norman says.
As a relatively new player, Caviar sends a photographer to each merchant to take photos of the dishes in an attempt to brand their online menu with a specific look. They also made a smart move earlier this year by partnering with the first San Jose location of The Halal Guys, before the grand opening, generating buzz for both partners. Burnham, of The Bywater, wanted to partner with one service to keep things simple, and choosing DoorDash was a fairly easy decision.
"We already know of them," he says. "They are established in this area. We use them personally. I wouldn't use a service for my business that I wouldn't use for my personal life."
For consumers and merchants, each app offers slight differences that are nice to have but don't seem to give one app a clear competitive edge over another.
The ease for consumers in picking and choosing orders doesn't always trickle down to the restaurants, however. Merchants have gripes that vary across platforms, most notably that each service takes a commission of the sale which can be up to 20 percent, eating into the already slim profit margins.
Jay Garcia, a manager at SimpleViet, says it can be difficult to schedule in-person orders when when online orders come in during peak hours. Employee Kevin Nguyen, adds: "The app itself is sometimes not organized. [Orders] are not specified, so I have to call the customer. Or if ingredients run out at night, I have to call the customer and ask them to make a different selection."
Konjoe Burger can relate to this challenge. Norman, the kitchen manager, calls it "order at will" when online orders pop up and add to the wait time for walk-in orders. Adding to the frustration, drivers can arrive late for pick-up orders, leaving food to go cold.
Mohammad Kabirjuyan, manager at Grab-A-Pita, says he has had this problem with Grubhub. "I prefer DoorDash, because they are faster and more effective," Kabirjuyan says. He hopes the on-demand delivery services hire more drivers, but he has no plans to opt out. Much like the slight advantages of using one app over another, many restaurants feel the benefits outweigh the cost of going it alone.
The online delivery market has experienced explosive growth—estimated market value is $10 billion, up a billion from last year—but most of the merchants interviewed for this story say the delivery business is a small portion of their sales, and walk-ins still pay most of the bills. For this reason, most use multiple delivery partners since there is no cost to sign up as the market continues to grow.
Morgan, who spent his career with the national burger chain Smashburger before opening Tava Kitchen, thinks whoever is going to win will need to partner with large chains that aren't using multiple apps. "These services are not expanding the pie," he says. "The market for dining out is affected by the economy. Online delivery needs to take away from in-store dining in order to grow. I expect to see restaurants change their business models in the future." This could mean restaurants will stop offering as much seating, or go to smaller dining rooms. Apps that integrate with existing point-of-sale systems will help owners better manage their bookkeeping. Even though customers and merchants alike have their favorite apps, the battlefield remains crowded and the food fight has just begun.