Features & Columns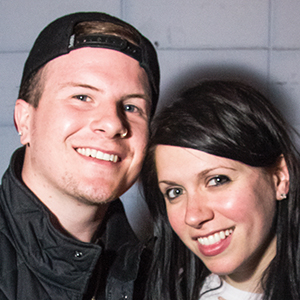 AN EDUCATION
Back in 2004, when she was a freshman at Stanford, the young Flaherty couldn't have imagined she'd ever be engaging in this kind of veteran performer shop talk—at least not seriously. After all, K.Flay began making music as a lark.
It began as many great Silicon Valley success stories have: in a college dorm. Flaherty, disenchanted with the state of popular rap, boasted that she could easily pen better rhymes than the hip-hop artists getting radio play at the time. Her dorm's resident advisor told her to prove it.
So, she paired up with a fellow Cardinal and got to work on what would become "Blingity Blang Blang," a profanity-soaked parody of the commercially successful rap she so disdained at the time. But then a funny thing happened: Flaherty got into it. Not long after, she found herself behind her very own MIDI keyboard, making beats and writing lyrics. She released her first collection of songs, Suburban Rap Queen, that same year.
If Silicon Valley's emphasis on failure being a crucial step in personal growth helped Flaherty weather her relationship with RCA, the Bay Area's highly collaborative music scene helped her get up and running in the first place.
That scene "has always felt a bit more interconnected and supportive than it does in New York or L.A., especially across different genres," says Flaherty, who has spent time in Brooklyn and SoCal, but now calls Oakland home. And, while Stanford may be better known for producing music academics than pop artists, Flaherty says there was never a dearth of music on campus. "There was always shit going on; it was small, but vibrant and interesting. Everyone was really open and looking to create in a positive environment."
As she worked her way up from frat parties to the local club circuit, Flaherty embarked upon some serious extracurricular studies, soaking up all she could from the Bay Area's hip-hop scene.
Some of her earliest breaks came in the form of collaborations with local rappers, such as Oakland group Zion I, and fellow Stanford alumnus and nerdcore rapper, MC Lars. She also took pointers from Wallpaper., the East Bay party-rap crew, which she describes as "zany and totally irreverent, in the best way." She ended up touring with them about a year after catching their set at The Rickshaw Stop in San Francisco.
Fans of Wallpaper. will be able to hear the group's influence on K.Flay songs like "Frat Party," where she spits a cheeky rhyme about respecting her rights on the dance floor. "I came up in this place to get my groove on," she raps. "Perverts better move on, or else I'll cut you up like Mulan."
ALL GROWN UP
While K.Flay's early material featured swaggering yarns about turning up and throwing down at at the Chi Theta Chi house, she's turned inward of late—revealing a more vulnerable, introspective and mature side. Consider this passage from "Get It Right," a song of reflection, which closes out Life As A Dog:
Wanna turn back the clock, tell my father to be stronger
Cause he missed me growing up
And I want to tell the little girl in the corner of that room
'Don't lose hope, just be brave, things get better soon'
"Being honest and kind of vulnerable in that way has been so much more enjoyable for me on a personal level and a performance standpoint," she says. In fact, she adds, it can be cathartic. "If I am having a bad day, being able to say things that are true and perform them in a dramatic fashion really helps. When I first started making music that wasn't what I was doing. I think that the more open and the more 'naked' I've been in that way, the better it's been for me."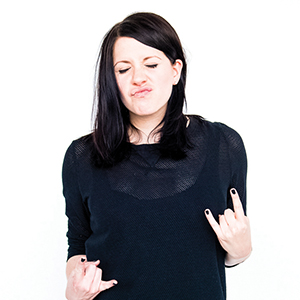 As K.Flay's lyricism has evolved, so has her live set. She now plays with a live band. It's a lean production—just drummer Nicholas Suhr and guitarist and bassist Josh Lippi in addition to her—but it adds to the energy level on stage.
She has also delved deeper into electronic music and production. As her band is taking a more traditional form live, her love for electronic music is only growing stronger; she has taken up DJing, in addition to performing her own music.
Recent DJ gigs and Spotify playlists find K.Flay pairing acts like The Weeknd and Meg Myers with Flume and Koreless. And as aggressively as she's been touring the past year and a half, she has just as aggressively been collaborating and contributing to releases by other artists. She grabbed a composition credit on the new album from the Phantogram and Big Boi collaboration, Big Grams; and she's lent her vocals to EDM producer Kaskade, synthwave act Viceroy and electronic act Golden Features.
Flaherty is chipper and inviting, even if some of her darker songs come from a place of lovesickness, listlessness or insomnia. And she wants her fans to walk away from Life As A Dog feeling chipper as well—or at least better than when they pressed play on the first track.
Similarly, Flaherty says she wants fans at her shows to walk away feeling at least two things:
"The first is a sense of respite," she says. "To me, a live show is a chance to suspend the reality of life for a moment, to be wrapped up in something loud, cathartic, expressive. The second is a sense of connection, whether it's with the other people in the crowd or with me and the music, or both. The best kinds of shows always leave me feeling a little less alone."