Features & Columns
Get Married Get Serious
San Jose indie punks have a new record deal, a debut full-length and a nationwide tour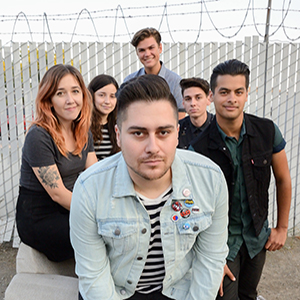 Though they're wary to admit it, Get Married has a longstanding Elvis obsession. His smoldering black-and-gray portrait is inked on the arms of both singer Jaake Margo and bassist Kayla Gonzalez. Lead guitarist Randy Moore's been known to wear a jacket emblazoned with the King's name, and half the band rocks modern-day pompadours. And that's just what you can tell by looking at them.
It's no coincidence, then, that Margo first met guitarist Tarif Pappu and keyboard player Nick Kenrick when they were all cast as leads in the Palo Alto Players' production of Million Dollar Quartet, a musical inspired by the eponymous Sun Records recording session that redefined rock & roll as we know it. Margo was cast as Presley, while Pappu played the role of singer-songwriter Carl Perkins and Kenrick filled the part of Jerry Lee Lewis.
Margo, arguably the most outspoken about his fascination with the King, credits his mother for introducing him to Presley's discography among other classic American rock acts. When Margo first began acting and singing in plays in the fourth grade, his parents' constant encouragement helped further affirm his passion for performing.
"When I was growing up, my mom told me to listen to Elvis, the Beach Boys and Frank Sinatra, and to this day those are some of my favorite musicians," he explains. "When I write lyrics, I try to write very simple rock songs like the early Beach Boys."
While the stylistic influence that Elvis and the Beach Boys have had on Get Married is clear, it's just the jumping-off point for the six-piece San Jose-based outfit. With deep roots in the South Bay's DIY punk scene, Get Married also effortlessly incorporates power pop, metal and soul into a much more modern and expansive take on the genre. Encompassing the rollicking rhythms of rockabilly, the emotional depth of doo-wop and a love of guitar solos that betrays a certain hair metal influence, the band conjures a sense of nostalgia for the past without ever descending into sappy cliches.
DIY 'Til I Die
It all started at a Halloween house party in 2014, Margo says. Five of the six band members and I are crowded around a table outside of the Bagel Guys Bakery off Meridian Avenue—a favorite haunt—munching on egg bagels and sipping coffee in the mid-morning heat, listening to Margo recount the band's origins.
His previous band, Kill the Bats, had just broken up and Margo was in rush to find musicians who could help him play a last-minute set at a themed costume party. He recruited Moore and his younger brother, Dylan, the latter of whom was only 14 at the time but was "killer on the drums." It all ended up going off without a hitch.
"We actually played all Elvis covers at that show," Margo says with a bagel in hand and a slight smirk on his face. The lead vocalist and guitarist for Get Married looks to his bandmates—bassist Gonzalez, lead guitar player Moore, rhythm guitarist Pappu and the younger drummer Moore—before turning back to me to explain that a second all-Presley show the following week was what sealed the deal and made things official for Get Married. "It was after that second show that I told Randy, 'You know, I actually have some of my own songs, too.'"
Four years and "a million different band members" later, Get Married has accomplished more than most up-and-coming bands in their early 20s, including releasing two well-received EPs; touring California, the West Coast and even once around the country; and most recently, landing not one but two record deals.
Hot on the heels of signing with Monte Sereno's Asian Man Records, the DIY label that inked deals with Alkaline Trio, Joyce Manor and Less Than Jake, as well as up-and-coming Los Angeles label Wiretap Records, Get Married is releasing its first full-length album on Aug. 17. Songs for the Sleepless—Get Married's follow-up to their two 2015 EPs, Four Songs and Into the Cosmos—has been a long time coming. In three years, the band has grown and solidified its sound considerably, and you can tell by listening to their latest record from start to finish. It's a feel-good, 12-track testament to the power of pop-punk.
Take "Cinnamon Sugar," a mid-tempo love ballad that features an upbeat staccato piano rhythm behind a classic '50s-era chord progression. The second single off Songs for the Sleepless—and by far the band's favorite track—the song reflects Get Married's retro-meets-modern ethos that's present in everything from their collective style to the neat guitar riffs and sharp hooks featured prominently throughout the album. Simple and clever, Margo's lyrics play off larger themes of love, heartbreak and all the feelings (and acts) in between.
"Cinnamon sugar eyes and mermaid hair / we made out in her car behind the movie theater," Margo sings in his smooth but booming baritone voice. "Her parents were away so we relocated / found ourselves in her room where she demonstrated."
What exactly she demonstrated Margo never tells, but he doesn't have to: the beauty of Get Married's music is easy relatability, which allows listeners to draw their own conclusions and fill in the blanks with their own, personal stories. "'Cinnamon Sugar' really encapsulates us," Margo says of the song. "Everyone has a moment on it, and it shows what we're going to do on the album in one song: the highs, the lows and everything else."
Throughout the record, Get Married's songs are characterized by cult pop culture references and playful, self-deprecating lyrics that invoke a strong sense of nostalgia for simpler times. At the emotional core of the record is a struggle to stay in the present, even when the past is trying its hardest to keep you stuck there. From nods to 1960s-era Batman to the homicidal heartthrob J.D. from Heathers, Margo uses figures from the past to grapple with struggles in the present. The result is a quirky but meaningful record that's playable but also has depth.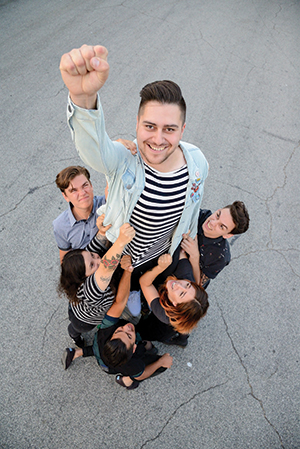 One Shot Wonders
One constant in all the chaos has been the presence and guidance of Mike Park, founder of Asian Man Records, and a local legend in the eyes of many bands who make punk, ska and indie music in the South Bay. Since 1996, he's been running the small label out of his parents' garage and remains active as a performer and mentor to many local musicians. Margo, who's known Park for almost a decade, says that his constant presence at events was "the coolest thing in the world" growing up, and he cites Park as a major influence on his musical tastes.
"I would pick up Asian Man CDs from the little lending library by my house, and that's how I got into Alkaline Trio and the Lawrence Arms," Margo recalls. "I would take those CDs home, put them on my computer and look through all the CD booklets. So when I finally did meet Mike, I was already a huge fan of his."
Park's presence in the scene, and a verbal promise made at a Hot Toddies show to put out one of Margo's albums, was a major reason Margo was determined to keep writing and performing, even when his former bands would fizzle out. Margo knew he had to bring his best work to the table, but time and time again things wouldn't quite line up. Much of that uncertainty felt like it had shifted when he began recording and touring with his last band, Kill the Bats.
"Mike took me aside one day and said he would sign us, but that I had to be sure I believed in this band," Margo recalls in a phone call from the road. "He wasn't asking that because he thought we were bad: we were actually a great band. It was more like he was asking me if I thought the trajectory I was on was the right one, because this was it—our one shot."
The next thing Margo knew, Kill the Bats had broken up. It was a loss for him, but one he believes was ultimately what he needed to creatively push him to the next level. The pop songs he wanted to write and perform never quite fit in with Kill the Bats' emo sound, but that's what eventually led him to form Get Married.
"After Kill the Bats broke up, I was discouraged because I felt things had ended wrong—we had put out all this music I was proud of, but just stopped after releasing an album," Margo explains. "When we started Get Married, I remember telling Randy that this is my last band: If it doesn't work now, I'm ending things here. There was no other choice for me in that moment."
Trust The Process
Every member of Get Married lives by an all-or-nothing mantra. It's evident in the passion and energy they bring to the stage and to the creative process. Pulling from each of the six members' individual strengths, songwriting is collaborative and iterative, beginning with a few words and a simple melody and building organically from there. Margo and the eldest Moore share a majority of the songwriting responsibilities, but the process comes together much more dynamically when everyone's involved, Gonzalez explains.
"Jaake will usually come in with a lead riff and a few lyrics, and we'll all go off of that," says the bassist. "Randy will then fuck with it, add his guitar solos and then we all work on our own parts. We work on it all together as a unit."
The byproduct of that teamwork is a cohesive sound that employs simple but catchy chord progressions throughout, pulling from influences as diverse as the Ronettes to the Misfits. There's a prominent interjection of heavier rock in the mix as well, which can be attributed to lead guitarist Moore, who grew up listening to and playing in metal bands. With the exception of a few slower acoustic tracks, the songs on Sleepless have hyper-clean guitar solos and catchy bass lines, all supported by a thunderous percussive backbone that attests to the band's shared technical skill.
It helps to have bandmates who are not only strong musicians, but also deeply rooted in the scene they grew up in. Whether they played in other bands or simply went out to support friends and see shows, all six members have been an active part of San Jose's small but mighty punk community since high school.
What's In a Name?
As Get Married embarks on the first leg of its headlining nationwide tour, the band members' emotions run the gamut. It's exhilarating and nerve-wracking at the same time, Margo admits, but that's to be expected. Over the course of about five weeks, the band will visit 33 cities across the country alongside Los Angeles-based power pop group Tiny Stills, ending with a hometown show on Sept. 15 at the Art Boutiki.
For Gonzalez, promoting the years of hard work that went into Sounds for the Sleepless is her highest priority, but she's personally eager to meet new people and travel to parts of the country she wouldn't otherwise see. For Pappu, the prospect of showing off the record to a new fan base makes him hopeful for the band's future—which may eventually lead lead them to make the move to bigger a bigger city, like Los Angeles.
"Most importantly, we all want to keep moving forward as musicians," Pappu explains. "We're all still evolving; we go to shows together; we all love music. Being able to push forward together as a band would be awesome."
Nothing sums up Get Married's collective goals and goofy attitude as much as its namesake, which Moore explains was the next best option after realizing that "Slayer and the Beach Boys were already taken." In actuality, the name came to Margo after a friend of his described the anxiety he felt after getting too serious too soon with a girl he was seeing at the time.
Margo's suggestion? "Don't worry. Just get married, dude."
While no one in Get Married has plans to tie the knot anytime soon, their name sums up a hopeful eagerness one often feels when starting something unfamiliar but promising. It's probably the same excitement that couples feel when they get hitched under the neon lights of a roadside chapel in Las Vegas. When an Elvis impersonator in glittery pants says, "You may now kiss the bride," there's no turning back.
"Marriage is a make-it-work kind of a situation," Moore says. "Similarly, that's how Jaake's and my founding of the band was; we made this commitment and said, 'Let's just do it.'"