Features & Columns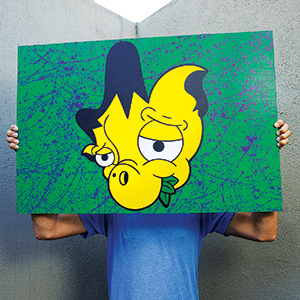 Busted
Eight days before Free's arrest, in October of 2009, a pair of women rang the doorbell of his apartment in San Francisco's Outer Mission neighborhood. They asked if he had seen their lost dog and if they might be able to come up and speak with him. Free told them that he hadn't seen the dog and declined to let them in, telling them that his girlfriend—with whom the women had talked earlier—hadn't seen the pup either.
At the time, Free says, he wasn't too suspicious. Although the women had come by twice asking the same question, he never suspected them to be the undercover cops that they were.
A few weeks earlier, on Oct. 2, Free was pulled over in San Jose for driving with expired plates. The officer who pulled him over observed several spray paint cans on the passenger seat and began asking questions, then searched the vehicle.
"He said he suspected I was under the influence of marijuana," Free says, before insisting he never used substances of any kind while out painting. "I always wanted to be on point."
A search of the vehicle turned up a couple of sketches, which were photographed and sent to a specialized graffiti task force. Free was let go without any citations. (The officer Free identifies, Geoffrey Graves, was arrested earlier this year on suspicion of raping a woman whom he had driven to a hotel after a domestic dispute.) When he poked his head out of his third-story window two weeks later to tell the two undercover officers he hadn't seen their invented dog, he handed the authorities the final piece of evidence they needed. They had their man and they knew where he lived.
Free was busted on Oct. 27. Police pulled him over early that morning as he was on his way to a 6am shift at a South San Francisco pharmaceutical company where he was working as a security guard.
Shortly thereafter, members of the San Francisco and San Jose police departments raided his apartment, seizing sketchbooks and other graffiti paraphernalia that they used to tie him to $40,000 in property damage. After spending several hours turning his apartment upside down, the police drove Free down to San Jose, where he was booked and put in a holding cell. He bailed the same day on a $100,000 bond.
In the wake of his arrest, SJPD described Girafa as one of the Bay Area's most prolific graffiti artists. It may have been a self-congratulatory law enforcement boast but in retrospect sounds more like an honorary title or a book jacket quote.
Over the following weeks and months, he lost his job, his apartment and his then-girlfriend. He had restitution fines and legal fees. All told, Free estimates he was in the hole for about $60,000. He is still on probation—which was originally set for three years at his sentencing in 2011, but was recently extended, because he has yet to pay all of what he owes.
Free has been making regular installment payments for years now. "It's just another bill," he says. In an paradoxical twist, Free has been paying back the money he owes the state by selling the very same artwork that landed him in trouble.
In the years since his arrest, Free has made a fair amount of money selling original works of art on canvas, painting murals and selling smaller trinkets, like sticker packs and air fresheners. He recently held an "Instagram gallery," which will remain up through Sept. 9, at the handle @HabitatGallery. He priced each of the 5" by 5" pieces between $60 and $75, and they sold out the same day. The artist held a similar pre-sale of a 3D keychain of his giraffe character. Those also sold out quickly.
Free wouldn't be where he is today—that is, making money as an artist—if he hadn't put in the time as a street artist (or, in the eyes of the law, a vandal). Nor would he be in his current position if he hadn't been caught. While his younger fans may have come across his artwork surfing Bay Area graffiti forums online, Free was once commissioned for three original pieces by a doctor and Palo Alto resident who became enamored with the Girafa brand while riding Caltrain to work.
"It still boggles my mind," Free says. "It was never my intention to get caught and get arrested and have to flip it and use what got me in trouble to get me out of trouble."
Lone Giraffe
As a teenager, Free took an interest in break dancing, but quickly discovered that his tall lanky frame wasn't well suited for the activity. Around the same time, a group came to his high school and gave a presentation in capoeira, a Brazilian martial art that incorporates karate-like jumping and striking moves into a rhythmic dance, often set to music. Free was fascinated and soon joined a local capoeira gym.
Capoeira plugged him into a social network of people he could relate to. His devotion to the discipline likely played some role in his ability to walk away from his fall from the fire escape without a scratch. It's also where he got his graffiti name.
"Everyone is given a nickname in capoeira," Free explains. "The master will pick a Portuguese name that he feels is fitting to you. I never asked for it. It's just that I was the tallest student when I walked in, so he named me 'Girafa.'"
Free began "writing" once he moved out on his own and was free to hit the streets whenever he pleased. It was a good fit for Free. He was able to exercise his creativity and be all alone, without anyone else around him—just like he used to do with his comic books.
"I liked to go out by myself," he says. "You're out there by yourself, you learn a lot about yourself."
He learned quite a bit about the artistic process along the way, as well. Free developed his aesthetic and eye for form without the aid of art school—or a college degree of any kind. Free dropped out of West Valley College after a few semesters of web design courses. "It just wasn't for me," he shrugs.
On a recent afternoon at his San Jose apartment, Free explains that he chose to incorporate yellow and black into all of his work because the color combination catches the human eye better than any other pairing of hues. That's why cautionary road signs use yellow and black, he says.
When creating a custom color, Free is meticulous—recording the brand of paint and the exact amount of the various colors he has used in a given mix.
Free's commitment to his art has clearly paid off. He has more than 10,000 followers on his Instagram account. As he sits on the patio at the coffee shop, one of the baristas eyes him from behind the counter, speaking softly to her coworker. "That's Girafa," she says, in a tone of hushed reverence.
'No Regrets'
Free is very much a glass-half-full kind of guy. In fact, of late, the man better known as Girafa has been viewing the entire ordeal as a blessing in disguise.
"I'm very honored that people take interest in what I'm doing," he says. "I know how it feels to look up to somebody. I feel like it's a great responsibility for me.
"After I got arrested, my life crumbled; I lost so much. I think my art is what saved me; it was what I used to piece my life back together.
"It's kind of trippy," he continues. "This event was a catapult into a whole new kind of life." And he is "stoked" about it.
Back in 2009, in between falling from fire escapes and punching a clock to finance his passion, Free never dreamed that he'd be able to support himself with his art. But that isn't to say he is rolling in it. "Every day is a struggle," Free says. He still works odd jobs to make ends meet. But that's a good thing in his view. Free insists that he doesn't want to make it. "I don't want to ever get to that point where I can say, 'Oh, I've made it,' and kick back."
In the years since his arrest, he says, he has gone through a philosophical shift, brought about through a combination of therapy, reading and reflection.
"I've become a big believer in the universe and the mysterious ways it works," he says, taking on a somewhat mystical tone. "I feel like in the short run, with my arrest, they won. But in the long run I'm definitely going to be the one that's going to triumph from this. Because in the long run it made me stronger and made me believe in what I'm doing.
"I have no regrets."
For more information on Girafa and his art, visit his website.