Features & Columns
Hot Summer Guide: Roaring Back
After 14 months of lockdown in stages, Silicon Valley is on the precipice of post-pandemic freedom—just in time for summer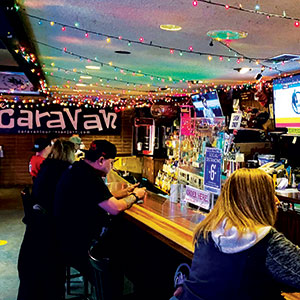 Above the din of conversation and faint whiffs of cigarette smoke inside Caravan Lounge in downtown San Jose, Billy Joel's "Piano Man" serenades customers spaced six feet apart underneath party lights at the bar.
"I still feel like we should sway," Amy Conners says, arms outstretched to her fellow patrons.
It's only a Wednesday, but Conners is in a celebrating mood, because this is the first night residents of Santa Clara County can gather inside bars—without the pretext of dinner—in more than a year. The South Bay moved into the yellow tier, California's least restrictive set of rules for the pandemic, following record low Covid-19 cases and increasing vaccination rates.
"I love it. It's like being home," says Conners, a high school drama, dance and yoga teacher at East Side College Prep. She's stopped at the bar in honor of the fast-approaching last day of school, and anxiously watches the Los Angeles Lakers edge out her beloved Golden State Warriors on the television.
"I was lucky to be vaccinated early," she says. "I know that's not a fail safe, but it's great to be back and support Bev [Ventura, Caravan's manager and owner,] and see everyone. Plus, I don't have cable at home."
Caravan is just one of thousands of businesses embracing newfound freedoms as the South Bay gingerly starts to round the corner of the Covid-19 pandemic. Reemerging from anxieties of lost businesses and lives, dreams of a modern "Roaring '20s " are already on the tip of every tongue as residents get primed for the summer.
California will celebrate its full reopening—meaning there will be no restrictions on indoor capacity and mask mandates will fall away—on June 15, so maybe those hopes are more realistic than they seemed at the beginning of this year.
Santa Clara County's Covid-19 positivity rate, derived from the number of people who test positive for the virus out of all of the people who are tested for it, now registers just 0.5%. That's the lowest officials have recorded at any point during the pandemic as more than 75% of residents ages 16 and up have had at least one shot; 60% are fully vaccinated.
Summertime Happiness
Taking advantage of newfound collaborations between politicians, businesses and the social sector that were forged from necessity during the pandemic, local leaders in all of those sectors are busy preparing to meet the coming boon. Rather than feeling plagued by uncertainty of what's to come, they say they're prepared for a busy summer—sans health restrictions—that comes 14 months after the Bay Area's inaugural lockdown.
Private businesses are reopening and ticketed events are returning while calendars fill with city-sponsored programs and events. Among them: the return of the Sonic Runway art installation at City Hall and City Dance. The San Jose Opera is preparing to perform at the Winchester Mystery House and two separate Vincent van Gogh exhibits could arrive in downtown San Jose later this year.
Russell Hancock, president and CEO of Joint Venture Silicon Valley, envisions the South Bay's "return to normal" like pulling a stop from a dam—removing restrictions will bring the economy flooding back, he says. Even now, the recovery has broken records despite the restrictions that remain, he adds.
Hancock doesn't think the notion of a "Roaring '20s " in Silicon Valley is far-fetched. The nine years before the pandemic brought record venture capital investments, stock market performance and local product influence.
"There's pent-up demand, plenty of affluence in the region, spending patterns are going to return—I think with a vengeance," Hancock says. "I think we might see this decade really launch like gangbusters."
The question now is how the recovery's success should be measured. Some statistics are already inching closer to March 16, 2020 data benchmarks.
Silicon Valley's 4.9% unemployment rate in May 2021 is a far cry from the 12% peak in April 2020, which represented one out of every 20 people in the labor force going without work, according to Joint Venture Silicon Valley data. The largest job gains were in restaurants, health care, social assistance and construction in April. Santa Clara County boasted the third-lowest unemployment rate in California this month.
Keep The Momentum
As the economy recovers, many are watching San Jose's downtown.
The city's central business district has a long history of false starts that have stymied growth over decades as officials try to shift the city's reputation to being an economic hub, rather than a bedroom community with more homes than jobs.
And, indeed, before the pandemic, the downtown had started to draw an unprecedented level of investment from foreign and domestic developers with visions for tall towers lined with ground-level retail, plans for BART and high-speed rail to the city seemed to be moving and public art was on the rise.
But a glance at the city's history would also show that each time the city's downtown gains momentum in gaining a wider influence, some disaster seems to befall the region or country and reset it all. In the last two decades, that included the dot-com bubble burst in the early 2000s that led to ample empty office space and the 2008 Great Recession that parlayed into a fizzled deal to bring the Oakland A's to San Jose.
Most recently, the Covid-19 pandemic that arrived just as San Jose officials were trying to seal a deal with Google for a new campus near Diridon Station, which many believe would help San Jose reach its economic goals.
But so far, it doesn't seem the pandemic will have the economy-stopping effects that the past disasters brought. San Jose councilors voted on Google's development proposal this week—a decision that came later than originally planned, but notably wasn't halted by the Covid-19-induced downturn.
"The prodigiousness of this economy and its underlying dynamism never went away, it's still there," Hancock says. "When you lift the interventions, there's no reason to expect that it won't just all take shape all over again."
Get Out
The full future of sporting events, concerts and entertainment at places like Levi's Stadium and Great America remains murky. But Christian Malesic, president and CEO of the Silicon Valley Central Chamber of Commerce, isn't worried. To get a picture of residents' willingness to return to their old pastimes, just stop by San Jose's Santana Row on a weekend when the streets are lined with customers, he says.
"I think the businesses are definitely getting geared up," he says. "But I also think shoppers and retail-goers are starting to come out of their homes and out of their shells."
The main anxieties for many businesses today are less about foot traffic and more about meeting staffing needs and battling inflation, he says.
All Aboard
The first "Roaring '20s" brought the top 1% of U.S. families more than 22% of the nation's income, allowing white upper- and middle-class to profit while people of color and rural residents burned out.
As in the past, even as much of Silicon Valley's unusually wealthy region comes back to life, some residents continue to fight for basics, including livable wages, affordable housing, safe work environments and extra spending money to support local businesses.
Gina Dalma, executive vice president of community action, policy and strategy with the Silicon Valley Community Foundation, worries that some, including low-income residents and people of color, could be left behind in the recovery.
She hopes city officials and advocates monitor "holistic data," beyond blossoming event calendars and receding unemployment rates. Homelessness, public benefits and public school enrollment are all indicators of how successful Silicon Valley's economy is, she says.
"I think one of the tragedies of the Valley is that many times we fail to see the shoulders we stand on," Dalma says. "The reopening is not synonymous with recovery and more importantly not synonymous with the recovery of [communities of color and low income residents] that were hit the hardest by both Covid-19 as well as the economic devastation that happened.
"We need to make sure we're focused on building back better for a better future going forward, making sure that we're making sure money gets to people that need it the most and investing in our community."
That's why Chris Esparza, a local events promoter and key partner with the School of Arts and Culture at Mexican Heritage Plaza, says his team is "pressing the gas hard" on planning events between August and December. The Plaza's responsibilities as a Covid-19 testing and vaccination center are already slowing.
"We're leaning into a full season, and even rolling out some additional large- and small-scale events in our push towards having the plaza positioned as the center of an arts and cultural district," Esparza says. "There's this window open to both the comeback and the Roaring '20s, but also rethinking about how that's imagined and how we include more."
He feels wind at his back when it comes to the city's East Side, which is home to a large portion of the city's Latino population, after getting $4.2 million from San Jose to expand the annual Viva Calle SJ, San Jose Abierto and the Viva Parks programs events in underserved neighborhoods.
That's all music to Councilmember Magdalena Carrasco's ears.
"I think that what we do this summer is going to be very important for our residents in terms of how we uplift the community and give them that bit of hope," Carrasco says. "We can't forget about just the human aspect of having fun. I think we forget about how important that is because we're so immersed in all of the other life and death kinds of decisions that we're making right now, so I'm very grateful."