Features & Columns
Jack Kerouac: On the Road
Jack Kerouac's beat masterpiece, 'On the Road,' finally makes the big screen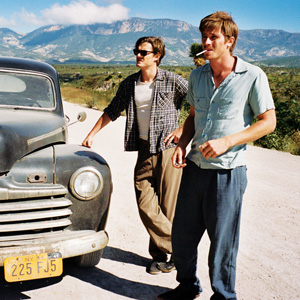 The one and only time I met Allen Ginsberg, I wasted the moment talking about the 1991 movie of William Burroughs' Naked Lunch. Ginsberg started the conversation, though, by asking me what I thought of David Cronenberg's work.
I replied that I thought it was expurgated. Ginsberg responded in about these many words: "The movie didn't ruin the book. The book's still on the shelf. Next customer!"
So Walter Salles' long-delayed film of Jack Kerouac's famed novel On the Road cannot ruin the book, at least by the standards of Ginsberg, who is portrayed in its pages as Carlo Marx (and played onscreen by Tom Sturridge). Produced by Napa's own Francis Ford Coppola, the film has been 50 years in the making, not counting some re-editing and time on the shelf after its debut in May 2012 at the Cannes Film Festival.
It's been a long road. Right after the novel's 1957 publication, Kerouac claimed to friends that Marlon Brando was interested. Brando's people passed, however. Years later, Gus Van Sant was interested—a seeming natural to direct the adaptation, particularly in light of My Own Private Idaho.
Rumors blue-skied Johnny Depp as the Kerouac figure, Sal Paradise, with Brad Pitt as Kerouac's solar-deity/car thief Dean Moriarty, based on legendary local Monte Sereno character and live-wire Neal Cassady.
Billy Crudup and Colin Farrell were also proposed as Sal and Dean. Garrett Hudland, who eventually got the role of Dean, told me that a version with Paul Newman—at about the time Newman starred in Hud—would have been the one he wanted to see.
Salles directed the Great (South) American road movie, The Motorcycle Diaries, clearly influenced by the Kerouac frame of mind. Making On the Road, this seemingly unmakable movie, Salles spent many years and what he claims were 60,000 miles hunting for the kinds of locations Cassady and Kerouac would have seen from their car windows in the late 1940s.
The filmmakers borrowed and rented cars from collectors of the since-vanished Hudson. The California desert town of Twentynine Palms doubled for Silicon Valley's Campbell, where Kerouac once did a stint of manual labor loading boxcars back when the region was devoted to orchards instead of chips.
At long last, On the Road—linked with Twain and Whitman as quintessential Yankee literature—has been achieved with a Brazilian director, a Puerto Rican-born scriptwriter named Jose Rivera and a British actor as Sal Paradise (Sam Riley, star of the Ian Curtis biopic Control).
As Moriarty, Minnesota's Hedlund excels in depicting radiating sexuality and lightninglike motion; he's introduced in a balletic slamming of cars into the tight spaces of a New York City valet parking lot.
Sometimes, the other characters carry baggage from previous acting work. Kirsten Dunst's Camille is based on Carolyn Cassady, a former local who has been trying for decades to set the record straight about her years with Kerouac and Cassady.
Camille is introduced by Carlo as "Helen of Troy with a fucking brain." A description like that is hard to live up to, and Dunst must also compete with memories of Sissy Spacek in the 1980 film Heart Beat, with Nick Nolte as Neal and John Heard as Jack.
Kristen Stewart, who filmed this between her two last Twilight movies, is maybe not as naive and sad as the real life LuAnne Henderson, known to posterity as Marylou, the barely legal Mrs. Moriarty. I mean "naive and sad" compared to the way Henderson comes off in Jack's Book, an indispensable oral history edited by Barry Gifford. That said, decadence is a good look for Stewart—the darker the circles under her eyes, the better she delivers.
Viggo Mortensen plays the mad, bad and dangerous-to-know Burroughs character, tending his weird Louisiana citrus farm. Sturridge successfully avoids Jiminy Cricketism as Carlo. He's a mentor not a sidekick—the symbol not just of the beatitudes to be experienced on the road but also of the hard work "Sal Paradise" is going to need to do to become a writer.
After such a lengthy build-up, the movie won't please everyone, but it's made with freshness, pleasure and unpretentiousness by a director who blends in autobiographical material with the fiction.
Salles confronts perhaps the number-one problem with a movie of On the Road: that is, Sal Paradise's tendency to adore Dean Moriarty, who, as his fictional name suggests, is both a teacher and a criminal.
The sheltered writer learns from proscribed people—from homosexuals, drug addicts, jazz musicians. Since the film is more intense about Moriarty's own exploits (including a little hustling with a moist-eyed trick played by Steve Buscemi), the movie is ultimately more broadening and frank than the book. It's less careful than, say, the screen version of Naked Lunch.