Features & Columns
Stand Up Guy
As he winds up a tour with Metallica, former South Bay skate-punk
Joe Sib brings his stand-up act to The Ritz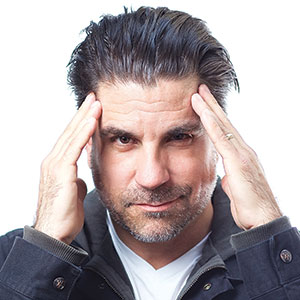 For most of his life, Joe Sib has made his own way. The Santa Cruz native—who grew up in the Olive Springs Road outlands of Soquel before moving to San Jose in his teens—had a major-label contract with his pop-punk band Wax by his early 20s. In the mid-'90s, he co-founded SideOneDummy Records, the indie label that launched the careers of bands as diverse as Flogging Molly, the Gaslight Anthem and Gogol Bordello. In 2009, he toured a one-man show called California Calling, based on his memories of the 1980s South Bay punk-skate scene that produced Steve Caballero, Corey O'Brien and many others. Not long after, he started touring as a stand-up comedian.
But for maybe his biggest break ever, he needed some help. From his dad.
"The whole reason I'm on tour with Metallica is because of my dad," Sib admits on a phone call from the road, where he's finishing up the last of 35 shows he will have done with the Bay Area metal legends by the end of the tour.
The story—and with Sib, there is always a story—goes like this: his extremely OCD nature inspired a habit of calling around to the camps of various big-name comedians when the L.A.-based Sib saw they were coming to Southern California, to ask if they needed an opener. Usually, they did not, but he developed some good relationships over time. One of those paid off in a big way when the publicist for Jim Breuer asked if he wanted to open a San Diego show for Breuer in 2017. He jumped at the chance, and gave his dad a call.
"My dad is retired, he lives in San Diego, and I said, 'Hey dad, I got a show tonight in San Diego. I'll swing by, let's go. It's with this guy Jim Breuer who used to be on Saturday Night Live; you're gonna dig him,'" Sib remembers. "So I bring my dad to the show, we're cruising around, it's this big theater. And my dad being my dad, when he meets Jim in Jim's dressing room, they're immediately talking baseball, and I'm pretty sure my dad made a sandwich out of Jim Breuer's food. They're just hanging, dude."
The show went well, and about a week later, Sib got a call from Breuer, asking if he wanted to open for him in Seattle. And then after that, Canada. That led to what Sib calls "a really great friendship," and early last year, Breuer asked him to tour as his featured opening act. For Sib, it seemed like an important next step—a chance to hone his craft with regular touring, opening for a big-name comic—but the weird thing was, he didn't even think Breuer had watched his set that first night in San Diego. So what had inspired Breuer to give him the second shot that set him on this path? Yup, his dad.
"That's what started everything," says Breuer. "He showed up with his dad. His dad walks in the room, and Joe's like, 'Dad, dad, don't come in,' and I said, 'No, it's all right, come on in. What do you want?' 'Well! I'll have a banana!' 'OK, have a banana. You want some coffee?' 'Oh, I'd love coffee!' And Joe's like, 'Dad, we've got our own room.' I said, 'No, he's all right, it's okay.' I didn't even watch Joe's act. I couldn't care less at that point. I just thought, 'Wow, the guy brings his father. Of all the choices, he brings his father.' He's already ahead of the game for me. So I just listened to make sure they weren't booing him or saying he was terrible. And he's in. The dad got him in."
"I always tell my dad, 'Jim was more stoked on you than me,'" says Sib.
Things got a lot crazier later in 2018, when Metallica vocalist and guitarist James Hetfield told Breuer the band wanted to try something radically different for the opening act of their upcoming tour. Specifically, they wanted Breuer—a famously big fan and friend of the band featured in the VH1 documentary When Metallica Ruled the World and the MTV Icon special dedicated to Metallica—to put together a sort of opening show to entertain crowds before they hit the stage every night.
"I had a radio show where we did a game show with the band," says Breuer. "That started, 'Hey, you know that thing you did with us on the radio? Will you do that for our fans?' Then they saw me a year or two ago at Rock on the Range, and I just remember James going, 'God, man, you should be touring with us. Our fans would eat you up.' And then out of nowhere about a year ago, he texts, 'Hey we're thinking about doing something for the fans. We're not sure what.'"
Not long after, Metallica officially asked Breuer to open their tour. And when drummer Lars Ulrich asked him if he wanted to take anyone along, he mentioned Sib.
"So Lars immediately pops open the computer and says, 'All right, let me check this out. Joe Sib... OK, SideOneDummy Records, fucking cool,'" says Sib, doing an eerily dead-on Ulrich impression. Luckily, whatever stand-up clip Ulrich saw, he liked. "Lars watches it, he laughs and goes, 'All right, I'm down. This guy's cool with me, talk to James.' And Jim was like, 'James will be down.'" Indeed, by July, everything was set for the September start of the tour. "Jim said, 'Check it out, I spoke to the band, I spoke to everyone. You're going,'" says Sib. "And I was like, 'How does this even happen?'"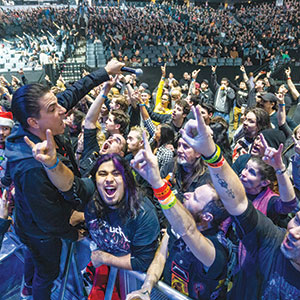 CHARGED UP
One person who is not surprised at all that this happened is Santa Cruz comedian DNA, who first met Sib six years ago at a comedy show where they both performed.
"He told me he was opening for Metallica with Jim Breuer, and I was like, 'Of course you are,'" says DNA.
He's been impressed not only with Sib's material, but also his presence on stage. "He's got this infectious energy," says DNA. "You just feel yourself getting charged up when you're around Joe Sib."
That, combined with Sib's roots in the area, is why DNA chose him to be the inaugural headliner at the opening of DNA's Comedy Lab and Experimental Theatre in Santa Cruz on Friday, March 22. The night before, Sib will return to his skate-punk stomping ground in San Jose for a performance at the Ritz—which is of course owned by Corey O'Brien, one of the most prominent skaters to come out of the San Jose scene in the '80s. Sib's connection to O'Brien goes way back.
"I met him at Winchester Skateboard Park when I was like 12 years old, and I was totally afraid of him because he was just one of these kids who knew everyone, he was a rippin' skateboarder—he has that thing. The same thing a person in a band might have," says Sib. "Even when he was a kid, the way he carried himself, you were like, 'Who's that guy?'
Sib even remembers the first O'Brien-produced show he went to see, in the '80s. "He was living with his grandma and his brother over in Santa Clara, and I remember starting to hang out with him as I got into high school. And I remember that Corey and Gavin, his brother, were putting on a show at the Vet's Hall on Father's Day. It was Social Distortion," says Sib. "I remember thinking, 'Wait a minute, they figured out a way to get Social Distortion to come to San Jose?' Social Distortion was a huge band for San Jose at that point. That band was so important to us. And I remember getting dropped off by my dad on Father's Day to go to this show. In my mind it was like, 'How did he even do this?'"
There are a few reasons Sib is happy to be headlining at the Ritz. First, he's always felt O'Brien has been at the vanguard of bringing music to San Jose, from punk to industrial to whatever the newest sound was at the time. Everyone in the scene kind of looked up to O'Brien, Sib remembers.
"He had the look of Brad Pitt, but the fuckin' stare, the attitude, of Robert DeNiro all wrapped into one, and then throw in a Social Distortion record, mixed with the whole Wax Trax catalog. And throw in Rick Rubin, for the ears, and just being able to know what's gonna happen in music," says Sib. "That's Corey O'Brien, man."
Then he pauses.
"When you write this, don't make it, 'Dude, I think Joe Sib was in love with Corey,'" he warns. Then, he pauses again. "Fuck it, I am in love with Corey."
But he also has a link to the building itself, via his former band Wax. "Basically, I left L.A. and came back with this new band, and that was the first room we ever headlined, when it was F/X," he says. "There's definitely a history there with that room, and now that Corey owns it ... there's just a good vibe."
He loves comedy clubs, but this time a rock club just felt right. "When I started doing stand-up, doing it in a rock club was a little confusing to the audience. But now, 10 years have passed, and comedy is bigger than ever," says Sib. "Every comic from Brian Posehn to Kyle Kinane to Jim Breuer—a lot of these guys are doing rock clubs, and people understand it now. They're like, 'Cool, I get it.'"
LIGHT ME ON FIRE
Audiences, however, did not necessarily get what Sib and Breuer were doing on this tour with Metallica right away. There was really no way for him and Breuer to practice what they had planned for the shows, and the first gig didn't go too well.
"After the first night in Madison, Wisconsin, there were people straight-up telling me on Instagram, 'If you ever come back to Madison, I will light you on fire,'" he says. "People were not stoked."
But the next morning, he was at Breuer's room at 7 a.m. with a bunch of new ideas.
"Honestly, he could have been like, 'No offense, but they hired me,'" says Sib. "Instead, he just starts laughing and was like, 'Let's do this. Let's build this thing together.' He was so open to ideas, and he came with so many ideas. We sat down and took our pieces of paper out, and wrote down the things that worked and wrote down the things we didn't want to do, and there was just no ego involved. It was such a collaboration. That's when I knew we were going to be friends for life."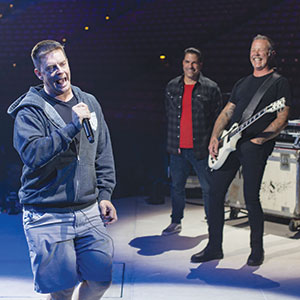 The duo managed to turn things completely around by the next show, and that's when they figured out what has become their template. It's certainly not like any opening act Metallica—or anybody else—has ever seen. And they're playing to much larger crowds than they expected.
"Lars told us, 'Do whatever you guys want to do, but don't be bummed, because there will probably only be five people in the arena when you're there.' So I was like, 'OK, that's not a lot of pressure.' But I go on at 7, and Jim comes on at 7:30, and every night when I come on it's already half full, and by the time Jim hits the stage, it's at capacity," says Sib. "The show that we do is literally a two-hour show. It reminds me of being a kid when I was living in San Jose, and my dad would go away for the weekend, and I would throw a rager at my house. You get a keg, you're playing music, and after you get done playing music, a band would play. Except in this case, it's Metallica."
Sib opens by going out with a laptop and pumping up the crowd, telling them he's going to be their DJ, and inviting them to make requests as his Instagram pops up on the screen behind him. Generally it's a barrage of Slayer, Anthrax, Motorhead, etc., and Sib plays the metal hits until it's time to introduce Breuer.
"I say, 'Here's your host, your emcee and die-hard Metallica fan, Jim Breuer.' Jim drops into a combination of storytelling-slash-crowdwork-slash-emcee-slash-Metallica-fan for like 40 minutes. He's telling stories about when he met Ozzy Osbourne. He's telling stories about when he went to James' house for the first time for dinner with his wife, and his wife tells James that her favorite band she ever saw was Bon Jovi. Like that. Good stories, and he's also interacting with the crowd."
After that, it's a mix of music and crowd work, but Sib does have a special bit he does toward the end of their show.
"I tell a story about seeing the ... And Justice For All tour at the Cow Palace, and how I had to sit up in the nosebleeds, and I was bummed because I saw everyone on the floor. I told that story to Lars, and he said, 'Well, why don't you go up there and bring some people down, then? You can do whatever you want.' So every night I go to some section and bring down like 10 people onto the floor," he says. "And dude, people get emotional."
As the tour nears an end, Sib can't believe the response they've gotten. "You can genuinely feel the energy from the audience," he says. "Metallica's smart, they're friends with Jim, they knew Jim would bring the right show. He didn't have to bring me, but he did, and I'm so proud of the show we put on. It's been such a game-changer for me."
"Joe is a huge motivator," says Breuer of why he chose Sib. "He's funny. If I bring up a premise or joke, he knows how to help me elaborate on it, and I do the same with him. He just had a great energy, and it was a perfect storm when Lars asked me, 'Is there someone you want to bring along?' I went, 'Well, Joe's a big music guy, we need a DJ. I think I got a guy.'"
Breuer says he was never nervous about how the tour would go, but he's enjoyed learning what works and what doesn't, gradually perfecting it. "No one's done this," he says. "I think we definitely pulled it off. I think the fans really liked it for the most part. The band loves it. It's been nothing but an extremely positive experience. If we do it again, I'll be ready to make it even bigger and better."
Hell, even that first night of the tour isn't looking so bad, in retrospect. "Jim Breuer and I hold the record for the longest opening act on stage ever for Metallica," says Sib. "That night in Madison, we were on stage for two hours and 40 minutes. And we survived, dude. Two guys, two microphones, one laptop, and we survived."
Joe Sib performs at 8 p.m. on Thursday, Mar. 21 at the Ritz, 400 S. First St., San Jose. Tickets are $10/$15. theritzsanjose.com.