Features & Columns
New Book 'A Cross of Thorns'
Says Junipero Serra Was No Saint
Bay Area journalist Elias Castillo's new book, A Cross of Thorns,
examines California's beginnings, the genocidal Spaniards
and their spiritual leader, soon-to-be-sainted Junipero Serra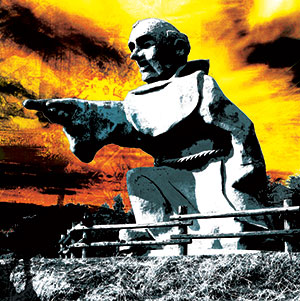 Amidst the controversy over Pope Francis' plan to elevate Father Junipero Serra to Catholic sainthood this year comes a scholarly magnum opus, A Cross of Thorns, by Peninsula writer Elias Castillo. It will no doubt fuel the debate. For seven years, the longtime journalist immersed himself in historical documents from the mission era at archives from Stanford to Mexico City to reconstruct a portrait of California's conquest by the Spaniards, with a keen eye to documenting the treatment of Native Americans under Serra's mission system.
A prosecutor of the Spanish Inquisition early in his career, Serra ambitiously extended his coerced conversion activities by establishing religious centers up and down the California coast. In branding many of the state's iconic destinations and establishing commercial and transportation networks, Serra played a pivotal role in creating modern California.
Serra's effectiveness in kickstarting the world's seventh biggest economy is indisputable. His defenders say he was a moderating and ethical influence on the brutal conquistadors who had the misfortune to make saint in post-politically correct California. Castillo's account documents the floggings and sexual assaults that occurred, along with the suppression of native dance, religion and dress amongst the Indians who provided involuntary labor on mission grounds.
His book is a highly readable historical work, filled with battle stories and previously unchronicled narrative. His scholarship will no doubt contribute to the understanding of a complex actor who's familiar to many Bay Area residents as a bad piece of roadside art along Highway 280. It could even lead to changes in curriculum for public schools.
Governor Jerry Brown, who studied to be a Jesuit in Los Gatos in his younger days, weighed in on the issue with a pragmatic assessment. "That doesn't mean we won't have our saints," he told a newspaper reporter. "It just means you have to understand that saints, like everybody else, are not perfect."
Read an excerpt from A Cross of Thorns