Features & Columns
Asian Provocateur
He's best known for running Asian Man Records, the South Bay's most successful label, which celebrates its 15th anniversary this month. But underneath his rep for musical trendsetting, talent spotting and business smarts, the real Mike Park is flat-out crazed.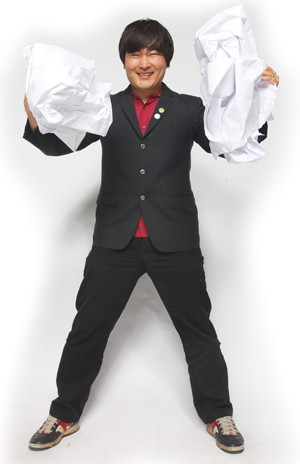 MY FAVORITE STORY about Mike Park goes back to when I used to live at his house 12 years ago. I was sleeping one night, with my light off and my door closed. Suddenly, Park came in my room and turned the light on. He had a goofy grin on his face. He picked up this skull I had bought from Disneyland off my desk and set it in bed next to me and said, "What about the monster?" Then he left, closing the door, but leaving the light on.
I put the skull back on my desk and turned the light off. But he came in again, and put the skull back in bed next to me, grinning and saying, "What about the monster?" Then he left again.
He gave me that skull several more times, always with that same funny look on his face, and saying only, "What about the monster?"
In the time since, whenever I've asked him about that night and why he did that, he just laughs and shrugs his shoulders.
Indie Icon
I've known Mike Park for 20 years. In that time, I've watched him become one of the biggest success stories in the South Bay music scene. His band Skankin' Pickle was one of just a handful of groups in the late '80s responsible for carving out the third wave punk-ska genre. Unlike the Mighty Mighty Bosstones and No Doubt, Skankin' Pickle broke up before ska went mainstream.
It wasn't until after Park left Skankin' Pickle that things really took off for him. In 1996, he started Asian Man Records, a label synonymous with independent punk and ska. Now 15 years running, Asian Man Records is best known for launching the careers of Less Then Jake and Alkaline Trio, but the label has also consistently put out quality independent ska and punk albums by bands like Andrew Jackson Jihad, Bomb the Music Industry, the Queers, Lawrence Arms, MU330, Buck-o-Nine, Link 80, Let's Go Bowling, Lemuria, Big D and the Kids Table, Smoking Popes and many more.
At the same time, Park has become known for his charitable endeavors. Between 2001 and 2003, he organized the Plea for Peace tours, which raised more than $100,000 for 1.800.suicide, a youth suicide-prevention organization.
To celebrate 15 years of Asian Man Records, Park is throwing 10 shows between June 15 and June 19 featuring more than 40 Asian Man bands. Some, like Slapstick and Slow Gherkin, have not played together in years.
Park's public persona as a smart and socially conscious businessman is well-deserved, but even after years as the public face of the South Bay's most successful record label, what has never emerged is a portrait of the real Mike Park, the one I know. In interviews, he usually sticks to talking about bands on his label and the charitable/political projects he's involved with.
"I think that I'm very silly and like to have a good time," Park says. "But I think the public persona is that I'm a very serious peace activist, which I am, but that doesn't mean that I have to be this uptight bore of a person."
Dan Andriano from the Alkaline Trio puts it another way.
"That dude is nuts," he says.
"Mike is the most ridiculous person I ever met," says Jesse Michaels, who is in the bands Operation Ivy and the Classics of Love, with a laugh. "I have never met anyone like Mike."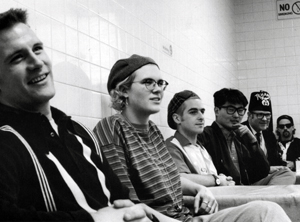 Live Free
One of the first times I hung out with Park, he and his roommate were busy assembling cheeseburgers out of McDonald's hamburgers and deli sliced cheese from Safeway. Park calculated that they were saving roughly 2 cents per burger this way rather than just buying cheeseburgers. It was like he had discovered a secret.
It wasn't the money he was saving so much as the fact that he had figured out a way to save money that other people hadn't thought of. He was excited. This was only the beginning.
"It's hard to explain, but, seriously, one of the most exciting things for me is getting free stuff," Park admits. "Things that are exciting are when I get hooked up at the movies with free popcorn. I did it! I won!"
Andriano told me that when he visited from Chicago, Park would take him on weird adventures. The goal was always to have the most fun while spending the least amount of money. "We'd go to an apartment complex where he knew one person, not very well, and sneak in to their hot tub. We snuck in to see Deuce Bigelow at a theater in downtown San Jose. Mike was probably in his 30s at the time," Andriano says.
When Andriano's band Alkaline Trio was on the Warped Tour in 2001, Park went along as the road manager. Excited to be on a fully catered tour, he made it his mission to spend no more than five dollars a week. "I actually went 19 days without spending one dollar. I broke down in New Orleans and bought a bowl of beans and rice," Park says.
Even when there's nothing fun happening, Park will invent some kind of game. Dan Potthast told me about a time when Park was touring with his band, MU330. "Mike bet Ted, the drummer from MU330, that he couldn't stay up all night. Ted of course stayed up all night, and they went double or nothing the next night. I forgot how many days Ted stayed up, but he started hallucinating, and it was affecting his drumming. Mike wound up having to pay him 300 dollars. Mike hated that. He was sure Ted would fall asleep at some point," Potthast says.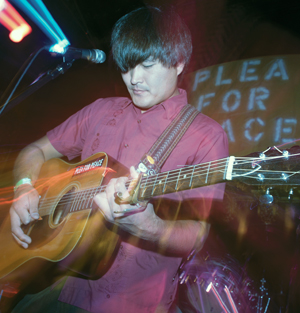 Garage Rock
Though Park likes to goof around, he is also one of the hardest-working, most determined guys I've ever met, so it's no surprise that he's been able to make a living in a tough industry. But even after 15 years of doing it, Park is still shocked that this is his job. "I've always thought you have a better chance of winning the lottery than doing what I do, because I don't even know what I do. It makes no sense to me," he says.
His greatest talent is that he can assess, quickly and fairly accurately how well bands will sell records. But, Asian Man Records isn't just about making money. It's equally important to Mike that he run his business exactly how he wants to and to be able to have fun doing it.
"I could tell which bands were going to do well. Even the bands that I knew weren't going to do well, as long as they're nice guys, I still put their record out," he says.
Asian Man Records has been a famously casual, friendly operation. To this day, he still runs the label out of his mom's garage. Whenever I come over, Park runs upstairs to make me some tea. His mom will come downstairs and say hi.
When Park left Skankin' Pickle, his parents were pushing hard for him to return to school instead of trying to start a record label. His only startup capital was three credit cards. He was determined and worked hard. Fortunately, success came quickly. Park knew things were going well, but hadn't really wrapped his head around how well. It all happened so fast. Nine months after starting Asian Man Records, Park and his one employee, Tony were in the backyard playing basketball. Park took a break to get the mail. They received a check from their distributor for $119,000. They stared at it in awe for 10 minutes, then returned to their game.
Mike Huguenor, from the band Shinobu, worked at Asian Man briefly in 2009. Huguenor remembers with fondness his time there, a job unlike any other he's had before or since. "Every day I was there, he would wink at me and ask if I was a 'good boy.' He introduced me to his mom as his 'brother' (because we have the same first name). And he often farted on me, only to ask me again if I was 'a good boy,'" Huguenor says. "It was my summer in Camelot."
There have been opportunities to make Asian Man records a bigger operation, but Park has turned them down because he wants to continue to run things his own way. "I don't want this to be this big corporation with 1,000 employees. Asian Man is just me now. I'm doing every aspect of Asian Man," Park says.
He understands the limitations of running a label the way he does, so he has encouraged bands that are getting bigger to move to a bigger label. Alkaline Trio, for instance eventually signed to Vagrant, a decision Park supported. Before their move to Vagrant, Park had his hands full keeping up with orders.
"When Maybe I'll Catch Fire [their second full-length] came out, my phone was ringing off the hook. That was all mail order. Just kids calling. I would answer the phone and go, 'You ordering Alkaline Trio?' They'd say, 'How did you know?'" he says.
Park has even gone so far as to discourage bands from signing to his label, like when Joe Queer from the Queers called him. Park talked him out of signing to Asian Man on three separate occasions, saying "I really do nothing for bands. You're a band that still tours quite a lot. You need a label that's going to be proactive." Finally, Queer told Park, "Listen, we don't care. We'll pay for everything. We just really want you to put it out."
I asked Queer why he was so determined to have Asian Man release their album, and he said, "After dealing with numerous idiots that think they're label honchos, Mike is a breath of fresh air. Mike is a real person and not some fake blowhard."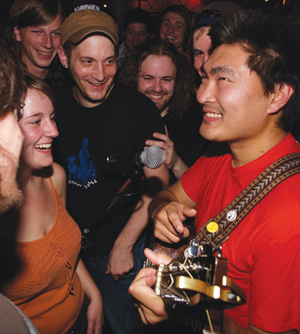 On the D-List
Even after being a public figure for more than two decades, Park still has fun being recognized. "I love being a D-list celebrity. Seriously. I think it's awesome. I hope people recognize me."
One of his favorite stories is the time he was in Minneapolis and decided to catch a basketball game. He bought the least-expensive ticket. Once inside, one of the ushers recognized him.
"He's like, 'Are you Mike Park? I'm a big fan,'" Park remembers. I said, 'Oh, dude, can you hook me up?' Front row! I was three seats away from Jesse Ventura, who was governor at the time."
If you go to the Asian Man website or read Park's newsletter, he announces every time, right at the top that he wants free stuff and is willing to trade music for anything.
"I've gotten free food at restaurants. Free ice cream. Some guy in Pittsburg that works at a chocolate factory just sent me tons of chocolate. It was cool, but man, so bad for you," Park says.
Going out to eat with Park is always an adventure, too.
"Every time you eat with Mike, he orders the biggest burrito. Seeing Mike Park full is a rare thing. I've only seen it once," says Kepi Ghoulie from the Groovie Ghoulies.
Since Park has been running his label for long, he's gotten to not only work with some of his idols, but be in a position to help them, like Angelo Moore Fishbone, one of his favorite bands growing up. In 1999 and 2000, Park put out two of Moore's solo records.
"The first time I met Mike was when I saw Skankin' Pickle play. That was before he was Papa Park. Now he's Papa Park. Mike has helped me out more than you will know," Moore says.
There's also Jesse Michaels from Operation Ivy. Park had the opportunity to put out Michaels' new band, the Classics of Love. Park used to tell me that he would get so nervous being around Michaels. He was such a huge Operation Ivy fan in High School. But the two have become close friends.
Michaels has some of the best stories about Mike, like the time Classics of Love and Park were touring Europe. One night they stayed at a hotel so bad they had to put garbage bags on the floor.
"Mike seemed depressed before we went to sleep. In the middle of the night we all woke up. Mike had the light on and was pouring catsup on his stomach and smearing it around, saying 'This is my blood! This is what the world has done to me!' I said, 'Mike, it's not that bad, man.' He said, 'Shut up Michaels! You're one of the ones that is killing me. If I had never heard the music you made I wouldn't be in this shitty squat! I should kill you right now!' Michaels says, adding, "It was very funny."
Social Media
One of the most important things to Park is choosing bands that don't act like rock stars and try to use their music for good.
"I want to work with bands that are good people who help each other out and are part of this community and politically aware, too. Not overt politics of left and right, it's more the idea of equality. Racial issues. Sexist issues. Use music and a tool."
When Park has a tough decision to make regarding his label, he thinks about Ian MacKaye, Fugazi singer and owner of Dischord Records.
"Sometimes in doubt, I ask myself, what would Ian MacKaye do in this situation?" he says. One of those moments was when Yoo-Hoo offered to sponsor his Plea for Peace tour. After some thought, he turned it down.
"Corporate sponsorship was something I couldn't stomach," he says.
Even though Park has been happy to release albums by artists he likes that he knows won't sell, he is careful to be sure that overall, Asian Man is a profitable company. Not every decision he's made was the right one, but he's learned quickly. For instance, there was a period in the early 2000s when he wasn't playing music and was out of touch with the current punk scene.
"I started putting out indie rock and math-rock stuff. It didn't make sense. People who listen to Asian Man, they listen to ska and punk. You've got to find out who are the young punk bands active in their community," Park says. Park turned things around by doing just that. He signed bands like Lemuria, Bomb the Music Industry, Andrew Jackson Jihad, the Wild and Spraynard. Sales went back up. As Park has gotten more connected with the new, active punk bands, more bands have been eager to be on his label.
"I think they just want to be part of this family," he says. "Even though I don't do ads, I don't hire publicists, they can say, 'Hey, we're on Asian Man.'"
Speaking from experience, I can say: That's one family that should sleep with their doors locked.