Features & Columns
Mobile Manicures Arrive
in Silicon Valley
On-demand businesses offer perks, but not all economic experts agree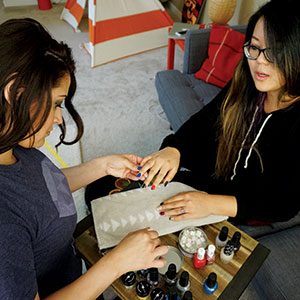 Tom Abruzzo prefers to have his toenails painted purple—his favorite color.
Vivian Xue experiments with different designs and hues. Together, the pair would frequent a salon in Sunnyvale to get pedicures and bond over spread-toe conversation. But then something happened—the customer went from being right to a little too right.
"They were talking about [Tom], looking at him funny and over-compensating by complimenting him a lot," says Xue, who looks the part of an ideal salon client, with her purple-streaked hair and thick, black frame glasses. The nail technicians were a little too amused with the man and his purple toenails. "We were like, 'Oh my god, this is mortifying!'" Xue says.
The friends didn't appreciate the salon workers' snickering. Rather than continue to be ostracized, Abruzzo and Xue, a 24-year-old web designer, decided they "might as well get it done at home if people are going to judge." There could be other benefits to having their nails done outside of a salon, realized Xue, who speaks with her hands—and multi-colored French manicured fingers on this day. Avoiding the salon would mean avoiding traffic and extra time driving, as well as any concerns she might smudge her nail polish on the ride home.
Xue and Abruzzo, who both had been working in the tech industry in Silicon Valley, began brainstorming and a few months later they came up with the idea for on-demand beauty services. The idea: let customers use an app to order, schedule and pay for a beauty treatment—from manicures and pedicures, to hair styling, waxing and eyelash extensions. Services would be provided by professionals, drawn from a pool of licensed and qualified manicurists and aestheticians who would go directly to customers' homes.
In addition to the convenience for customers, the model would also provide greater flexibility and income for workers, Xue says, as beauty professionals would be able to choose their own hours while avoiding paying rent at salons or relinquishing high commission percentages. Last month, the idea came to fruition, as Xue, Abruzzo and a third co-founder, Brandon Thornton, launched the app Pamper, one of a growing number of Silicon Valley startups providing on-demand services to customers in the Bay Area.
The trend started in 2009 with Uber, the now-ubiquitous mobile app-based transportation network that allows customers to crowd-source vehicles for hire. Founded in San Francisco, Uber now operates across the US and Europe, and in some countries in Asia, Africa, South America and Australia. At the end of last year it had a market evaluation of more than $41 billion, according to the Wall Street Journal.
On the heels of Uber's success, other startups copied the on-demand model, following the idea that through apps consumers no longer need to leave the house or wait on legacy companies to catch up to the market: Instacart tackled groceries; DoorDash expanded food delivery beyond the traditional staples of pizza and Chinese; Sprig cornered healthy meals; Homejoy scooped up house-cleaning; UpCounsel provided on-demand legal advice; HealthTap transformed living rooms into clinics; Washio took out the laundry; BloomThat brought florists forward; and Shyp made the search for blue postal boxes a distant memory.
According to a study by the firm SherpaVentures, venture capital firms invested $1.6 billion in on-demand startups in 2013, and that number will only continue to grow.
"There was a time when everyone wanted to be the next Microsoft or the next Apple," says Doug Henwood, editor of Left Business Observer, "and now everyone wants to be the next Uber."
The ubiquity of smart phones, or "super-computers sitting in [our] pockets at all times," says Andrew Ladd, the Bay Area general manager for DoorDash, has facilitated the rapid expansion of on-demand startups. "This kind of technology could now be built by a couple people in a dorm room," he says, "that's how we got our start."
"People's time is valuable," says Abruzzo, Pamper co-founder. "Being able to fit something into your schedule instead of fitting into someone else's works better."
But not everyone agrees that on-demand side jobs and the sharing economy at large offer a panacea for consumers, as well as workers picking up a little extra money. Uber and Lyft, a similar ridesharing company based in San Francisco, are facing lawsuits from drivers who say they should be reclassified as employees, rather than independent contractors—or "1099s," as Xue and others call them. Unlike regular employees, 1099s are not eligible for benefits, a regular salary or certain labor protections.
Henwood, author of the recent article in The Nation, "What the 'Sharing Economy' Takes," says this business model targets "people's desperations" and preys upon them.
"People don't have steady jobs, their lives are very unstable, and they're looking to make some spare change, whether it's driving or renting out a spare bedroom," Henwood says. "It's a very individualized way of coping with the very broad social problem of insecurity and downward mobility." As for the "flexibility" that many startups tout as a benefit of working for them, Henwood says, the reality is: "No promises, no benefits, no stability."
He continues: "A generation ago, people would have thought of this as a political problem that politics might have addressed. But now people look to an app to solve their problems."
Manicurists such as Nih Le, who is an independent contractor for Pamper, argues that there are more advantages to on-demand contracting. After working at her family's Santa Cruz salon for more than seven years, she briefly became a mobile tech, driving around the South Bay to do manicures in clients' homes.
"It was hard because I had to do all the marketing and find clients all myself," Le says. "And with Pamper, I just get a text that says, 'Hey, we have a client, do you have time to take it?' I get to do what I enjoy doing without having to worry about the marketing, logistics, or all the operations behind it."
Le adds that the commission she receives from Pamper—70 percent—is higher than what she would earn at a dedicated station. She still works part-time in the salon, maintaining the set of clients she has there, while spending the rest of her time with Pamper, but she hopes Pamper can eventually become her full-time job.
After launching a few weeks ago, Xue and company have a short client list but ambitious goals for the future. The company currently offers just manicures and pedicures, but there are plans to start a new vertical every two weeks, including make-up, hair styling, eyelash extensions, and even yoga and Pilates. Eventually, Xue says, Pamper will expand into retail, so customers can also buy service professionals' products.
For Thornton, it's not just about Pamper, but how the company—and others like it—is going to transform the entire industry. "In five years, the whole world is going to be different with regard to transportation because of Uber. In five years, the whole world is going to be different with regard to buying groceries because of Instacart. In five years, the whole world is going to be different with regard to beauty because of Pamper."
Xue credits Uber and Airbnb for changing the mindset of consumers for her and other startup companies to succeed. "They set up the atmosphere or culture to understand on-demand," she says. "That's an incredibly difficult thing to do. Without Uber, there would be so many more people who would be like, 'Wait, why do I want a stranger to come to my house?'"