Features & Columns
Making Moves
This weekend's Open Air Artisan Faire at Santana Row marks a return to live events, but Bay Area artists have survived—and even thrived—in the pandemic through virtual shops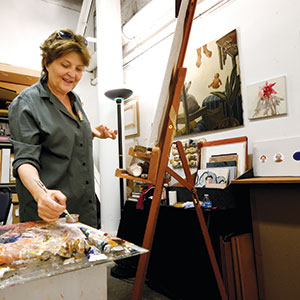 Last year, San Jose artist Ezra Mara had heart surgery to fix a birth defect. The day after she got out of the hospital, the shelter-in-place pandemic quarantine went into effect.
The 59-year-old's process wasn't affected too much by the mandated seclusion. Her daily routine remained unchanged: spending most days working in her studio by herself.
"It wasn't so difficult," she says. "I'm not a very social person, and the nature of my work [requires] me to be alone to do it."
But with galleries and other local places she had sold her art closed, the prolific Mara decided to start using her longtime Etsy shop—where she goes by the handle marina826, after her given name—as a platform to sell what she refers to as her "smaller work."
"People began to buy, little by little," she says. "It was my most successful year selling on Etsy. Two years ago, it was nothing."
It was 25 years ago that Mara moved from Moscow, Russia, to the U.S. with her two daughters, now in their 20s, when her husband took a job at a start-up. She spent most of those years with her daughters while she painted and drew whenever she had time. Mara had occasional gigs here and there, teaching art history and instructing children to paint. Meanwhile, the artist's work began showing in galleries throughout the U.S.
Scrolling through the marina826 Etsy store reveals more than 100 original, one-of-a-kind works of signed art. Mara's style is absurdist and ironic, with sprinkles of social commentary and fleeting moments of life's sweetest offerings. Her brushstrokes are quick, and her lines are chaotic. Mara translates her visions into reality using acrylics, pencil, oils, charcoal, mixed media, and even fabric with sketches of people that she sews into tiny dolls—the needlework is crude and even messy, but that adds an element of outsider art charm.
It's easy to see why the marina826 store has been so successful lately: it's ideal for budding collectors who don't have a lot of disposable income. For as little as $25, you can pick up an original sketch; nothing in her current inventory is more than $450.
While Mara may have felt her life wasn't as affected as many others during the 15-plus months of new normals, some of her more recent work does reflect the pandemic. "Quarantine," a 7.5-by-7.5-inch piece created with pencil and watercolor on heavy watercolor paper, employs depth perception and spatial framing from an alternate dimension, generating an existential head-scratcher between the profile of a woman's face and a man.
"Ana's Days"—one of Mara's larger, pricier studio pieces available on www.ezramara.com—is a spellbinding series of five 12-by-16-inch oil-on-canvas paintings featuring an unknown woman with disconcerting eyes, behind glasses, and various tiring backdrops evoking the monotony of life during the pandemic.
"Sometimes I just want to create a mood or a moment of expectation or hope," Mara explains.
Over the past year, the artist also invented a new technique she calls "engraving on paper." The process entails lightly cutting images into paper, then rubbing ink or oils into the grooves. "Girl Standing" showcases a nude woman with an expression engulfed in dark shadows, but her stance is unapologetic and robust.
"[Art] is a development that never ends," Mara says.
Unexpected Success
During the last year of the pandemic, we've all developed new hobbies: baking bread, making cocktails, gardening. But for the Bay Area's Etsy sellers, "making" is more than entertainment; it's a livelihood. The Open Air Artisan Faire at Santana Row on Saturday, June 12, marks the return of live events at which local artists and crafters can sell (see sidebar), but over the last year, they were forced to go completely online to survive. In the course of the pandemic, the Bay Area's makers have devoted themselves to creating products inspired by their homes, from wine barrels to succulents, and the results have paid off—for some makers, this has been the most successful year of their business.
Beth Albers and Claire Whitehead developed their Etsy Shop, Emma Claire Shop, after meeting at their daughters' competitive cheer competitions. The two women had a shared interest in design, and wanted to open a business together. They were inspired to create their air plant products after seeing succulent globes hung up in Disneyland, where they went for a cheer competition for their daughters. "We wanted to create something different than what we were seeing everywhere. We wanted something unique, unique to the aesthetic of the Bay Area and California," says Whitehead. That was in 2016, and the two women have been selling their products on the online platform ever since. California remains their muse—and where all their products are sourced. "Our air plants are all grown by a family farm in San Diego, and our wood is from local hardware stores," says Albers.
Originally, Albers and Whitehead went with Etsy rather than a brick and mortar shop because Claire had run an Etsy shop before, but the choice served them well in the pandemic. "For the last year, we have just kept thinking, 'Thank God we didn't do brick and mortar. We would be in so much trouble.' We were in shock for a few weeks, but after a few months, things began to pick up. People can't go shopping, so they come to our shop," says Whitehead.
"We have actually done better than ever this year, despite Covid," says Albers.
Albers and Whitehead aren't alone. In fact, gross merchandise sales were up 118% in 2020 on the site compared to 2019. As ecommerce exploded when brick-and-mortar stores closed down, independent shop owners who utilized the Etsy platform benefited. Other makers, including Sabine Herrmann, owner of the Etsy shop Pattillo, have reported record growth this year.
Herrmann first developed her Etsy shop, Plantillo, when she was walking through her neighborhood in Berkeley and was struck by the diversity of the plants around her.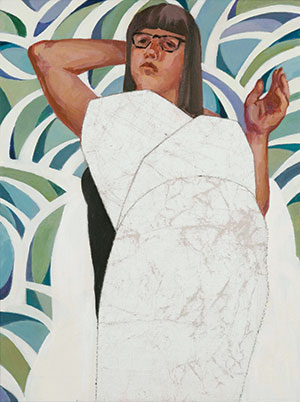 "The idea came to me while hiking in the beautiful Berkeley hills, Tilden Park, and even in my neighborhood. It was in the springtime, when everything was blooming and so beautiful," she says. "I took a lot of photos on my walks, and I wanted to do something with them. I have a small house without a lot of wall space, so I thought I should try some fabric. I got it printed on fabric digitally, and then I made my first pillow."
Herrmann liked her first pillow, but wanted a more realistic look, so she cut the fabric to fit the exact shape of the photo, creating a realistic (and comfy) indoor garden. "It looked really nice, but it didn't look realistic, so I followed the outlines of the plant, and the Plantillo was born. It was really realistic, and it didn't take long for me to post the first product on Etsy. I got my first order just a couple of days later, which was fantastic," she says. Herrmann now runs the Plantillo shop full-time from a studio space in Berkeley.
When the pandemic struck, Herrmann had just a few hours to grab her materials from her studio in Berkeley before lockdown. "I grabbed some fabric and my sewing machine, and I went home. I had no idea what was going to happen. For a little while, I made masks. I donated them, and I put them on my Etsy shop. That got me back into being creative."
After several months of working out of her small house, Herrmann was able to return to her studio and make pillows again, although protocols are strict to keep artists from interacting with one another. Herrmann's actually done quite well during the pandemic, as new home decorators search Etsy for products to make their homes feel pleasant instead of suffocating. "My product has done well because it's a home product. It's a happy product, an outdoorsy product. And when people are stuck in their houses, they want to be looking at happy things that remind them of nature."
From her first plantillo to her full product line in 2021, what hasn't changed is Herrmann's inspiration: long walks through her East Bay neighborhood. Herrmann takes all her own photos of the diverse plants that surround her. "You don't need to go far. Even going around the block, you can see some amazing plants … It's so inspiring. We are so lucky, living here, that we have redwoods growing next to cacti. The diversity of flora and fauna we have here is amazing," she says.
Backyard Inspiration
Quarantine kept us tethered to our homes, but for local makers, inspiration is often found in their own backyard. Like Herrmann, Armando Santiago developed and sells a product uniquely sourced from his home. Santiago moved to the Napa Valley from the East Coast after a 40-year career in the Air Force—and found a new calling. "I came to live out here in the Napa Valley with my wife. She was a wine club manager here in the Valley. She took me to the Napa home show, and I saw things made from barrels. And I said, 'Wow. I could do this,'" remembers Santiago. "I was bored at home, being retired. You can only play golf so many days of the week."
Santiago started experimenting with woodworking using barrel wood, with no plan to turn it into a career. "I was just playing, using barrels I got from my wife. I just gave products away to friends and family," he says.
Eventually, a friend with an Etsy shop suggested Santiago build an online storefront on the platform. "She told me to put my pieces up on this website, Etsy. I had never heard of it! But I thought, 'Ok, I'll give it a try.' And lo and behold, stuff started selling," he says. "Etsy becomes your personal salesman. You're selling to like-minded people, who want to buy something handmade and local. Etsy gives you that exposure to people who are looking for custom items."
Santiago now runs his shop from a home workshop in his garage, which he has equipped with professional tools. "This became more than 'keeping busy.' It became a job," he says.
Santiago took a hit when the pandemic began, because many of his handmade barrel platters and other art were purchased by people wanting to mark special occasions—weddings, anniversaries, birthdays. Santiago can have any piece laser-engraved with a personal message or a date. When events got cancelled, Santiago's customers couldn't use their pieces. He offered them credits, however, and many ordered pieces later. He has maintained his usual number of orders, about 225 a year.
"Everything I make is handmade, and I am a one-man operation," he says. "I buy the barrels, I make them, I pack them, I ship them. Everything I sell is an item that I would include in my own home. I want people to feel that. And I get the sense that people do."
Freed Enterprise
Etsy hasn't just been a boon in the pandemic for veteran sellers. New business owners have relied on the platform as well, especially those whose original business plans had to be put aside in the pandemic. "Initially, I was planning to do farmers markets to introduce my product. I was looking at schedules and gearing up for the farmers market season, but with the pandemic that just wasn't possible," says Debra DeMartini, the owner of DEBZ Sonoma, a gourmet food shop with hand-mixed salts, sugars, and cocktail glass rimmers.
DeMartini, who has worked in the restaurant industry for her entire career (and maintains a full time job), was planning on using Sonoma's popular farmers' markets to launch her products locally, but turned to e-commerce from necessity, opening her shop in May 2020. She was surprised by how much she enjoyed it. "I've always been a restaurant person, so this is really different, but it's given me the opportunity to learn something new and learn as I go," she said.
DeMartini's 27 different products—from tomato basil salt to vanilla bourbon sugar—have made their way across the U.S. and beyond, being used in unusual ways in pandemic kitchen experiments. "A child was using the lavender lemon sugar on her yogurt. She was maybe seven, eight years old. And I never would have thought of that, but it's her favorite thing. That's been the most wonderful part for me, to see how people use these products. I always say, 'Don't overthink it, just try things,'" she says.
DeMartini feels Etsy has helped her as a new business owner. "What's cool about Etsy is that people don't have to be looking for you. They might be looking for something else entirely, and just find me. I am really grateful for that."
While Etsy has helped customers find her shop, DeMartini's unique products are all her own. She sources salts from international salt mines all over the globe and develops organic spice blends to match the region that she is sourcing from. She buys herbs and alliums from vendors all over California, determined to include only certified organic products in her blends. "Eventually, I would like to have a lot where I can grow all my own herbs and alliums. That's my goal," she says.
The shop is international, but DeMartini keeps strong local connections by offering free delivery to anyone who lives in the Sonoma Valley, and gifting free products and samples to local families curious about her products. "My goal is to help people and their families make great food at home…Salt is the base for food. You're going to be using it anyway, so you might as well have fun with it," she said. "My tagline is that I sell the sous chef in a bottle, for people who might not have cooked much before."
Quarantine has been an opportunity for people to engage with homemade goods in a new way, and for some to try out some making of their own. Social distancing and the rise of e-commerce may have meant shopping from our computers, but it didn't stop the Bay Area's makers from working with their hands. Whether they are making succulent pillows or wine barrel platters, the artisans who call the Bay Area their home haven't slowed down in the pandemic—they have simply adapted.
"We can't work together at the kitchen table anymore, but we do a lot of front porch chats, we go for long walks," says Albers. "We have had to find a new routine."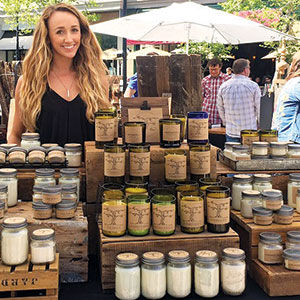 Santana Row Artisan Faire Returns
With its valets and au pairs, the upscale Santana Row may be just about the least DIY place on Earth (let alone San Jose), but the Maker's Market, located on the Row's south end, is a bastion of the handcrafted and artisanal in the high-end shopping center. Open since 2016, the store managed to shift online and survive the pandemic, and is now poised to return to its twice monthly Open Air Artisan Faire.
"We're actually one of the few retailers that made it on our block," says owner Suzy Ekman. "But we've seen a big uptick in foot traffic and we're expecting a couple thousand people at the event."
Along with that anxiety-inducing number of people, the return of the Open Air Artisan Faire boasts some 60 booths of artists and artisans, two musical acts, and balloon-making for kids. A few makers' booths come with items specifically in mind for Father's Day, like rugged bracelets from San Jose leatherworker Joan of Artware, and beard oils and clippers from the very Neil Young-sounding Dust and Rust.
There's also something else dad might enjoy on his big day.
"We have CBD products," Ekman says. "CBD products are very popular right now."
As one of the first big outdoor events of the summer, the Faire is sure to be a bellwether of what's to come. For her part, Ekman says she's just happy to be getting the artists and makers out among people again.
"A lot of them have really struggled, because there haven't been many art festivals, and so many retailers are going out of business. It's going to be good to see them getting out again." —Mike Huguenor