Features & Columns
Around the Corner
There is some debate—not Republican primary clown-car with a side of Trump style—but some debate about who created the original Orange Sauce. What is not disputable is that the two blocks flaring from the corner of East San Carlos and South Third Street are ground zero for the first two versions of the sauce that has come to dominate the South Bay taqueria scene.
Jimmy Orozco, the 31-year-old owner of Iguana's, home of the two-foot, gut-busting Burritozilla, says his uncle opened the family's original restaurant 20 years ago. The franchise has since expanded to four locations, but it was in 1998, in the heart of downtown San Jose, that Iguana's offered its first containers of Orange Sauce. Orozco's mother had been experimenting a bit with sauces, he says, and she hit on a recipe far different than anything on the menu.
Without giving too much away—the only people trusted with Iguana's Orange Sauce recipe are family and its four head chefs—Orozco spills the following ingredients as hints: roasted chilies, mayonnaise and barbeque sauce.
"One of the things about our Orange Sauce that people really gravitate to is it's a very diverse sauce," he says. "It has a lot of applications—milky, sweet, spicy. We like our consistency to be a little thicker, so it coats the food nicely and you get the whole flavor palate."
Regardless of the ingredients, Orozco says, there's little worry that anyone will make off with the family's secret recipe. Similar to La Vic's style, there is a process that goes into making Orange Sauce that can't be distilled to a grocery list. And in terms of any debate over who gets credit for being the first, Orozco says he is proud to simply be a part of the Orange Sauce explosion, as it reaches its way up to San Francisco and down to Southern California.
"It seems like it's starting to be a staple on any Mexican food menu," he says, "which is kind of cool because it all started on our corner of the block."
Smoke and Mirror
Angelou's Mexican Grill has been in business for a decade, but you could be forgiven for thinking the restaurant only recently emerged as one of downtown's more popular taquerias. After six years of business on North Second Street, serving breakfast and lunch and closing in the evenings, Sergio Lopez and his wife, Teresa, decided to stay late and open their doors to the last-call crowd.
Combined with a recent remodel, the popularity of Angelou's has surged in the last couple of years. But early on, the taqueria struggled to meet a singular demand of customers, many of whom had tired of traditional red and green sauce.
"When we started it was just regular salsa," Sergio says. "But then people from San Jose State started asking if we had orange salsa. When we didn't have orange salsa, they didn't want to stay sometimes."
Teresa and Sergio, who each have decades of restaurant experience, began experimenting with their own style of Orange Sauce, which around the corner at La Vic's Santa Clara Street location, had exploded into a culinary phenomenon.
"They are the ones who started orange salsa," Sergio admits, "and they made it so popular that now everybody asks for it."
It took nearly a year and a half, but the end result was a spicy yet smoky variation, easier on the palate for those who can't stomach the traditional kick-in-the-teeth blast of heat. The recipe is closely guarded, but Sergio was willing to give away two key ingredients: roasted chilies and sour cream.
"A lot of people used to love the other ones," Sergio says, "but they've started liking ours."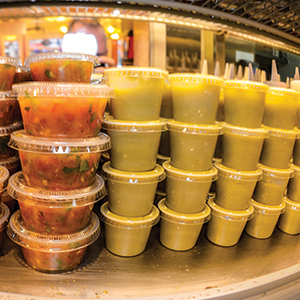 Mucho, Mucho Sauce
Carlos Zubizaretta tries to accommodate all customers, but Orange Sauce has a way of making men and women, especially of the Bacchanalian persuasion, uncommonly ravenous. The 23-year-old owner of the 25-year-old Muchos! Restaurant and Bar—opened by Michael George and Ana Flores and purchased by his father, Nestor—has seen how an open salsa bar, featuring fluorescent orange deliciousness, can be a siren's song with a free ladle.
"We do regulate it a little bit," Carlos says, laughing as he recalls catching people stocking up on what could be a month or week's supply—depending upon one's level of addiction. But, he says, customers can be forgiven, as Orange Sauce "sells itself."
As the popularity of the special sauce surged through the South Bay in the early aughts, the restaurant's head chef, Miguel, went to work about creating a distinct variety in 2007. The key was to come close to the popular style of others but remain distinctive.
"We didn't want to copy La Vic's," Carlos says. "It took several attempts to make it, and honestly the credit goes to Miguel."
Since that time, Orange Sauce has been a staple at Muchos!, just as much required as red and green sauce, pico de gallo or jalapenos. Similar to La Vic's recipe, Carlos says, Muchos! makes Orange Sauce without mayonnaise in a 100-percent vegan process. He wouldn't give away much beyond that, though.
"We make sure our cooks make it consistently," he says, "exactly the same way every time."
The Great Beyond
The key to La Vic's success—and Orange Sauce trickle-down effect—appears to be consistency, and availability. When other taqueria owners are sound asleep in their beds, La Vic's has multiple locations working non-stop until 3am, only to open again three hours later for breakfast. There is no chance of ever running out of Orange Sauce, Nicandro says.
"This taqueria could have a line out the door the entire night and we'll never run out," he says.
The South Bay's insatiable appetite for Orange Sauce seems nowhere near subsiding, and the reach is only expanding. But only to a limit.
"We've been approached by people in Colorado, Southern California, other states, and they're like, 'We want to franchise you,'" Nicandro says. "But we don't want to lose control—and, of course, then there's the recipe."