Features & Columns
The Untold Story of How California
Women Broke Body Art Boundaries
New exhibit on the history of tattooed women maps trends in female ink over the years.
10 Women Discuss the Meaning Behind Their Body Art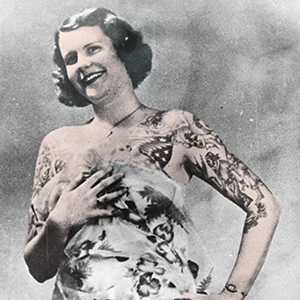 In the order she got them, Amy Cohen has: a drawing by Leonard Cohen, a bouquet of flowers, a lantern, a ship bursting from a bottle, an hourglass and a wreath—'originally designed for the mannequin in the exhibit,' she says, hinting at what visitors to the McKay Gallery in History San Jose will see, should they visit the new exhibit, 'Tattooed and Tenacious: Inked Women in California History.'
Cohen, the exhibit's curator, got the idea from her own body art, and also from her line of work. She holds a degree in Museum Studies, and in 2014 she found herself working at Hayward Area Historical Society with an un-inked colleague, curator and archivist Diane Curry.
'We would talk about tattoos a lot,' Cohen says, recalling her time at the Historical Society. It was Curry that recommended she consider an exhibit on tattoos. 'When I sat down and started to do research, I was like, 'Oh my God, this is huge.'' She eventually narrowed down the focus to women living in pre-World War II California—all of them tattoo artists and/or tattooed.
'That's a story people don't really know,' Cohen says.
The exhibit traces the history of women and tattoos in the Golden State, from Native American tattooing traditions through the upper-class women who first made it fashionable, on to the tattooed ladies who were a staple of sideshows and boardwalks across the country.
Even for the iconoclastic Bay Area, business-casual San Jose seems a less obvious choice to house an exhibit devoted to the still-somewhat-taboo art of tattooing. But History San Jose employees caught wind of the exhibit when it was shown at Hayward Area Historical Society last year and knew they had to have it. Curator Ken Middlebrook and marketing coordinator Jordan Evins are graduates of Cohen's same Master's program, and they went to Hayward to see the initial showing last summer.
'When we went up there, we were like, 'Wow, this is so cool,'' Middlebrook says.
Cool, yes, but there's more to it than that—something that connects with the blue-collar side of Silicon Valley: new immigrants, auto mechanics, the punk-rock suburbanites, and the descendants of farmers and fruit packers. Though the South Bay is highly diverse, it also has a rep as little more than a sprawl of business parks and bedroom communities—the place where computers are made by day before going to sleep by 8 o'clock every night. This exhibit works to expose clichés for what they are by shining a spotlight on the many outsiders who populate San Jose and its neighboring cities.
'I'll be honest—I'm a middle-aged white man,' says Middlebrook, who worked with Cohen to put the exhibit together, 'and the stories of hardships and people being downright mean to you, I haven't experienced.' Working on this exhibit, he says, made him consider the hardships women faced, and still face, in the tattoo industry.
'The plight that they went through just trying to work in their profession, that really resonates; how people overcome adversity. I think it'll resonate with our audience—new immigrants, people of color.'
The history of women in tattooing and tattoo collecting goes back further than most people realize. The exhibit traces evidence of female tattooing back to Native cultures in California and shows that body ink wasn't always such a taboo—even on women.
'They weren't really accepted in the way that people would walk around showing them off,' Cohen says, 'but there wasn't this view that people with tattoos are inherently immoral.'
The notion that tattoos signify a lack of education or gainful employment wasn't as prevalent before World War II. They were mostly associated with sailors, but even that wasn't quite correct: 'Women have been getting tattoos for a long time, and the women who have been getting them are from many walks of life,' says Cohen, noting that the tattoos women have historically put on their bodies don't fit neatly into any sort of category. Women have inked themselves with portraits of cars, flash illustrations and much more—not just small, demure pieces seen as non-threatening in today's corporate culture.
One fascinating tidbit gleaned from the history of tattooed women working circus sideshows: the stories they told the gawking crowds, as well as the tattoos themselves, changed with the times, and as such they served as a way of tracking the cultural zeitgeist.
In the 1800s, the women would spin yarns centered around being captured by Native Americans, says Cohen, recounting stories she discovered. In one, a band of Natives captured the woman and tattooed her as their own; in another, a concerned father gave his daughter a special tattoo so he could find her in case anything happened to her in the uncharted West. But that all changed.
'In the 1910s and the Roaring '20s, the West was no longer as fascinating,' Cohen explains. And so, all the stories the tattooed ladies told revolved around matters of the heart. It was 'all about love and romance—(they) got tattooed by a boyfriend to show commitment.'
Both Cohen and Middlebrook hope the exhibit leaves an imprint on observer.
'That's the theme,' says Middlebrook, 'to not judge people by the color of their skin and appearance, but also the piece of art they have on their skin: 'Oh! You are human.' These female collectors, they're not sex objects. They're not gangsters. They're humans.'
Tattooed and Tenacious: Inked Women in California's History
Thru Dec 31, Sat-Sun: 11am-4pm, Free
McKay Gallery, History Park, San Jose
historysanjose.org
continue to 10 Women Discuss the Meaning Behind Their Body Art