Features & Columns
Paint The Town
Tan Jose gets a burst of color from marathon public art event POW! WOW!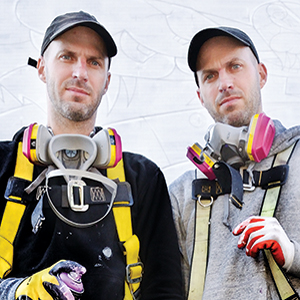 Rising high above the intersection of East San Carlos and South Second streets, a massive crane delivers a load of materials to the top of The Graduate, a new apartment tower geared toward San Jose State University students. The construction site is buzzing with workers. Some are fitting floor-to-ceiling windows above; others hammer away inside the giant development.
Directly across Second Street, another piece of heavy equipment carries two men up and down a four-story wall. Like the crews at The Graduate, Raoul and Davide Perre are feverishly working to meet a deadline. But unlike the contractors drilling, welding and pipe-fitting, the Perre brothers are working with hundreds of cans of spray paint, methodically constructing a gargantuan mural. It is a psychedelic swirl of interlocking organic shapes. Lotus flowers, fish, a throbbing heart and what appears to be a cartoon horse ripple across more than half of the wall.
The Perres—who are twins and go by the collective nom de plume How and Nosm—began this project on Saturday, Oct. 20. By the time the week is out they will have completely saturated the 12,225 square foot wall in color.
How and Nosm are not alone this week. They are but one of 25 individuals and teams of artists who have descended upon the city to produce large murals and other public works of art as part of POW! WOW! San Jose. This year marks the second annual installment of the festival. Last year, the inaugural event was responsible for 20 murals all over San Jose.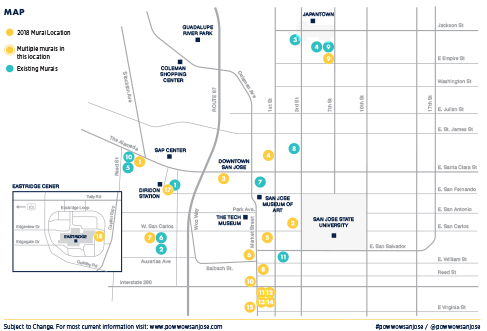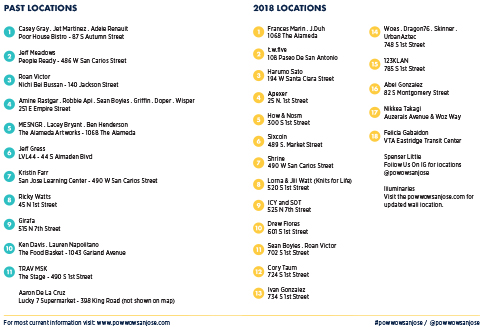 Stroll along South Autumn Street near the Poor House Bistro, and you'll find three distinctive murals from last year. Adele Renault, known for painting "realistic portraits of pigeons and people," created an avian-themed wall with dozens and dozens of overlapping feathers. These pigeons must be huddled in a bunch. She magnifies the size and iridescence of their wings with a gradient that goes from aqua to violet.
Jet Martinez's tropical blue mural is a flowery fantasia. He's from a small beach town in Veracruz, Mexico, and the sea infuses the spirit of his work. In comparison, Casey Gray went for a minimal effect that's just as striking. The purple silhouette he's painted looks like a wavy robot who's escaped from an '80s video game into the real world. He gives the creature a red and orange heart and has him float above a green flame.
While all of these murals bring vibrant color and interesting designs to the buildings they adorn, POW! WOW! is about much more than brightening facades. The goal is to create an engaged and responsive community by transforming a mere physical landmark into one that's visually stunning.
"As artists we have power," says Juan Carlos Araujo, who runs Empire Seven Studios, is one of POW! WOW! San Jose's co-founders and the festival's director of curation. Araujo explains that murals can help revitalize neighborhoods suffering from high crime and vice. "We're contributing by adding paint to our neighborhoods and giving something back to those neighborhoods."
BELONGING
In this way the festival's organizers aim to curate murals that speak directly to the neighborhoods they beautify and give residents a sense of belonging through a shared piece of aesthetic identity.
In some instances, the localized inspiration can be quite literal. In 2017, Jeff Gress played off of the actual address of the wall he was painting: 44 S Almaden Ave., better known to locals as the nightclub LVL 44.
Approaching the back of the club from Post Street, Gress' piece is impossible to miss. A giant 44 is rendered in 3D perspective and floats upon a dark void, the numbers suggesting some sort of giant starship moving through interstellar space.
Gress, a Hawaii-based artist who has been with POW! WOW! since the beginning and serves as the organization's operations director, says the festival helps local artists make meaningful connections, both locally and internationally.
"In the beginning we were just doing the event for the sake of creating art and engaging with a wider audience," he writes via email of the first POW! WOW!, held in Hawaii in 2011. "Money wasn't on our minds, as it felt like a bunch of friends just getting together and enjoying each other's company while creating and collaborating, learning from each other's techniques, sharing skills and laughs."
Today, the POW! WOW! parent organization helps put together festivals in multiple U.S. cities and countries around the world, including Detroit, Washington, D.C., Taiwan and Japan.
For his part, Araujo is pleased to be a part of the San Jose chapter of POW! WOW!, and he hopes that the community will appreciate the work that they've done for years to come, as the murals created by POW! WOW! artists adds to a growing outdoor art gallery stretching across San Jose.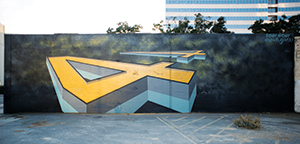 IMPACT
The How and Nosm piece is the largest piece in this year's festival. However, the scale of most of the murals produced by POW! WOW! artists is impressive—especially when one considers how quickly the works go up. This is part of the event's power. One week the walls are blank, and the next week the murals are up and making an impression.
The blitz of public art seems tailormade to address a problem that spiraled out of control when the city's once all-powerful redevelopment agency exercised planning and design control over a downtown building boom that began in the late 1980s. The agency enforced a conservative architectural preference, banned rooftop logo signs and enforced a uniform pallette. The Mediterranean color scheme earned the city the moniker "Tan Jose," first adopted on the street and later picked up by newspaper columnists.
However, for several years now, thanks Araujo's efforts with his Empire Seven Studios as well as local arts non-profit The Exhibition District downtown murals have been on the rise. E7 has been responsible for curating many well-known Japantown murals—like the waves washing over the side of the Santo Market—while The Exhibition District continues to sponsor large works, including the mural covering the side of the De Anza Hotel. The ExD is also behind Local Color, the artist incubator, studio space and performance venue which has reactivated the large vacant space left by the former Ross Dress For Less store at 27 S. First St.
Local Color is now home to many artists' creative workstations—including Metro contributor Jeremiah Harada and Jorge Camacho, one of the San Jose-based artists working on a mural for this year's POW! WOW!. This year, Camacho, who goes by J. Duh, is working alongside another San Jose artist, Francis Marin, on a mural at 1068 The Alameda.
Just as the Exhibition District has done with its work on murals and with the Local Color creative space, POW! WOW! also consults with local municipalities and businesses to get permission for its projects.
In 2017, Araujo helped to spearhead the San Jose installment of POW! WOW! when he met with Kerry Adams-Hapner, San Jose's director of cultural affairs, to talk about his vision for the festival. One year later, Adams-Hapner confirms that the results of the first POW! WOW! San Jose were positive.
"Broadly, POW! WOW! celebrates artists," she says. "It demonstrates the power of what art can bring to a neighborhood, to a community. When you put art in the public realm, it has a very strong impact and also speaks to how art can really transform lives, and not only provide an aesthetic enhancement to a community."
Although it wasn't part of POW! WOW! last year, a mural at Discovery Meadow will soon receive a San Jose "Creative Impact Award." Adams-Hapner points out that "Sophie Holding the World Together" by El Mac, in collaboration with the Propeller Group, "signals what a community wants to express for itself, what it sees as its ideals in terms of what it wants to focus on and celebrate. It really helps to express a vision for what this city's identity is."
CLOUT
Beyond helping to articulate collective community ideals and bring neighborhoods and artists together, POW! WOW! also helps to raise artist profiles.
Kristin Farr's POW! WOW! San Jose 2017 mural lives at 490 W. San Carlos St. on one side of the San Jose Learning Center. It looks like a cheerful mandala that's been dipped in a bath of molten candy. She describes the work as a collection of "abstract, geometric designs." The connective colors—red, purple, teal, green, blue—remain hot and vibrant on the wall. If you look online for barn quilts and hex signs, you'll see that her work is related to them.
Last year wasn't Farr's first time creating a mural for a POW! WOW! franchise. Farr says she's been to the festivals in Hawaii (twice), Taiwan and Worcester, Mass. While the festival doesn't pay artists for completing their murals, it does provide flights for out-of-town painters, as well as lodging and supplies. For her it has been entirely worthwhile.
"It's not glamorous all the time," she says recalling the influx of cockroaches that would well up around her feet while she painted at night last year, "but it sure feels good at the end. It always makes you feel like a rockstar when you do a big project like that."
On top of the personal vindication of completing a large public work, there are other rewards, Farr says. "When you do a project for free and you're an early-on muralist, it's actually good. You get to travel. You don't get paid, but you're often making a huge difference in a community and getting your own benefit from being with other artists."
Professionally, POW! WOW! has also furthered Farr's career. "The city of Walnut Creek just funded the first city mural there and chose me to do it, and I got paid really well. I never would be in that position if it weren't for POW! WOW!"
She feels confident that "for the artists and the communities that we're painting in, and the organizers, and the kind of family that it builds is really invaluable. Especially as an up and coming artist, a POW! WOW! gave me my first chance to do a mural in public—my first five chances. Now I get paid to do really big murals."
Harumo Sato agrees. The mural she is painting near the Vietnamese restaurant Dac Phuc, located at 194 W. Santa Clara St. is the first she's ever done. And this year marks the first time she's participated in a POW! WOW!
When Sato, who is originally from Japan, first moved to the area, it was hard for her to make a living. But she found support from Empire Seven Studios and San Jose Made (SJMADE). An organizer at SJMADE asked her to design a poster for one of their craft fairs, which led to a booth of her own. After that, she started to sell her illustrations. Now, she says, "Surprisingly, I'm a full-time artist. I'm very grateful to have found supportive artists and great customers and friends. I didn't expect to have such things."
GROWING PAINS
There is a bittersweet irony underlying the story of POW! WOW! San Jose. For all it does to help artists, and in spite of the fact that the festival is run at a grassroots level by longtime boosters of the local arts community, the movement is supported by the same forces of gentrification that make it hard for working artists to live in Silicon Valley.
The luxury student apartments that are now ascending across from How and Nosm's mural will almost certainly one day be neighbors to another high rise, which will demand the demolition of the twins' four story canvas at 300 S. First St. That as-yet-undetermined development will also swallow up the building that now houses the independent art gallery Anno Domini, just next door.
Araujo and his partner Jennifer Ahn will soon shutter their own gallery, Empire Seven Studios, which was itself a casualty to another large housing project. Back in March of 2016, not long after he had completed a large construction project inside the leased warehouse space that has been home to Empire Seven since 2007, Araujo was informed that the entire block had been sold to a developer.
The San Jose-based HMH is currently in the planning stages of what it is calling its 7th and Empire project—a four-story, 97-unit multi-family residential building.
One might also take a cynical view of Google's sponsorship of POW! WOW! San Jose. After all, the internet giant's planned development in central San Jose will certainly push up rents throughout downtown, squeezing lower income residents.
It's a familiar cycle in the Bay Area: as wages rise for young professionals, those professionals, in turn, seek out lifestyle upgrades. Taprooms and brunch spots open; murals appear; and new music venues find success; even as servers, visual artists and musicians struggle to make ends meet.
But two years removed from the news that the land beneath his warehouse had been bought out from under him, Araujo says sees no reason for cynicism. He concedes that some will be displaced by Google, but points out that plenty of local businesses will benefit.
"I could sit here and complain about every tech company in town," Araujo says. But he doesn't believe any meaningful change comes from crying over spilled milk. "We have to be like them. We have to be investors. We have to be funders. We have to be the people investing in our city."
Araujo says he and the folks at HMH are on good terms now and they are talking about working with the Empire Seven brand as they move forward with their project. The company's website says that the new development will have a "large mural wall" incorporated into its design.
"Shit—I never thought could ever happen," Araujo says, before adding that he has every reason to be hopeful about the future of his gallery and visual art on the whole in San Jose. "I'm not trying to learn how to sell out, but I'm trying to learn how to stay relevant and sustainable."