Features & Columns
Local Activists STAND
Tall against Trump
Silicon Valley's largest resistance group born out of pizza kegger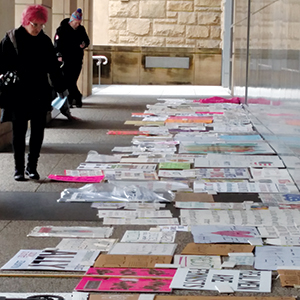 The week after Donald Trump's stunning election victory, Rosa Warren invited friends over to make a plan. "I was crying for two days, and then I said, I'm not gonna wallow in this—does anybody want to do anything?" Her husband got a couple of kegs and ordered pizza. Fifty people, many with children in tow, showed up at their house in Cupertino.
Over the next few months that humble house party turned into STAND San Jose, a new group leading the local resistance movement against Trump's White House. Since Inauguration Day, the organization has focused on making activism accessible to everyone, and the results have been more promising than initially envisioned. On Feb. 11, a STAND-organized rally for Planned Parenthood drew 4,000 people to the sidewalks of San Jose's The Alameda.
Across the country, rumblings of a resistance movement began as the final votes were being tallied. The Women's March is considered by many to be the largest one-day nationwide demonstration in American history, with 3.7 million people rallying across the country and more than 25,000 people packing the streets of downtown San Jose. When Trump rolled out a constitutionally challenged immigration ban Jan. 27, thousands of protesters and lawyers flocked to airports across the country to block traffic for departures and arrivals.
The list of reasons cited to protest the new administration is long and multiplying. Trump has filled his Cabinet with creatures from the very swamp he promised to drain: Wall Street fat cats and oil execs. His top adviser, Steve Bannon, has called for an end to the administrative state while giving an elevated platform to white supremacists, leading to the slaying of Indian immigrants, more than 100 bomb threats at Jewish community centers and mosques being set ablaze. Multiple campaign and administration officials have lied or conveniently forgotten about their meetings with a Russian ambassador and, in the wake of governmental leaks, Trump has demonized the press as an "enemy of the people." He has banned major news outlets from briefings, rescinded Obama-era protections for transgender students, rolled back clean water regulations, spent a third of his time as president on vacation at his Florida resort—at an obscene cost to taxpayers—and, most recently, accused his predecessor in the Oval Office of illegally wiretapping Trump Tower during the election.
And No. 45 just celebrated his 45th day in office Monday.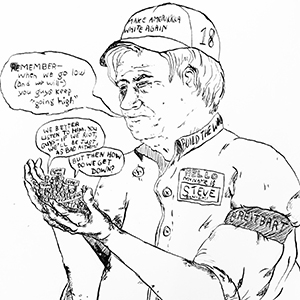 Both new groups like STAND and longtime community activists are fighting back in Silicon Valley. "The only beautiful thing that has come from this disgusting administration is that people are really ready to do something," says Warren, who began organizing parents in 2012 with her friend, Ato Walker.
"When Black Lives Matter stuff started happening, we were looking for a way for people with families to participate," says Walker, who has a 3-year-old son.
The group eventually fizzled out, but the idea of inclusive organizing stuck, finding its new incarnation in STAND. Now, Warren and a core group of about 25 people—who have recruited nearly 1,700 followers on Facebook—organize monthly events with an eye toward making activism accessible.
This requires far more planning than flyers and, perhaps, permits. "Folks from our team went and talked to every single business on that street and told them what would happen on that day," Walker says. After the rally, organizers mailed handwritten thank-you notes with photos to every speaker.
At their first rally for health care in January, as well as at the Planned Parenthood event, organizers set aside an area for kids, with juice and crayons. Specially trained care teams, loaded up medic kits, fruit and water, and kept an eye out for anyone in need of support.
"It was an extra aspect of the march to minimize having to call on police or firefighter intervention when it wasn't necessary," says Benny O'Hara, who led the trainings.
STAND has also made efforts to ensure the people most adversely affected by the Trump administration's policies are leading the work. The group's website notes that its leaders are "black, brown, trans, disabled, fat, immigrant, female/femme, and/or queer."
"The more people we have organizing with us, the better," Warren says. "We want to make it something that doesn't feel scary, so people can join us and do what we need to do to stop the terrible shit that's happening."
The extra effort has not always been a smooth transition. The group's web page is in both English and Spanish, but translators scheduled for the Planned Parenthood rally arrived late. Weeks later, organizers were still adding names to their email list, as several thousand more people showed up than they'd expected. "We just didn't have the infrastructure yet," Warren says.
Eric Victorino, who co-founded the new Orchard City Indivisible (OCI) group in November, has a different approach to organizing. At weekly meetings at Campbell United Church of Christ, Victorino shows a PowerPoint presentation to his audience, which has grown to about 150 people. Watch groups, specializing in topics like healthcare or education, report back on national news, letting attendees know when to call or email representatives. OCI counts nearly 900 people on its private Facebook page.
"Our South Bay group is smaller than I'd like it to be," Victorino admits, noting that most of the Campbell meeting attendees are white, and the majority are in their 40s and 50s. "I'm not sure why that is."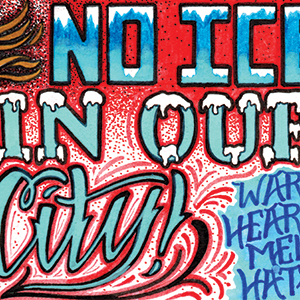 He has distributed snowflake decals to eager activists, reclaiming a symbol that the alt-right has used to skewer the left for oversensitivity. "At the same time, I think that's part of our problem," Victorino says. "We're all being pussies. I hate that we're so offended by a couple words."
STAND's leadership and OCI, while sharing opposition to Trump's agenda, seem divided on this point.
"Marginalized people in this town have been out here doing the work, putting it all on the line," says Vera Sloan, a STAND founding member who points to the diversity of a June 2016 protest when Trump's campaign came to San Jose. "If someone looks at those insisting on solidarity with them as somehow lacking courage, I don't think I understand how they define that word, and I don't think they really understand San Jose."
Silicon Valley De-Bug, now in its 16th year, has been a mainstay in documenting and advocating for social justice in the South Bay social, and the organization's resistance efforts have often fallen into its core mission. A focus on helping undocumented immigrants didn't start just because of Trump's immigration orders.
"People are now thinking, 'Oh, what can we do to stop ICE from coming into the community?'" says Liz Gonzalez, an editor at De-Bug. "We've been working on this effort for many, many years to keep ICE unentangled from our local Police Department."
De-Bug did, however, launch its own response to the Trump administration with the People's 100 Days project, which hosts workshops on topics like direct action and writing as resistance. Many of the workshops have had a cultural focus. "People really need more spaces to feel good right now," Gonzalez says. "We're afraid we're gonna lose people and that folks will be deported. Our initial conversations weren't, 'Let's call representatives,' it's 'Let's keep our families safe.'"
In advance of potential immigration raids San Jose and other South Bay cities, plans are in the works to create a rapid-response network, which would spread the word and deploy legal support to affected areas. Sacred Heart Community Service and San Francisco-based Pangea Legal Services will hold a legal-observer training 10:30am March 18 at Westminster Presbyterian Church in San Jose.
STAND is planning a locally focused "sock hop" for housing on March 28, and the group held flood-relief volunteer days at the Billy DeFrank Center in February. Future ideas include a screening of 13th, the Oscar-nominated documentary about mass incarceration. But Warren doesn't want to overextend the group.
"I want to be able to go where we need to go. It's an emergency state right now," she says. "We're trying to put bodies in places where things really need it, because there are so many being targeted."
As demoralizing as it's been to see Trump roll back progress made in the last eight years, his actions have inspired an even more diverse cast of people to get involved. "We have a critical tipping point right now," Walker says. "Everybody knows it. They can feel it. It's in the air."