Features & Columns
Silicon Valley Restaurant Week 2012
Around the World in Eight Days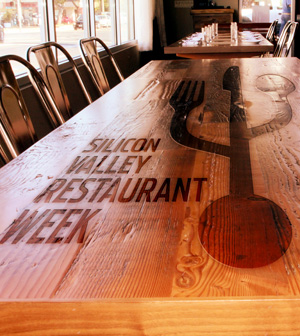 Why can't other regions duplicate Silicon Valley's magic? One clue is abundantly obvious: it's the food. The valley's cultural mix drives both its global business success and its epicurean bounty. Might there be synergy between the two?
After all, a million-strong workforce—with the highest compensation west of New York—can sustain a wide swath of dining establishments. And proper nutrition feeds innovation, keeps those neurons firing. Nourished brains combined with focused, social interaction around a table spark innovation. How many great products and companies were mapped out on the back of a napkin?
In its fourth year, Silicon Valley Restaurant Week paints a nuanced culinary portrait of the valley. An edible demographic, if you will.
Silicon Valley is, of course, a quintessentially American phenomenon—and 10 restaurants self-identified as such will serve special prix fixe menus. Also distinctly Californian, four purveyors of California cuisine have also stepped forward.
The valley's two mega-ethnicities, Latino and Asian, represent a quarter of SVRW's offerings, with an emphasis on elegant fusion cuisines.
Mediterranean cuisines from North Africa, Greece, the Middle East and, of course, Italy nicely complement our sunny lifestyle, while chefs from cooler parts of Europe like Poland (Menlo Park's Bona) and Belgium (Campbell's BYR) are no doubt happy to shed their raincoats and fur hats to be here.
Finally, red meat is as much a part of our cowboy mentality as venture capital, which is why premium steakhouses are so well represented in the three-course menus that begin today.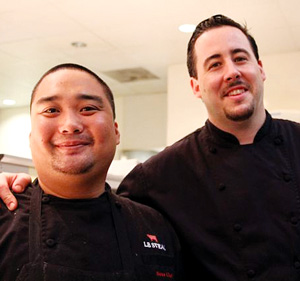 Beef Meats West
Michael Mina's Arcadia has included grass-fed Mishima Ranch Wagyu beef on its menu, a restaurant week first. Forbes Mill Steakhouse in Los Gatos has paired a wine trio flight and a seasonal pumpkin cheesecake to their meaty offerings. The Grill on the Alley's new chef, Andy Hatcher, will prepare a Salmon Oscar especially for the week. And the chance to have a three-course, 6-ounce filet mignon dinner at Morton's for only $45 is especially tempting.
Over at Santana Row, Citrus has doubled down with two beef dishes on its special menu. LB Steak's new chef, Thomas Ricci, a veteran of prior Silicon Valley Restaurant Weeks, is excited about creating new dishes in LB's (formerly Tanglewood's) spacious, glass-doored kitchen, one of the valley's best. "We're kicking it up a notch," he says.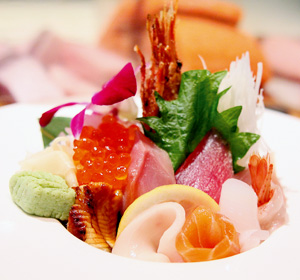 Asian Century
Across the street at Blowfish, executive chef Steve Suzuki is also creating original dishes for the week, including an olitalian parfait dessert and a miso marinated black cod risotto.
Sushi lovers will also be interested in the original dishes taking shape at Bushido in Mountain View, where a menu filled with sustainable sashimi, Washugyu steak and a mushroom trio is among the week's most innovative. Modern Thai and Southeast Asian cuisine is on the menu at stylish Oryza in Santa Clara, a well-received newcomer to the valley's dining scene. Palo Alto's Siam Orchid is a two-year-old restaurant serving up organic Thai food. Their ambitious SVRW menu includes wine-paired vegetarian and organic meat and wild seafood menus. A longtime restaurant week favorite, Sunnyvale's GINGER CAFE, has a well-priced $35 menu whose entr–e options include filet mignon, sauteed lobster tail with ginger and scallions and steamed sea bass.
The Indian subcontinent is represented this year by The Menu Artisan Cuisine, a newcomer that emphasizes "organic, wild, fresh" cuisine. And one of this year's most sumptuous and extensive menus will be at the elegant Arya restaurants in Cupertino and Redwood City. Among their signature dishes is Baghali Polo, a large, stewed lamb shank served over Persian-style saffron rice.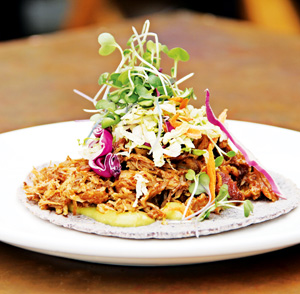 Nuevo Revolucion
In the past few years, the Nuevo Latino cuisine movement that gained traction in Miami made its way to the valley and gained a distinctive West coast twist. Two exemplary representatives of this genre—Los Gatos' PALACIO and Palo Alto's Reposado—along with downtown San Jose's authentically Oaxacan Mezcal, have returned with special menus. They will be joined this year by newcomers Zona Rosa in the Rose Garden and Redwood City's LA VIGA, opened by former Palacio chef Manuel Martinez. (All of their menus are posted online at svrw.org)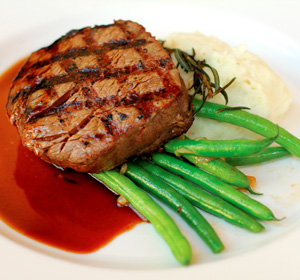 Mediterranean Crossing
In the last century, Santa Clara Valley's warm Mediterranean climate attracted a community of Italians with a love of wine and fresh food. One of the best restaurants to emerge from the valley's agricultural era was Paolo's, a pioneer in what would someday be known as farm-to-table. Now in its second generation, Paolo's Tuscan "big bombs" dessert with limoncello mascarpone and cherries is sure to be a showstopper.
Willow Glen's Vin Santo should be a hit with a three-course menu that includes red snapper baked under rock salt with olives, lemon and herbs and followed by a chocolate fondue, for just $35. Palo Alto's CAFE RENZO will serve up four entr–e options, including branzino al limone and grilled lamb loin, finished with classic Italian desserts: cannoli or tiramisu. Nearby GRAVITY WINE BAR will showcase grilled wild fish with couscous and kale. The Il Fornaios in Palo Alto and downtown San Jose are serving three savory courses, including their signature salad and minestrone, a pasta course and choice of salmon, free-range chicken and beef tenderloin entrees. Duck breast lovers will want to visit Piatti in Santa Clara, which is celebrating October with an heirloom pumpkin-amaretti tart.
Myth Taverna will be slow braising it signature lamb shank as part of its sumptuous $25 menu, one of the best values amongst the week's many offerings. Morocco's, now in Mountain View, has two options, a $35 menu and a $55 feast. Santana Row's Thea Mediterranean is pulling out all stops with eight main course options ranging from moussaka to filet mignon, at three price points.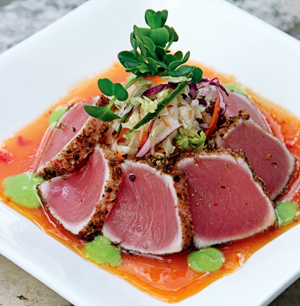 Affairs of State
California may be broke but its cuisine isn't. Executive chef Bobby Laggan at the California Cafe is bookending his wine-paired menu with a pear and wild arugula salad and a decadent butterscotch bread pudding.
Fahrenheit's $35 menu includes a rib-eye alongside creamed spinach and mac and cheese; a saffroned mollusk and crustacean feast; and Coho salmon with Forbidden Rice cake.
Options at Santana Row's Village Bistro include zinfandel-braised short ribs and striped bass. San Fresco at the Wyndham on N. 1st St. is blackening salmon and serving Creole chicken with seasonal fruits and vegetables.
These days, the border between what's billed as California cuisine and the New American variety has more or less dissolved as Cali tastes absorb traditional comfort food and the other 49 find less reasons to hate California, especially our fresh, meticulously raised food.
This being an election year and all, it's downright patriotic to celebrate our national heritage and birthright as meat-loving, red-blooded Americans. Sam's Bar-B-Que on the west side of San Jose allows diners to choose three of eight barbecued meats, accompanied with onion rings, fried zucchini or hush puppies and sides of beans, slaw, fries or salad of the green, potato or macaroni variety, topped off with mudd or apple pie. All for $25. Dayyam!
CAPERS in Campbell and its downtown restaurant, The Loft, make good on their reputation as two of the best local dining values with a tasty $25 menu that offers four entrees, including braised lamb shanks and grilled pork tenderloin.
Some highlights on the Los Gatos Brewing Company's $30 menu are the crispy calamari appetizer and the flat iron steak and roast chicken au jus entrees, both served with green beans, the former with polenta and the latter with garlic mashed potatoes. LGBC is located, obviously, in downtown Los Gatos, as well as San Jose.
The Wine Cellar in Los Gatos' Old Town pairs wine with three meat entrees and swordfish puttanesca. Their hearty desserts — pumpkin bread pudding and chocolate decadence — should go well with the recommended tawny and LBV ports.
Two standouts in this year's restaurant week can be found on Lincoln Avenue at a couple of chef-operated small restaurants. Joe Cirone's Hay Market just celebrated its one-year anniversary of serving up an eclectic, ever-changing variety of farm-to-elevated-communal-table fare. We are interested in finding out what ingredients will find their way into the simply named and otherwise unexplained entr–e "The Vegan," though "Kaiserfleisch" provides more clues — to those who studied German.
A block away, Jim Stump's THE TABLE has become the hottest dining spot in town since its opening two months ago (reservations recommended). The $35 SVRW menu includes such standouts as hand-foraged mushrooms, rustic ratatouille, farm fresh shelling beans and slow roasted pork belly.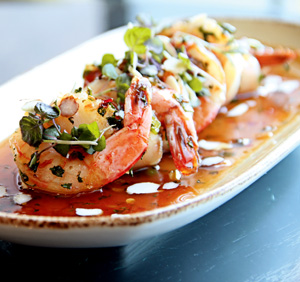 Highest honors go to chef Michael Miller on 17th floor of building once occupied by our defunct competitor, the KnightRidder newspaper company, as well as the outlawed San Jose Redevelopment Agency. The stylish dining room of the immaculately renovated Silicon Valley Capital Club, with its spectacular views and Michelin-quality cuisine, is a place to impress dates or ask to be taken to. We'll go with the black bass if we can get a rezo. The three-course menu clocks in at $65, part of SVRW's new free-market policy that lets restaurateurs set their price points. Oh, don't wear jeans. Even expensive ones. Or you won't get seated in the dining room.
One pleasant surprise during our preview romp through a sampling of SVRW spots was our dinner at Mountain View's Scratch. While part of a personality restaurant group, the chef is given latitude to place his stamp on the menu. Sous chef Carlos Pena is a veteran of Palm Spring's well-established 80-restaurant restaurant week as well as the legendary San Diego Restaurant Week (180 restaurants), so he knows the drill.
He'll keep the portions oversized and seek to impress new diners in hopes they'll be back. Pena will use the promotion to showcase his team's culinary talents and to introduce two new dishes to the American cuisine menu, which is online at svrw.org.
"We're rolling through it,"
Pena says.
Hashtag your tweets #svrw and follow twitter.com/svrw to share experiences. Facebook page is siliconvalleyrestaurantweek and website's svrw.org. There will be dining giveaways posted to the social media sites throughout Silicon Valley Restaurant Week, which lasts until October 24, 2012 and is sponsored, in part, by Metro Silicon Valley.