Features & Columns
Stand Up & Play
From SJSU to Super Bowl Sunday, activist athletes continue to fight
Fifty years ago this October, Tommie Smith and John Carlos climbed atop the Olympic medal podium in Mexico City and threw up a fist against racial inequality. As they each removed their shoes and raised a clenched, black-gloved hand in the air, the pair of San Jose State sprinters bowed their heads, symbolically refusing to acknowledge their country's national anthem as it played over the stadium's loudspeakers.
Immediate and intense backlash followed. Avery Brundage, the chairman of the International Olympic Committee, called for the two runners to be suspended from the U.S. Olympic Team and banned from the Olympic Village. The U.S. Olympic Committee attempted to defend the athletes, but after Brundage threatened to kick the entire U.S. track team out of the games, Carlos and Smith were sent packing.
Returning home to a United States struggling through the Vietnam War and the Civil Rights Movement, they were not welcomed as heroes. The pair lost their jobs and for years afterward received death threats. They were never allowed to compete for their country again.
Today, Smith and Carlos are widely recognized as trailblazers—leaders in a transformative national reckoning and icons of the South Bay's contribution to the equal rights movement. Their likeness has been immortalized in a statue on SJSU's campus, and President Barack Obama honored both men in a ceremony at the White House in 2016.
That same same year, then-49ers quarterback Colin Kaepernick staged a protest of his own, kneeling on the sideline before every game during the ceremonial singing of "The Star Spangled Banner."
"I am not going to stand up to show pride in a flag for a country that oppresses black people and people of color," Kaepernick would go on to explain to reporters. Like Smith and Carlos before him, Kaepernick used his stature as a star athlete to amplify a cause: the Black Lives Matter movement.
And like Smith and Carlos before him, Kaepernick's actions had consequences. Though he once led the 49ers within inches of a Super Bowl victory, he now finds himself out of work. No NFL team will sign him. He is currently in the midst of a battle with the league; he and his lawyers argue that team owners colluded to keep him off any roster, a violation of the collective bargaining agreement between the NFL and its players' union.
Both of these episodes—along with similar protests made by Muhammad Ali, Lebron James and others—are the subject of a new exhibit, "The Power of Protest," currently on display on the King Library's Fifth Floor at San Jose State University.
POWER MOVEMENT
The exhibit, which explores the history of athlete activism, features a wide array of memorabilia collected over the past five decades by sociologist, activist and SJSU alumnus Harry Edwards.
Edwards graduated from San Jose State in 1964 with a degree in sociology and went on to earn a Ph.D. from Cornell. While at SJS (the school had not yet acquired the university designation), Edwards co-founded the Olympic Project for Human Rights, the organization responsible for numerous protests at the 1968 summer games. In addition to helping orchestrate the iconic Smith and Carlos moment, the OPHR also called upon the International Olympic Committee to bar apartheid countries South Africa and Rhodesia from the games, and to restore Muhammad Ali's boxing titles, which had been stripped after Ali refused to fight in Vietnam.
The new SJSU exhibit features various ephemera, like OPHR posters and fliers, along with photographs and books by James Baldwin, Maya Angelou and Edwards—including The Revolt of the Black Athlete and his autobiography, The Struggle That Must Be, which features a forward by Angelou.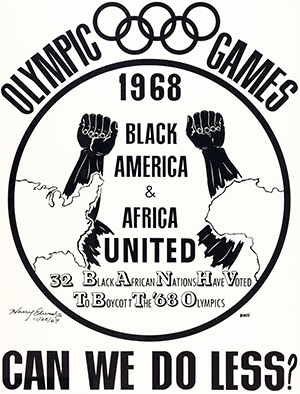 There is also a large visual timeline that runs the length of the exhibition room. From the 1857 founding of the California Normal School—which would go on to become SJS and later SJSU—through the Civil War, Jim Crow, the Civil Rights Movement and on to today, the timeline highlights milestones in the battle over civil rights, taking care to note where those events have intersected with athletics and SJSU.
There's the passage of the 19th Amendment, which granted women the right to vote in 1920, followed by Margaret Jenkins, the first SJSU graduate to participate in the Olympic Games in 1928 and 1932. There is Jesse Owens' historic 1936 performance in Berlin. In 1948 Jackie Robinson broke baseball's color barrier. And in 1955, the Montgomery Bus Boycotts helped kick off the Civil Rights Movement, which led to Muhammad Ali's refusal to serve in Vietnam in 1967 and then to Smith and Carlos' iconic moment a year later.
In 2005, the tribute to Smith and Carlos was erected at San Jose State University, and more than a decade on, athletes continue to protest. In 2014, LeBron James and Kyrie Irving, then on the Cleveland Cavaliers, warmed up before a game wearing shirts emblazoned with the words "I can't breathe"—a reference to Eric Garner's last words. Garner died at the arms of police who applied a chokehold while arresting him for selling loose cigarettes on Staten Island streets.
The timeline concludes with Kaepernick's protest and its aftermath—including Donald Trump's election.
Taken as a whole, the exhibit calls attention to the reality that athletes in the United States have long spoken out against the injustices they've encountered.
"One of the things that we want to drive home with this exhibition is to show it's all a continuum," says Craig Simpson, director of special collections and archives at San Jose State University. "All of these different things—from Martin Luther King to Tommie Smith and John Carlos to Colin Kaepernick and beyond—they're all part of the same continuum."
Simpson also points out a subtler point to be drawn out of the exhibition. "People seem to like protesters more in the past," he says. "I've noticed that people who are upset with Kaepernick or whoever, they're also very quick to admire Dr. [Martin Luther] King. And, you know, Dr. King himself was roundly vilified. He was murdered for his beliefs."
REBELLIOUS STUDIES
"The Power of Protest" is an offshoot of Edwards' larger project, the Institute for the Study of Sport, Society and Social Change. He co-founded the institute in 2017 with the aim of taking an academic approach to athletic activism—which, according to Prof. Ted Butryn, the institute's interim founding director, is as potent and vital as it's ever been.
"It's not new," Butryn says of athlete activism, "but there certainly has been an explosion of it in the last three to five years."
He says a large part of the increased stature of athletic activism is due to social media platforms, which have given sports stars a megaphone to express their views directly to the public.
Thus, even though the NFL has worked to actively discourage on-field protests, and even though Kaepernick is currently not playing on any team, he and other activist players can still push out their message.
And when athletes tweet, people listen. "It's been very effective in raising awareness that something is going on," Butryn says, referring to the protests Kaepernick sparked by taking a knee back in 2016.
On a slightly more cynical note, when athletes tweet, the robots also listen. "Russian bots knew that sport was important," he says, pointing to research that shows Russian influence campaigns used Colin Kaepernick as a lightning rod to sow division amidst the United States electorate.
The Russian bots serve to highlight another important point made by "The Power of Protest." Namely, that as long as there have been athlete activists, there have been detractors who are quick to devalue their political activities and demand that they simply "shut up and play."
In the wake of the Mexico City protest, IOC Chairman Brundage trotted out a critique familiar to anyone who has followed the Kaepernick protests. "The action of these negroes was an insult to the Mexican hosts and a disgrace to the United States," Brundage wrote of Smith and Carlos. Brundage, a Hitler admirer and anti-Semite who was a central figure in the 1936 Berlin Games and Munich Olympics, later revealed that disrespect of the host country likely had far less to do with his outrage than outright racism when he said: "I don't understand why these negroes are talking about boycotting the Olympic Games when the Olympics are the only forum that they can stand on where they have equal standing with other human beings."
For Butryn, quotes like these serve as proof that critics of athlete protesters are often as offended by the race of the outspoken athlete as they are by the athlete's message.
"Some folks in this country don't want to hear people of color protest anywhere," Butryn says. "I think we're grappling with that. What does that mean that for some folks there is no place that it is deemed acceptable to talk about policing practices in communities of color? We're really going to have to grapple with that as a country if we want to move forward."
TAKING A KNEE
Black Lives Matter got its start back in 2013 after the acquittal of George Zimmerman, the neighborhood watchman who shot and killed Trayvon Martin in a Florida suburb. The movement aims to call out violent and discriminatory policing practices in communities of color and has been continually stoked by reports—many of them caught on video and shared via social media—of white police officers using excessive and often deadly force against unarmed African Americans.
This is the movement Kaepernick aligned himself with when he first knelt during the national anthem on Sep. 1, 2016, at the beginning of the 49ers' fourth preseason game against the San Diego Chargers. He continued to kneel during the national anthem for the rest of the season and into 2017, drawing both support and criticism as other players around the league and in other sports began joining in pregame protests.
Detractors derided and mocked his protest, deeming it disrespectful of the flag, law enforcement and the military. Donald Trump, as a candidate and later as president, has weighed in numerous times—suggesting that the NFL not allow players to kneel during the anthem, while also suggesting that political protests have no place on the gridiron and that the high salaries earned by professional athletes makes their protests hollow.
"If a player wants the privilege of making millions of dollars in the NFL, or other leagues, he or she should not be allowed to disrespect our Great American Flag (or Country) and should stand for the National Anthem," Trump tweeted on Sep. 23, 2017. "If not, YOU'RE FIRED. Find something else to do!"
In a tweet from Aug. 10 of this year, Trump attacked the NFL demonstrations again, this time suggesting that players are "unable to define" what they are protesting.
However, the aftermath of two years of player protests suggests the movement is amounting to more than just empty gestures. Kaepernick could have simply doled out cash and posed for photo ops. Instead, he opted to jump in the trenches, awarding grants to and working side by side with social action groups as part of a $1 million giving campaign.
The first group he teamed up with was Silicon Valley De-Bug, which works with families of people killed by police. Kaepernick, who lived in San Jose at the time, asked the local nonprofit how he could help.
"This wasn't, 'We want to donate, then put out a press release and give him the credit,'" De-Bug leader Raj Jayadev says. "He wanted to know what we were working on so he could partner with us. That's a higher level of involvement than just cutting a check."
In fall of 2016, De-Bug worked alongside Kaepernick for the launch of his inaugural Know Your Rights Camp, a workshop that teaches black and brown youth how to protect themselves from police brutality. Before a room full of 150 teenagers, De-Bug coordinators Ramon Vasquez and LaMar Noble talked about being wrongfully arrested and learning to fight for their freedom.
Jayadev was struck by Kaepernick's involvement in the event, which became a template for hundreds of other Know Your Rights camps throughout the U.S.
"He didn't just flash by in the beginning, say a couple words and then bounce," Jayadev says. "He spent the whole day there. When we showed up, he was setting up chairs, and his eyes were sleepy from staying up all night planning, stuffing backpacks for the kids and putting in real work."
Attendees left with backpacks packed with more than the usual giveaways from star athletes. Kaepernick made sure each one included a copy of the Autobiography of Malcolm X and a 23andMe DNA testing kit, because, he explained, learning about his roots set him on the path to activism.
"It seemed really sincere," Jayadev recalls. "This was with all the arrows pointed in his direction, and he's opening up about identity and how it shaped his views on race and politics."
Kaepernick continued his work with South Bay families affected by police violence into the following year. De-Bug member Laurie Valdez, whose partner was fatally shot by San Jose State University police nearly four years prior, then pitched the idea of a daylong healing retreat for families like hers. "That's not something we could find a lot of grants for," Jayadev says, "because it's perceived as being at the more radical end of the social justice spectrum."
But it aligned with the cause that inspired Kaepernick to take a knee in the first place. He chipped in $10,000 to make it happen. In spring of 2017, nearly 40 families from throughout the state met in San Jose for a day of meditation, art therapy, music, writing and fellowship. They strategized about policy change and how to hold cops accountable for unjustified violence.
"These were the people he was kneeling for," Jayadev says.
JUST DO IT
The NFL pregame protests could easily have faded away during the postseason. And if week one is any indication, there will be far fewer players kneeling this year than in the previous two seasons. Only a handful of players protested during Sunday's games. Two members of the Miami Dolphins—Kenny Stills and Albert Wilson knelt, while their teammate Robert Quinn raised a fist; Marquise Goodwin of the 49ers also raised a fist.
In a press conference held at the unveiling of "The Power of Protest" last week, Edwards acknowledged that players won't keep kneeling forever. Protest movements have expiration dates, he told the scrum of reporters gathered to view the exhibition's opening. Even the movements of King, Malcolm X and Marcus Garvey only lasted about a decade, he noted.
Still, player protests made headlines this week—though the NFL may largely be responsible for that. In May, the league enacted an official policy that prohibited protests during the pregame national anthem ceremony—ostensibly bowing to pressure from the president and fans who disapproved of the players' actions. However, in response to criticism from players and free speech advocates, that policy was walked back.
"I think it's likely they would have waned out if it weren't for the NFL's decision to make people stand for the anthem," Butryn says, highlighting the irony of the league's waffling.
However, there is another factor in the continued visibility of athletic activism this month. A new Nike campaign marking the the 30th anniversary of the company's internationally recognized "Just Do It" slogan was launched with Kaepernick as its spokesman. The first advertisement in the campaign kicked off in early September, as a massive billboard featuring the former 49er's face rose above San Francisco's union square. The tagline: "Believe in something, even if it means sacrificing everything."
Naturally, the campaign has been viewed with some skepticism. "The cynical view is that Nike has jumped on the social cause bandwagon to sell more shoes," says John Delacruz, associate professor of advertising at SJSU.
All the same, Delacruz, who has made a career of studying the ways in which advertising can influence people to make decisions, believes that the campaign is a win-win for Nike and those who support Kaepernick's message.
For starters, despite conservative backlash and YouTube clips of people burning their Nikes in counterprotest to the Kaepernick campaign, initial reports suggest the new ads have given the brand a serious boost. The San Jose-based big data analytics company Edison Trends reports that Nike's online sales shot up 31 percent over the Labor Day weekend, in the wake of the launch of the controversial Kaepernick ad.
Additionally, the new Nike ad has helped to re-energize a flagging movement that was begun in an effort to root out racial bias in police departments across the country—and that's a good thing, according to Butryn.
"We need dialog," Butryn says, explaining that the Institute for the Study of Sport, Society and Social Change is not meant to be a leftist mouthpiece.
"I'm interested in both the people who support Colin and those who are burning their Nikes," he says.
It's yet to be scene how everything will play out in the case of Kaepernick, and many wonder whether he will ever play football again—a question that Edwards deems irrelevant.
"It's like looking at the Montgomery Bus Boycott and wondering whether Rosa Parks can get her seat back," he said at "The Power of Protest" press conference. "He will take his place alongside other athlete icons—not because of what he did on the field, but because of what he used his forum on the field to do in terms of human rights."
Jennifer Wadsworth contributed to this story.