Features & Columns
Will Drum For Stadium
San Jose and the Earthquakes solidify their soccer-crazed identity with new sanctuary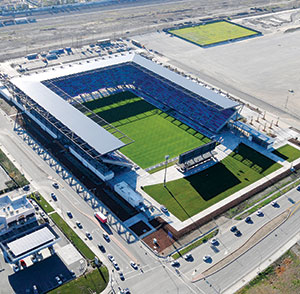 In the spring of 2004, a group of local fans began to stage meetings at the Britannia Arms Pub in downtown San Jose to talk about how they could save the Earthquakes from moving. Colin McCarthy, by day an attorney at Robinson & Wood Inc., moonlighted as president of Club Quake, the team's booster organization. Taking the lead to organize a new effort to help save the team, McCarthy stepped down from Club Quake in order to found a new organization, eventually called Soccer Silicon Valley (SSV), a streetlevel grassroots operation. Another attorney, Don Gagliardi, approached him and became the number-two person on board. Lifelong fan John Jussen then joined them, as did graphic designer and journalist Jay Hipps, plus locals Mike Turco and Carol Vartuli-Marin.
Tony Huston, now also in his thirties, initially began operating on his own, collecting e-mails and contact info, but since he had similar ideas in mind, the group invited him to participate. Distraught at the potential of the Quakes dying yet again, Huston was frustrated and still harbored memories from when the Quakes folded the first time around. "I was pissed like a lot of other fans were," said Huston. "So I became very reactionary. And I was like, 'Screw this. I'm not going through this again.'"
In the subsequent months, the members of SSV put in massive hours strategizing, studying up on the sports business industry, familiarizing themselves with local politics, learning about stadium construction, reaching out to potential investors and putting in tons of work on top of their full-time jobs. Each one of them brought a different skill set to the table, whether it was corporate presentation skills, public relations, litigation expertise, graphic design or just plain passionate, never-say-die fandom. All of this led up to a daring idea: stage a high-profile August rally at Plaza de Cesar Chavez in downtown San Jose and tell the world to help save this team.
"We knew we had to do something big," Huston said. "We were just a group of individuals trying to get peoples' attention, so I thought what we did was rather bold, actually. We decided, 'Hey, we're going to have a rally and make people realize there is passion here for this team.'"
Approximately two thousand fans showed up to the rally on August 20, 2004, including civic leaders, real estate impresarios, hi-tech entrepreneurs, the entire current San Jose Earthquakes team, former players from decades earlier and even Krazy George. The event succeeded at raising awareness and generating publicity, with many others subsequently jumping on board to help with tasks related to finding local investors. The fan base mobilized, and word spread around the league that a massive effort was underway to save the San Jose Earthquakes.
At the rally, McCarthy took the microphone and shouted, "Instead of Raider Nation, it's going to be Earthquake Planet!" Others who spoke included Alexi Lalas, who introduced in the entire 2004 team on the stage. Former general manager and NASL-era Quake Johnny Moore also introduced many players from the 1970s, who were in town for an official thirtieth anniversary reunion of the inaugural 1974 team. And that weekend, the 2004 team donned red throwback jerseys—in homage to the NASL era—during their home match against Dallas.
The celebration did not go entirely unscathed, however. One day before the rally, on August 19, in a series of private and presumably preemptive meetings carrying all the intrigue of a spy novel, Tim Leiweke of AEG showed up to San Jose along with then-COO Scott Blackmun to inform the entire team that it would soon be moved to Texas. That meeting took place at the Hilton San Jose & Towers, adjacent to the McEnery Convention Center. Later that morning, Leiweke and Blackmun led a second meeting at the Earthquakes offices with the founding members of SSV. In that meeting, AEG said, as it had in the team meeting, that the Quakes were headed to Texas.
If one looks at those two encounters as a home-and-away aggregate series, AEG might have won the first meeting, but at least according to the recollections of SSV members, AEG might not have won the second meeting. Questions were raised, propositions were put on the table and the members of SSV actually asked Leiweke to give them a month to find a new owner/operator for the team. Leiweke agreed, and AEG eventually promised in writing not to sell the team out from underneath everyone during those thirty days. AEG even supplied SSV with LA Galaxy financial data, season ticket information and other background materials necessary to include in any pitch made by SSV to potential investors—not something C-level sports executives are prone to do for just any clown on the street.
What's more, in that same meeting, the members of SSV, with Gagliardi leading the charge, made an audacious demand: all records, colors and statistics should remain in San Jose if the team relocates.
Gagliardi, an attorney specializing in intellectual property law, is known in San Jose for his passionate soccer fandom, his explosive determination and for being one who simply will not accept "no" for an answer. When recalling that meeting, Gagliardi said he was "forceful" in demanding that if AEG did ultimately move the team, all Earthquakes statistics and brand components must remain in San Jose, should the city ever get another MLS team. "I modeled this specifically after the Cleveland Browns," Gagliardi recalled. "I had that in mind. [I said to Leiweke], 'If you move the team, we get to keep the colors, the trophies, all the records, everything, here.' And Leiweke said, 'Yes, if we move the team, you will have that.' He made that pledge…and later honored it, so he deserves credit for that. Leiweke made that promise, and he honored it. But if we hadn't asked, it wouldn't have happened."
Huston agreed: "Collectively, we all sat there and said, 'This is what's going to happen. This is our stuff, this is our property. It doesn't belong to the league. This is our history, and it's going to stay here whether they like it or not.' And Don, being the passionate guy that he is, he took the lead and laid down the demands."
Adding that it's always smarter to let a lawyer argue such things, Huston continued: "We all sat around the table, and when everything went down, we all kinda said, 'Fuck this—this is our team, these are our colors, this is our history. We're keeping it. It's our shit.' And when you get Don excited, you can't stop him."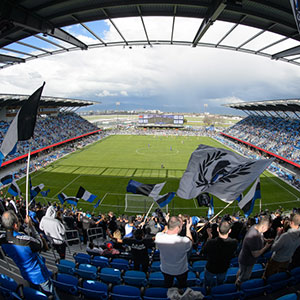 Again, sometimes it's the tiny decisions that dramatically reshape the future, before anyone even realizes it. One can only speculate as to how MLS would now be different had San Jose been shafted out of its two championship trophies, all its records, its moniker and other silverware. But MLS spokesman Dan Courtemanche, who was with the league at the time, said no one had a problem with San Jose hanging on to its records. "At no point did I hear anyone object to the recommendation to continue to keep the records in San Jose," said Courtemanche. "And I do remember that Lamar Hunt was pretty vocal with saying the records should stay—ala the Cleveland Browns—and that that was a smart move. And ultimately it was Commissioner Garber's decision to move forward with that process."
The day following the rally, the Quakes wore throwback NASL jerseys for their match that Saturday and gave their best performance of the 2004 season, trouncing Dallas 3–0. Old-timers from the NASL played a short reunion game beforehand. And during the pregame lineup, the MLS Quakes stunned the crowd by unfurling a long banner that read, "Keep Us in San Jose"—a surprise stunt devised by three players: Troy Dayak, Ronnie Ekelund and Jeff Agoos. As the team stood there on the field, holding that banner, the unprecedented gesture drew a standing ovation from the entire crowd at Spartan Stadium.
Dayak said the stunt arose partly from his own memories of scoring the winning goal against Miami in the playoffs three years earlier when both San Jose and Miami had been on the league's potential chopping block for contraction. Remembering the miserable uncertainty of the 2001 situation, he didn't want to go through that again. "We were just trying to think of any way possible to keep us here," Dayak said. "And at that time, we didn't have social media and Facebook and Instagram and SnapChat and all that stuff. I guess the best way to do it was to let people know that we wanted to stay."
As the days unfolded, the members of SSV, intentionally or unintentionally, became the de facto go-between for the fans and possibly even the players. Everyone seemed anxious for updates about was being done to stop the team from moving to Texas. At the time, Jussen owned Time Deli at the corner of Bascom and San Carlos in San Jose's Burbank neighborhood. "Some of the Earthquakes players would come over to the deli every Friday to try and hear what was going on," said Jussen. "They wanted to know if there was any news or anything like that—especially Craig Waibel, Brian Ching and Brian Mullen. These guys all wanted to stay."
In September, AEG eventually extended the thirty-day window, but with only one potential lead investor, Tony Amanpour, failing to come through on his promises, not much could be accomplished. Several other interested parties, including the San Jose Sharks, began to kick the tires on a regular basis, but no one group had enough wherewithal to guarantee a path toward a new stadium of any sort.
Ultimately, it can be understood that the success of the rally and the massive public awareness it raised, as well as the highly intricate network of correspondence orchestrated by SSV in its outreach to potential investors, is at least partly what bought the Earthquakes another season in 2005. AEG did not end up moving the team following the 2004 season, and on November 9, GM Alexi Lalas held a makeshift press conference in the Earthquakes offices at 100 North Almaden Avenue to announce that 2005 season tickets were now on sale. The conference featured reporters—four of us—sitting around a table upstairs with Lalas while he gave us the lowdown. No one else showed up.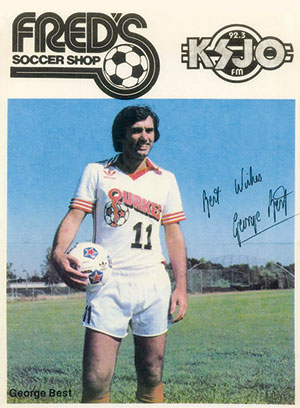 Simply the Best
George Best was the first-ever rockstar footballer, essentially inventing the concept. Originally from Belfast, Northern Ireland, he rose to fame as a teenager, playing for Manchester United during the swinging '60s. Since his ascent to stardom paralleled the rise of the Beatles, fans dubbed him the Fifth Beatle, or in the Spanish-speaking countries, El Beatle. Compared to the current day, when players generally specialize in one or two components of the game—speed, possession, dribbling, set pieces, holding capability, prowess in the air, poaching in front of the net, etc.—Best excelled at all of the above. He was a naturally gifted player who could do just about anything on the pitch. For him, it wasn't even work. In particular, Best never took dives. Defenders constantly tried to kick the daylights out of him, yet he would never go down. If he did go down, though, he'd get right back up and somehow miraculously collect the ball anyway, leaving the defender standing, scratching his head and wondering what had just happened.
He drove fast cars, women fell at his feet and people wrote songs about him. Even though he never played in a World Cup, to this day, legions continue to argue that he was the greatest of all time. As his ex-wife, Angie, called to our attention in her 2001 book, George and Me: "George was not only the first superstar player, he was the first to throw mud at the referee, the first to wear his shirt out of his shorts, the first to get sent off a number of times, the first not to show up at a game. The superstar players today get quite a bit more leeway in the game because of the things George did three decades earlier."
In other words, the entire stage David Beckham walks on as a pop star was built by George Best. The reason Christiano Ronaldo employs bodyguards now, in 2015, is because of what George Best started.
By the time Best made it to San Jose, where he and Angie lived near Courtside in Los Gatos, and during the time in which their son Calum was born at Good Samaritan Hospital, Best was past his prime, but he still showed flashes of incomparable genius. Unfortunately, his lifelong battles with alcoholism had finally caught up with him, and he began to miss many games, instead opting for bars and pubs around town when he was supposed to be on the field.
Regardless of Best's ups and downs, his scoring career came to a poignant denouement forty-five miles south of San Francisco. And it was in San Jose that he scored what many consider to be his most sublime masterpiece of a goal. On July, 22, 1981, out of defiant individualism, contrarian grandiosity and perhaps even sheer genius, Best scored a goal against the Fort Lauderdale Strikers that people in San Jose and throughout the world still talk and write about, thirty-four years later.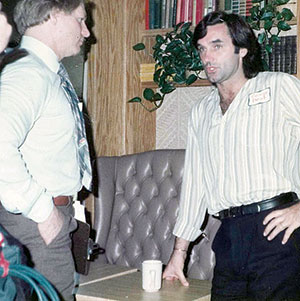 Beginning with a free kick, Best played the ball to a teammate, who then played it right back to him. From there, in shimmy, borderline-surfing fashion, Best proceeded to dribble twenty yards past half of the Fort Lauderdale team and straight into the six-yard box before slotting a shot past keeper Jan van Beveren. In the process, opposing players seemed to collapse left and right, a few times without Best even touching the ball. None of them could tell which direction Best was going at any given fraction of a second. Ironically, Ray Hudson and Thomas Rongen, both of whom went on to coach several MLS teams, were among those Best outmaneuvered on the play.
That evening, there were 11,629 of us in the stands. Almost every person, young or old, will say that goal was the best one he or she has ever seen. In Best's autobiography, Blessed, he wrote that it was the best one he ever scored, and many claim it was the best goal in the entire seventeen-year history of the North American Soccer League. One YouTube video of the tally boasts over 2.3 million views. When Best's name comes up in any conversation in San Jose, that goal is usually the first thing people mention, whether they were at the game or not. For those of us who were, no one had seen anything like it.
Best lasted the rest of the 1981 campaign and then played only a handful of games during the 1981–82 indoor season. His battles with alcoholism continued to escalate, and the team finally cut him loose as the 1982 outdoor preseason was just starting. After that famous goal against Fort Lauderdale in July 1981, Best scored just three more times during the 1981 season for a total of thirteen tallies. That made it twenty-one total that he netted for San Jose in his two years, with an additional thirty-two goals during two indoor seasons, 1980–81 and 1981–82. After a career that put him on top of the world as a teenager, right as the swinging '60s were unfolding, Best scored his final professional goals while playing for the San Jose Earthquakes. The Quakes of 1982 were in dismal shape, not just on the field but in the bank as well. As the 1982 NASL season commenced, the league had once again imploded, this time dropping from twenty-one teams to fourteen. As the buzzards began to circle the league, and with rumors of the Quakes going, a new cadre of people arrived who could at least keep the team in San Jose.
Johnny Moore, then back with the team as assistant general manager, brokered a meeting with Michael D'Addio, whose company, Corvus Systems, was headquartered near the Earthquakes' offices. D'Addio then went to his friend real estate developer Carl Berg, and the two of them assembled a "syndicate"—to use D'Addio's word—in order to take over the franchise. It was Moore who can be credited for initially bringing D'Addio's group into the fold, all to help keep the team in San Jose. "It was way more than a job to Johnny," D'Addio told me. "It was a love affair with the team and the city. And he did his best."
Excerpts taken from The San Jose Earthquakes: A Seismic Soccer Legacy by Gary Singh, which will be published March 16, 2015 by The History Press.