Feature
Winter Arts 2020
A high tech artist builds an AI politician, entrepreneurs seek the fountain of youth and a local ballet company beams its dancers into space, all while traditional galleries grapple with what it means to be human in the 21st century
Introduction | Visual Art | Music | Stage | Literature | Classical | Film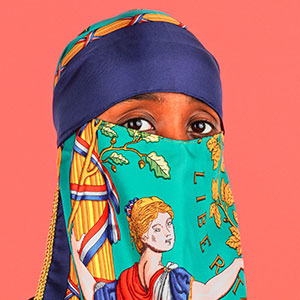 It is the dawn of a new decade in Silicon Valley. Our region grew rapidly during the past 10 years, drawing new residents from all over the country and around the globe—many of them seeking jobs in technology. These transplants helped build products, platforms and systems that dramatically changed the world as we know it.
As the topography and demographics of Santa Clara County evolved, and as the world around the Bay Area changed, artists of all stripes responded, interpreting and framing that change through visual media and performing art.
This season, museums and galleries all over the valley will host exhibitions that both look back at where we've come from, and look forward to where we may be going. The Cantor Arts Center at Stanford University will explore the Persian and European art that emerged during the late Renaissance—as trade facilitated a cross-cultural exchange of ideas and customs. And Pace Gallery in Palo Alto has a free primer on one of the 20th century's most respected painters: "Seeing Picasso: Maker of the Modern.'
Meanwhile, on the opposite end of the space-time continuum, a video installation at the San Jose Museum of Art—which marks its 50th anniversary this year—will star an AI presidential candidate, and New Ballet will celebrate its new digs in the Corinthian Grand Ballroom building with its annual Fast Forward program. This year, Fast Forward features a talk from George Vakoch, president of METI International. Vakoch, whose organization specializes in creating messaging geared toward intelligent extraterrestrial life, believes dance might be the ideal form of interstellar communication.
Silicon Valley music venues will keep crowds swaying to the beat. In the coming months, locals can expect performances from Foghat, Rhiannon Giddens, Keak da Sneak and Wilco—not to mention all the great artists coming to town in mid-February for San Jose Jazz Winter Fest.
And, of course, what would winter in San Jose be without our annual tribute to motion pictures? The Cinequest Film & Creativity Festival returns in early March to celebrate movies, virtual reality and the power of screens both large and small.
Consider this your guide to the best art, entertainment and culture the South Bay has to offer this season.