Features & Columns
Bill Craddock: 'Be Not Content'
In 1967 Bill Craddock wrote a coming-of-age novel for the psychedelic generation.
Eight years after his death, a fan has rescued it from obscurity.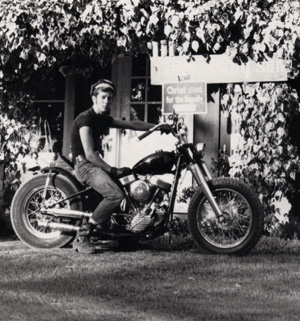 One reviewer called Be Not Content "the best '60s memoir ever." Author Rudy Rucker says, "Nobody ever wrote about the psychedelic revolution as well as William Craddock."
If the Los Gatos native is indeed one of the era's preeminent chroniclers, acknowledgment has lagged. Not even a Wikipedia bio. Out of print for four decades, copies of Craddock's scarce gems fetch hundreds of dollars online.
After discovering how little notice accompanied Craddock's 2004 passing at the age of 57, Rucker tracked down the rights and republished Be Not Content in April. Teresa Craddock says she wants to use the first royalties to place a proper gravestone at her late husband's Soquel Cemetery resting site.
Skulls, Not Flowers
The South Bay figured heavily in the nexus of social transformation, political activism, mind-altering substances and music that swept over the Bay Area and then America in the middle of the 1960s. Images of painted vans and Haight-Ashbury's flower-tossing hippies captured the mass media's attention during the Summer of Love, but the dark, untelevised revolution that Craddock documented unfolded on the numbered streets of central San Jose, dressed in black amid the backdrop of a Harley's roar.
Craddock's tale, written when he was just 19, offers an authentic insider's journey that contrasts with outsider Tom Wolfe's playful, entertaining 1968 new journalism masterpiece, The Electric Kool-Aid Acid Test. Craddock's 1960s was less a curious spectacle than the reflective narrative of a young man coming of age in a society in upheaval, undergoing psychedelic-enabled self-discovery laced with conflict, pathos and alienation.
Craddock came from a good home in an all-American town and had brains, talent, initiative and education. Like others from comfortable backgrounds at the time, he rejected a conformist path for an outlaw's lifestyle. In one passage, Craddock writes of the frequent police harassment encountered by the long-haired motorcyclist and his friend Tom Hailey. (See accompanying excerpt.)
"That was me," says Los Gatan Tom Haverly, who played water polo with Craddock at Los Gatos High School and slept on the floor of Craddock's small studio apartment at 12th and Keyes, just south of Interstate 280, when he was writing Be Not Content from 1965 to 1967. "Everything [in the book] happened. It's all true. There's no real embellishments. People really talked that way, thought that way."
Haverly says Craddock was stopped by police "every single day of his life" but never received anything more serious than an equipment violation. "He never had a tattoo, and he never was arrested," Teresa Craddock adds.
Craddock wrote the novel longhand on tablets of paper while attending San Jose State, then typed the material before sending off to publisher Doubleday. While at college, he stared an underground newspaper, Mobius Strip.
Craddock published a second novel, Twilight Candelabra, and continued writing even as he faded from public attention, aside from columns he wrote for the Los Gatos Times-Observer and a Santa Cruz weekly.
Misunderstood Was All
I got to know Craddock a bit when he ran a Santa Cruz vintage motorcycle shop in 1981 with Pat Simmons of the Doobie Brothers, who was in the Craddocks' 1975 wedding at Los Gatos' La Hacienda.
Tall and Zen-like, Craddock at 34 wore a skull earring and didn't mind a recent college grad badgering him with silly questions about a writer's life. "Turning 30 was a trip," he told me. "I thought it was ludicrous. It's just ridiculous to be alive at that old age."
He said he grew up middle class in Los Gatos and rode with a San Jose outlaw club, the Night Riders. "Good lads. Misunderstood was all," he deadpanned.
There was little to suggest that the relaxed and easygoing guy behind the cash register at the motorcycle shop would be rediscovered 30 years later by a major author and hailed as one of the most important voices of a pivotal era.
"I'm so happy that Bill's getting the recognition he certainly deserves," Simmons wrote in a recent email, when he heard of Be Not Content's re-release. "A great guy, and a talented, creative writer." Simmons says he's read another unpublished Craddock manuscript and thinks it's even stronger than his published works.
Teresa says Craddock left three unpublished manuscripts: The Fading Grass, A Passage of Shadows and The Fall of Because. She says she's glad the Transreal edition, which can be purchased in printed or electronic form, will allow more people to read Craddock's writing. "It means a lot to me," she says.