Features & Columns
Canna-Conomy: Rebranding
the Medical Marijuana Industry
A Hollywood insider wants to rebrand the medical marijuana industry
and create a canna-conomy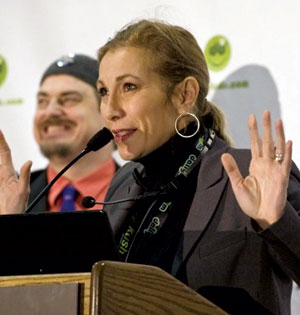 Over the years, the nationwide legalization movement built itself on the enthusiastic but lightly funded backs of the pro-cannabis citizenry. But that may have changed irrevocably March 14, when Cheryl Shuman, CEO of Green Asset International, Inc., announced a $100 million fund for the investment and acquisition of cannabis-related businesses.
The announcement seems to signal that institutional money managers are ready to take a serious look at the possibilities of a new "green" economy. The medicinal cannabis industry's estimated worth in 2011 was $1.7 billion, according to a report by independent financial analysis firm See Change Strategy. The report goes on to estimate growth will reach $8.9 billion by 2016.
Shuman, the face of this new canna-conomy, is a longtime Hollywood insider and former executive director of the Beverly Hills branch of the National Organization for the Reform of Marijuana Laws (NORML).
After battling cancer, her career focus turned to activism. While others in the public sphere were uncomfortable being out in front of the public, Shuman became Kush Magazine's executive director of celebrity, media and public relations. (It's a fitting title for a woman who trademarked her own name.)
Shuman says she has long had the ear of people in and around Hollywood—her PR photos include hugs with Steven Tyler, Danny Glover, Kelly Rowland, Jay Leno and others—and she hopes to mesh cannabis with pop culture in her latest venture.
Instead of leaning on old stoner-centric stereotypes, Shuman and GAI intend to start a rebranding campaign to get the message out that cannabis users don't have to be the hapless stoner or the critically ill—or men, for that matter.
"Men have been dominating the cannabis debate, and now I think women can really make a difference in taking the conversation to the next level," she says.
While unwilling to disclose investors, Shuman says GAI has several ties to the Bay Area, including some well-known collective operators and Silicon Valley corporate executives. She calls them closet investors. "There's still too much of a public stigma, but the tide is changing," Shuman says.
GAI's acquisition strategy revolves around social media and outreach. "We are planning a series of symposia to get an information exchange going between like-minded people," she says. "At the same time, we will be executing on other elements of our strategy to bring the right people, products and technologies together—like building the 'Facebook' around cannabis.
"We see signs of growth in cannabis-related social-media, traditional and online advertising, ancillary business services that serve this niche—there is really a lot out there to keep us busy while the legal barriers fall."
Although not specifically mentioned as an acquisition target, one company that may be in the crosshairs of GAI is SearchCore (formerly General Cannabis), parent of Weedmaps.com. The OTCQX-traded stock has a $62.5M market cap and a growing appetite for its cannabis club search directory. With Weedmaps.com's introduction of videos and Groupon-like "Daily Deals" feature, the company is quickly becoming the portal of choice for cannabis patients and collectives alike.
Another market opportunity for GAI may lie in aggregating and consolidating the numerous "Strain Guides" that have been organically developed on the Internet. Sites such as leafly.com, medicalmarijuanastrains.com, and strainreviews.com all attempt to categorize and review the increasing number of strains that have become available as the result of cultivator breeding. The value of such information is dampened by the nonstandard presentation and variety of evaluation methods, something that could be overcome with the centralized strategy and direction that a strong parent organization like GAI could provide.