Features & Columns
Double Decade Duo
Founders Halfdan Hussey and Kathleen Powell look back at how a simple idea turned into a lifetime quest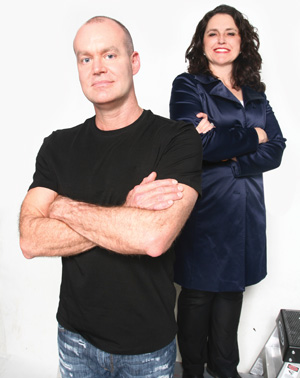 Click here for complete Cinequest Film Guide
AT 20 years of age, San Jose's film festival Cinequest has survived its adolescence, one-and-a-half recessions and the dotcom collapse. While Mike Rabehl's programming skills and the efforts of some 500 volunteers account for part of the reason Cinequest continues into the new century, the two founders' tenacity has been essential to its success. The three-day festival that began in 1990 at a single theater with $20,000 in city grants now has a year-round staff of 10, an annual budget of more than $1 million and an audience of 85,000. It has expanded to 13 days and multiple venues, and has achieved a reputation both for bringing in established names (Spike Lee, Ben Kingsley) and taking chances on emerging new talent—as well as for its early embrace of new technologies, like streaming films over the Internet before the practice was popularized by Hulu, YouTube or Netflix.
Halfdan O. Hussey was a teacher's son in Boulder, Colo. He often watched films from the booth where his father worked part-time as a projectionist. "I used to do that Cinema Paradiso thing," Hussey says from his office in downtown San Jose's SoFA District. His partner in the festival, Kathleen Powell, grew up in Topeka, Kan., and went to Boulder as a graduate student in computer engineering. She had never been much of a film fan.
The two met in the Colorado college town. Hussey was organizing his first film and encountered Powell through a friend of a friend. Powell recalls, "They twisted my arm into playing on Halfdan's softball team, the real reason being that they wanted me as a producer."
The 73-minute black-and-white film He's Still There, which Hussey directed and Powell produced, was the end result of time Hussey spent studying film and literature at NYU, where he drove a night-shift cab to support himself in a landscape that still had enough grit to inspire auteurs. "Giuliani hadn't cleaned up the city yet," he says.
After leaving New York, Hussey went back home to Boulder with a list of contacts and actors. Since she owned a software company, Powell understood more about money than about film. She was brought onto He's Still There "because I knew about business," she says. "Being a producer is all about business: it's all about hiring the right people, managing the money and making things happen, from the conception all the way to the last distribution dollar received."
But something happened as she got to see the actors at work. "I come from a very analytic background," Powell explains, "and the process of filmmaking was artistic. I wasn't used to seeing what artists did: actors standing before directors and writers, being judged by feelings rather than being judged by having the right answers on a test. I admired people who were so passionate about their work, despite so much rejection."
Together, Powell and Hussey took He's Still There to the Venice Film Festival in 1990. The way they were treated in Venice planted the idea of someday starting a film festival of their own. Powell remembers, "It was a tremendous experience. Italians have so much appreciation for the arts. Being young filmmakers and being presented at the festival—and seeing the appreciation of the crowds and the media and the press. ... I think we just wanted to take away those elements of appreciation of artists and pass them on."
"We learned how to take care of people," Hussey adds. "The Italians were just so good at making the unknowns known. It wasn't all about celebrity. They gave us a press conference in the spot right after GoodFellas, and they treated us the same as the talent from that film. They gave us the same attention, the same care and the same journalists. We've tried to carry that spirit forward into Cinequest: we want to connect people and care for them, even if we don't put that in the press releases."
Via Venice
After Venice, Powell got a job at HP and moved to Silicon Valley. Hussey followed. The other thing they had learned at Venice was that a sense of destination was important to starting a film festival. Venice's festival, the world's oldest, had begun as a scheme to get tourists into town during the off-season.
Sundance was the same way—it started as a Salt Lake City film fest, and then Sydney Pollack suggested that it would draw more Los Angeleans if they moved it into the mountains where there was some skiing. Powell and Hussey lived in a valley with an affluent, educated population, with temperate winter weather, corporate sponsors and one-hour flights to Los Angeles. Even then, it was nobody's idea of a tourist destination. Others had tried to establish film festivals in San Jose but failed.
Powell notes, "I think what we heard constantly is that the idea wouldn't work. Usually, when we're told we can't do something, it drives us harder to have it done. The first encouragement we got was from Jim Zuur and Jack Nyblom at the Cameras."
After a meeting with then-Mayor Tom McEnery, city official Dan McFadden helped arrange for two city grants. "The city was starting to change and transform," Hussey adds. "But while you had an arguably intelligent community, they weren't necessary culturally predisposed. Cinequest was well attended from the beginning, in 1990, but you needed to build an audience the way you built up the sponsors: one at a time. Today, though, when we have a screening, it can be at Tuesday at 1pm, showing a film from name-that-country ... and it's still well attended."
Powell says that the festival benefited from the participation of two people who are no longer with the festival: the late Los Gatos graphic designer Rick Tharp, who professionalized the festival's branding, and former Netscape marketing VP Mike Homer, who died last year at 50 of a rare brain disease. "We didn't know anything about marketing," Powell says. "We had to learn it all."
During Cinequest's 20 years, the festival has witnessed stunning advances in technology and a previously unthinkable democratization of film. Hussey and Powell were right: a world of filmgoers could be drawn to a place then considered the cultural backwater of the San Francisco Bay Area. And they were right to anticipate filmmakers would someday distribute their films through the Internet.
But they were especially right in anticipating that digital images would someday rival traditional film. Hussey says, "The reason, I guess, [was] that the early evangelists we met were so convincing about the way they'd planned out the future. Larry Thorpe of Canon pushed this thing for years, and I really believed what he was telling me, that eventually digital would correlate to film ... even though at first the psychological experience wasn't the same at all. The poor quality of early [digital] video, the too-much-information of it ... that all changed. I made my first two films on film, but my next one will be digital: it's so much easier, in time and money.
"But what nobody's able to figure out is how the distribution is going to work. All the things we've been part of and excited about still face the big problem: how to get films distributed and how to get people to pay for them, whether it's going to be advertisers or subscribers."
High-Def Days
Though Cinequest has flown in stars, cinematographers and directors by the dozen during these 20 years, the embrace of provocative and socially relevant themes is when Cinequest is at its best.
Last year's gathering, on the stage of the California Theatre, of men and women who had been falsely accused, jailed and exonerated in a wave of Kern County molestation prosecutions proved poignant and powerful. Five years ago, the premiere of Emmanuel's Gift brought Emmanuel Ofosu Yeboah, an amputee who bicycled across Africa to draw attention to the second-class status of handicapped persons there, to the same stage in a similarly emotional moment.
However, both Powell and Hussey agree that one highlight stands out, a small-budget documentary at the 2004 Cinequest about a PFC from Virginia who won the Congressional Medal of Honor. A pacifist, the unarmed medic dragged critically wounded comrades to safety amid heavy enemy gunfire and shelling during a horrific battle in Okinawa in 1945. "Desmond Doss," Powell says. "It was such an inspirational story, he was so committed to his belief—and he was a really nice man, too. It was so fortunate for us that he could come to Cinequest and share his life."
"When Desmond Doss came to Cinequest with The Conscientious Objector," Hussey says, "it was the world premiere of a film on high-def digital, but more importantly the subject matter was inspiring. He was a truly heroic human being.
"That's been the happiest moment so far. It hasn't always been happy. Truth is that the ideal time between festivals would be a year and a half instead of once every year. There have been times when it was more like a service than a real pleasure, and I didn't know how long I'd be doing it But we've built up such a great staff and so many resources that now I genuinely enjoy doing the festival."
The medium has changed, and so has the cityscape, but Cinequest has been an unlikely success. Now starting its third decade, it's an institution of local life.